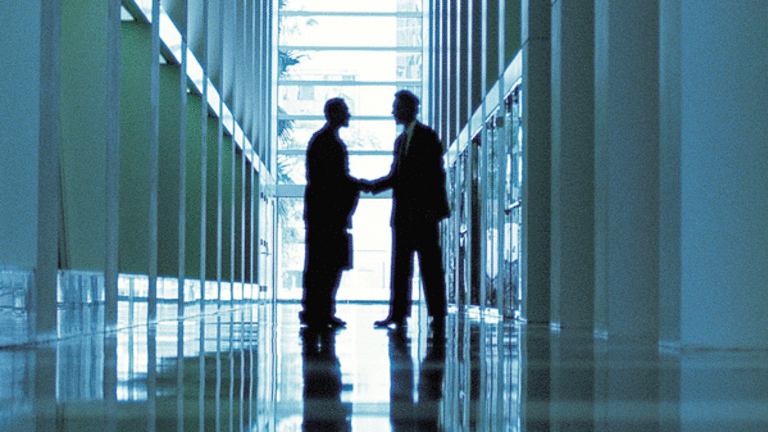 It's a Nightmare Before Christmas for These Zombie Retailers
Once upon a time, struggling retailers could hold out until after the holidays before deciding whether to file for bankruptcy.
Usually the holidays are a time for goodwill, cheer and eggnog. And for most retailers, the season is when they generate most of their profits for the year, pushing them into the black. Unfortunately for some legacy brick-and-mortar stores synonymous with the flailing suburban shopping mall, goodwill and cheer and the consumer dollars that tend to accompany such sentiments may not be in abundance this year.
Struggling retailers who are likely to have turnarounds at the top of their wish list, but are more in danger of finding coal in their stockings come Christmas morning, include the likes of Wet Seal Inc. (WTSL) , dELiA*s Inc. (DLIA) , Cache Inc. (CACH) and Body Central Corp. (BODY) - Get The Beachbody Company Inc. Class A Report , according to numerous industry sources and observers.
None of the four companies responded to requests for comment.
One industry source not only supported the idea that the four companies might not make it through the holidays, but added: "I wouldn't limit it to them — I think any specialty retailer is going to be struggling."
That person also suggested that retailers might go through wind-down liquidations in the coming months, and that the recent bankruptcies of Coldwater Creek Inc. and Alco Stores Inc. could serve as models.
Women's clothing retailer Coldwater Creek, for example, filed for a pre-negotiated Chapter 11 bankruptcy on April 11 with a plan to liquidate its assets.
Private equity firm Sycamore Partners LLC acquired the Sandpoint, Idaho-based company's brand and intellectual property assets, while a joint venture of Hilco Merchant Resources LLC and Gordon Brothers Retail Partners LLC purchased the other assets for $161 million, and have been liquidating them since May.
Discount general merchandise retailer Alco stores filed for Chapter 11 on Oct. 12 with a plan to close its stores and liquidate its assets during the holidays, although it is also open to offers to buy the company as a going concern. A group comprised of Great American Group WF LLC, SB Capital Group LLC and Tiger Capital Group LLC is the stalking-horse liquidation agent.
The continuing move of consumers away from traditional retail models means that a holiday boost may not be enough for some companies. In fact, industry sources say the sector offers such a small margin for error that a few ill-timed, margin-eating promotions could produce a flurry of bankruptcy filings before the end of the year.
Struggling retailers traditionally have waited until after the holiday season to file for bankruptcy, when they are the most flush with cash. The list of retailers holding out until after Christmas to file is long and includes the former Federated Department Stores Inc., now known as Macy's Inc., which filed for Chapter 11 on Jan. 15, 1990, and R.H. Macy & Co., which filed Jan. 27, 1992.
Montgomery Ward & Co. and Bradlees Inc. filed for bankruptcy soon after Christmas in 2000 as a result of a weak holiday season, a slowdown in consumer spending and a difficult retail environment. Kmart Corp., now a unit of Sears Holdings Corp. (SHLD) , went into bankruptcy in January 2002 after it had lower-than-expected sales in the fourth quarter.
More recent additions include a Dec. 26, 2007, Chapter 11 filing for Scandinavian-style furniture retailer Scan International Inc. and jewelry purveyor Derco Inc. Harvey Electronics Inc., a retailer of high-end audio, video and home theater equipment, filed for Chapter 11 on Dec. 28, 2007.
Athletic clothing manufacturer Power Force Apparel LLC filed for Chapter 11 on Feb. 20, 2014, while toy store Clever Hans LLC filed for Chapter 11 on Feb. 6, 2014, and discount retailer Bargain! Shop Holdings Inc. filed for bankruptcy protection in Canada on Feb. 25, 2013.
But some of the conditions that could keep a retailer from filing for bankruptcy during the holidays no longer exist. As one retail-focused lender sees it, companies that have a liquidity runway and a plan to reorganize are better off filing for bankruptcy after the holidays, but companies without that luxury may not have the option to wait.
"It's a misnomer that everyone files post Q4," another industry watcher said.
These days, when vendors start hearing that retailers are in trouble, they cut back on shipping inventory. "If they can't get goods for Christmas, they may have to file before," said Peter Schaeffer, a principal at GlassRatner Advisory & Capital Group LLC.
"The retail bankruptcy syndrome is pretty acute. Retail is by far the dominant sector that has been filing this year. Retailers tend to file first and then the next year suppliers get hit," Schaeffer said, adding that retail bankruptcies are now much faster-paced because of the change in the bankruptcy law that gives the companies less time to reject leases.
"If you have a choice, you want to wait until after the holidays because it's always a better situation to have cash in the bank. If you have no cash and need a debtor-in-possession loan to make it to the next day, you have no bargaining power at all," Schaeffer noted.
"Generally, there is really no magic timing on when retailers file for bankruptcy protection; it is heavily dependent on their liquidity situation" another industry source explained. "In order to file after January, you would have to have a lender that is willing to let you borrow money to purchase inventory to go into the fourth quarter, and you may not have that benefit if you have a liquidity issue or covenant issue in November or December."
When a retailer files is really driven by lender appetite and liquidity, the source explained, adding that some asset-based loan lenders tend to be conservative and will do whatever maximizes their return, even if that happens before Christmas.
"There is very little leniency today ... banks swoop in because they don't want to take a chance given the slim track record for turnarounds," Schaeffer said.
"The question is whether there are white knights that [would] come to the aid of [distressed] companies: junior-type lenders, or companies that would come in prior to bankruptcy with rescue capital for a substantial equity stake … [however] in many cases, those parties would wait until a bankruptcy to come in and take the company over," one lender explained.
This lender believes alternative investment houses have been buying into the subordinated debt of troubled retailers, with an eye toward activism or an eventual takeover. Senior lenders appreciate the presence of subordinated lenders because they may be willing to contribute more capital in a reorganization to protect their investments, the source explained.
Schaeffer said that on a positive note, retailers that do file before Christmas and liquidate during that time period can likely sell their inventory for a higher price.
Regardless of when retailers enter bankruptcy protection, they generally either file and liquidate or file and sell to a strategic buyer, Schaeffer said. "It's very difficult to get refinancing to stay in business if you have negative Ebitda, unless you can get a bank to support you or a strategic to buy you," he said, adding that he is not seeing as many turnarounds as in the past.
"Generally, if there isn't a buyer for the company, there is no choice but to liquidate because there is not enough time to figure out a plan for leases and not enough money," Schaeffer said.
Another industry expert agreed: "For retailers that file without an answer, there is a higher probability of liquidation." This person added that the companies that have survived have filed with a prearranged or prepackaged plan in place.
Lenders are more willing to step in and limit the borrowing of "out of formula" retailers whose performance only continues to worsen. That notion carries even more weight during a time of year in which retailers should be doing well, said a source.
"Out of formula" refers to retailers who have depleted inventory to the extent that they have overdrawn on their revolving credit facilities. The amount a retailer can draw on a revolver is determined by how much inventory it has, because the amount borrowed is backed by that inventory.
A lender, for example, might allow a retailer to borrow the equivalent of 85% of the appraised value of its inventory. When the amount drawn exceeds that limit because, say, the retailer has sold a portion of that inventory or because the appraisal turns out to be inaccurate or the retailer hasn't not accurately updated its numbers, it is considered to be "out of formula."
Once a company is "out of formula," the lender can step in at any time to limit further borrowing on the revolver. If the retailer is already cash-strapped and is not allowed to draw on the credit facility, it has to find other means to raise cash.
Distressed retailers, a source said, will often use subordinated debt financing, a method of last resort, and those companies are most closely scrutinized.
As a result of taking on subordinated debt, those retailers are "paying for it dearly," and they are "lucky that someone will finance them," Schaeffer said.
Once a retailer takes on subordinated debt, another source maintained, it has maxed out its capital structure. And if performance is worsening, and the money raised from the subordinated debt financing is spent, the retailer basically has no money to continue to operate, triggering a series of events that could lead to a bankruptcy filing.
For retailers that have succeeded in raising subordinated debt, "I think that gives them some breathing room, some runway," an industry source said. "Is it enough? Are their margins going to maintain in order for them to complete their turnarounds?"
Wet Seal, dELiA*s, Cache and Body Central are all being closely watched by their respective lenders on a week-to-week basis for signs of further deterioration, sources said. As long as the retailers demonstrate improvement as the holiday shopping season progresses, the lenders may refrain from stepping in. If that's not happening, further borrowing may be restricted.
Lenders are tracking sales, inventory and availability of credit. "Lenders have no incentive to let a retailer whose performance continues to worsen survive past the holidays. It will not improve their recovery. Lenders will pull the plug on retailers whose numbers aren't improving, and they are watching these retailers closely," said an industry banker.
One source added the caveat that while keeping an eye on performance is key, as retailers' shelves are fully stocked at the beginning of the holiday shopping season, they've mostly drawn what they need off of the revolver. Retailers then rapidly pay down that revolver during the next quarter. And frequent updates on the level of inventory transmitted to the holder of the revolver gives visibility on how the retailer is doing.
A lender may give a retailer a pass if it is out of formula if some other part of the business is making money, such as a credit card unit, noted a source. But in lieu of that, without additional options to improve liquidity, troubled retailers are at the mercy of their lenders.
The dire nature of the zombie retailers' balance sheets give them little room for error heading into the end of the year. Though the specifics of the financial results for its quarter ended Nov. 1 are unknown, Wet Seal recently warned in an 8-K filing with the Securities and Exchange Commission that its cash had plummeted to below $20 million, a notification it was required to make to the holder of the company's senior convertible note.
The retailer had cash and cash equivalents of about $40 million for the quarter ended Aug. 2, and debt of about $22 million, also according to filings with the SEC.
Those more recent balance sheet figures compare to the prior quarter ended May 3, in which the teen retailer had nearly $52 million in cash and cash equivalents, as well as almost $3 million in short term investments, while debt was similar at almost $22 million.
But with an operating loss of over $23 million for the latest quarter, and almost $45 million in operating losses as of the year's halfway mark, Wet Seal has burned through, and continues to burn through, a substantial amount of cash.
The losses over the first six months caused Wet Seal to sell $27 million of senior convertible notes, generating net proceeds of $25 million. Close to $24 million of that amount helped to fund operations over the first half.
Wet Seal has a $35 million revolver, of which close to $29 million is available as of Aug. 2, virtually flat compared to the prior quarter, while total liquidity has been reduced to $69 million from about $84 million, also for the quarter ended Aug. 2.
The company did announce a private placement and rights offering that could raise over $38 million, but its success is not guaranteed.
There is an outside chance that Wet Seal could find a buyer, according to one source, as the retailer formed a committee to review offers. The teen pit-stop has shopped itself on and off for the past couple of years, as activist hedge fund Clinton Group Inc., an investor in Wet Seal, has tried to facilitate a turnaround and realize a return on its investment in the beleaguered retailer.
But negative Ebitda for the 12 months ended Aug. 2 of nearly $75 million, and negative Ebitda of close to $63 million projected for its fiscal year ending Jan. 31, according to Bloomberg, mean the retailer's position is increasingly precarious.
Wet Seal recently brought back Edmond Thomas, a former CEO who resuscitated the company during his stint from 2007 to 2011. Thomas was at private equity firm KarpReilly Capital Partners LP. A source previously told The Deal that there was a possibility that the firm could step in as a buyer or with some needed financing.
But industry watchers fear that the opportunity to attract a white knight may have passed, and that Clinton Group should have pushed for or agreed to a sale first in the fall of 2012, and then a year later in 2013, rather than attempting a turnaround.
In early October 2012, Wet Seal's stock traded around $3 per share. Over the next nine months, the stock ran up to near $5 per share by June 2013. But it recently closed at 24 cents per share on Nov. 17.
The news of the company's rapidly declining cash continued to rattle investors after revelations that Clinton Group had increased its stake to 7% from 6%, according to amended 13D filings, and that Wet Seal's chief financial officer Steven Benrubi would leave his position on Dec. 1. In addition, the company is eliminating 78 filled and open positions to realize annual cost savings of $5.7 million as it scrambles to keep its doors open.
DELiA*s, another zombie, had cash and cash equivalents as of Aug. 2 of about $3 million, only a bit above the previous quarter's approximately $2.5 million in cash, according to SEC filings. Meanwhile, restricted cash dropped to about $7 million per the most recent results, from $32 million for the prior quarter ended May 3.
Debt, however, also decreased to roughly $5 million for the period ended Aug. 2 from just over $35 million for the quarter ended May 3.
DELiA*s was able to raise over $32 million in net cash from financing activities, though, including the proceeds from the sale of preferred stock and notes payable minus a roughly $9 million repayment of borrowings on its bank loan for the six months ended Aug. 3. The sale of preferred shares and notes was announced back in February.
Due to repayment, the retailer was able to reduce borrowings on its revolver from just over $11 million for the prior quarter to $5 million for the quarter ended Aug. 2. DELiA*s now has $16 million available on its revolving credit facility.
And according to an 8-K filing, the retailer said it has attracted potential buyers, so the board is evaluating its strategic alternatives.
Assisting dELiA*s with its review are Janney Montgomery Scott LLC's Mark A. Belford and Charles E. Mather and a Honigman Miller Schwartz and Cohn LLP team that includes Michael Ben, Donald Kunz, John Kanan and Melanie VanAntwerp.
According to a retail-focused lender, dELiA*s has assets that might be attractive in a sale process, and there is a chance that it could reorganize.
Someone might be interested in buying the brand, that person said. "Because of the e-commerce/catalog nature of the business, [dELiA*s] probably has a good customer file and some sort of a loyal following and good data that could be valuable to someone who thinks that they could target that customer more effectively than the incumbent group," the source explained. "After you eliminate all of that debt, maybe somebody could make something with that name, although it's an extremely competitive space," with girls being notoriously fickle customers.
"Maybe dELiA*s could go the way of a Coldwater Creek," the source said, referring to that company's sale of its brand and intellectual property to one buyer and its assets to a liquidator.
Equity investors in dELiA*s have touted the hiring of CEO Tracy Gardner, a retail veteran known for her work at Gap Inc. (GPS) - Get Gap Inc. (The) Report and J. Crew Group Inc., as proof of the company's potential.
However, the company acknowledged in a September regulatory filing that the turnaround is going slower than anticipated, and it expects to run out of liquidity to meet its cash requirements in the next 12 months. Still, dELiA*s investors who requested anonymity expressed a willingness to kick in more capital to help the retailer weather the turnaround process.
Meanwhile, dELiA*s, like Wet Seal, is a penny stock. It closed at 10 cents per share on the Nasdaq on Nov. 17, well below $1 per share, the level at which it needs to trade above, or it could end up being delisted.
With dELiA*s burning through much of the cash raised, adding only small amounts to its balance sheet, and an operating loss of nearly $13 million in its latest quarter, liquidity of only $19 million looks dangerous.
Cache, the third endangered retailer, had cash and cash equivalents of over $500,000, and $16 million in debt consisting of borrowings on its $30 million line of credit with Salus Capital Partners LLC. The company also had outstanding letters of credit of $1.1 million, according to filings.
That compares to $700,000 in cash and cash equivalents, $1.2 million outstanding letters under its previous credit facility with Wells Fargo Bank NA, and no additional borrowings on its line of credit for the quarter ended June 28.
The company had an operating loss of about $11 million for the latest quarter ended Sept. 27, and a net loss of nearly $13 million. So for the 39 weeks of its current fiscal year, Cache has burned through almost $31 million in cash to fund operations, while raising over $32 million from its line of credit and from the sale of stock, minus fees and expenses.
Cache, which sells cocktail and formal dresses with an emphasis on the high school prom market, could be more of a liquidation story, a retail-focused lender said. "[Cache] has had a really tough time regaining the market share that it had 10 years ago," that person noted.
With only $500,000 in cash, the company has limited liquidity, however, and is posting operating losses of more than $9 million per quarter on average.
"DELiA*s and Cache have been living on fumes for quite a while," the lender said. "Those are companies that could probably disappear from the face of the earth and would not have any material impact on consumers' behaviors. Certainly those are companies that could potentially file and ultimately liquidate."
Cache traded at 25 cents a share as of its Nov. 17 close, a long way from a 52-week high of over $6 per share.
Body Central also ranks among the walking dead, with cash and cash equivalents of nearly $5 million as of Sept. 27, a slight increase compared to just over $4 million in cash for the prior quarter ended June 28, according to SEC filings.
It additionally had restricted cash of $3 million, whereas no restricted cash was mentioned at the end of the previous quarter. The company had about $18 million in debt, compared to almost $13 million in debt for the prior quarter, as well. And it recorded an operating loss for the quarter ended Sept. 27 of about $24 million, which grows to an operating loss of roughly $55 million for the first three quarters combined.
The company burned through approximately $25 million of its cash to fund operations over the 39 weeks ended Sept. 27, while raising $30 million from a debt offering during that period, $5 million of which was used to make a payment on its line of credit, another $3 million was used to pay financing fees, all according to filings.
About $12 million is drawn on its $17 million credit facility as of Sept. 27. Add it all up and Body Central only has about $5 million in liquidity, with no availability on its revolver, a difficult place to be.
The retailer of tops, dresses, bottoms, jewelry, accessories and shoes under its Body Central, Sexy Stretch and Lipstick Lingerie labels probably describes its own situation best. In a quarterly report filed on Aug. 14, Body Central said that there is substantial doubt about its ability to continue as a going-concern due to a continued decline in sales, a decline in trade support, competitive industry conditions and an increase in its expenses.
"The company has continued to experience decreased demand in both its stores and direct business operating segments and, as a result, has continued to experience material contractions in vendor trade terms which requires the company to make prepayments on its merchandise prior to the processing and delivery of merchandise to its distribution facility. These factors had a significant negative impact on the company's operating results and cash flows during the first half of 2014," Body Central said in the report filed with the SEC.
Body Central's stock has plummeted from a 52 week high of more than $43 per share to a Nov. 17 close of $2.35.
A common criticism of retailers such as Wet Seal, dELiA*s, Cache and Body Central is that they are no longer seen as distinguishable brands or as brands strong enough to lure in shoppers while commanding at least some premium.
"It's not easy if a brand's relevancy is gone; there's very little you can do at that point," one retail expert pointed out.
Rather, these retailers are seen merely as distribution points, offering goods similar to other retailers', and forced to rely solely on promotions or competing on price.
Consumers are going to these places to buy product at a bargain, not for the brand, said an industry banker. That behavior eats into margins of these retailers whose sourcing and distribution, and therefore, ability to control costs, is already not as strong as some of their competitors.
Competing on price is a losing proposition for these sellers, the source said, because companies such as Fast Retailing Co. Ltd.'s Uniqlo, Forever 21 Inc., Industria de Diseño Textil SA's Zara, H&M Hennes & Mauritz AB, Topshop and Loblaw Cos. Ltd.'s Joe Fresh are so adept at sourcing and distribution that they can get the latest fashion looks out first, and control costs enough to offer the cheapest price.
The advent of the foreign retailers such as H&M and Zara has "made a big dent in the wallets of their customer," the retail lender said of traditional U.S. players.
Troubled retailers such as Wet Seal, Cache, dELiA*s and Body Central, among others, lack the logistical advantage and bankable brands.
In addition, one industry source noted that general apparel retailers, especially in the teen space, are also being hurt. That person added that the fast fashion teen retail space has been hit especially hard with mall-based traffic declining precipitously.
The space has become oversaturated and is ripe for consolidation, the source said. Thus, a couple of retailers end up liquidating. As a result, another industry watcher declared, there are "going to be some casualties."