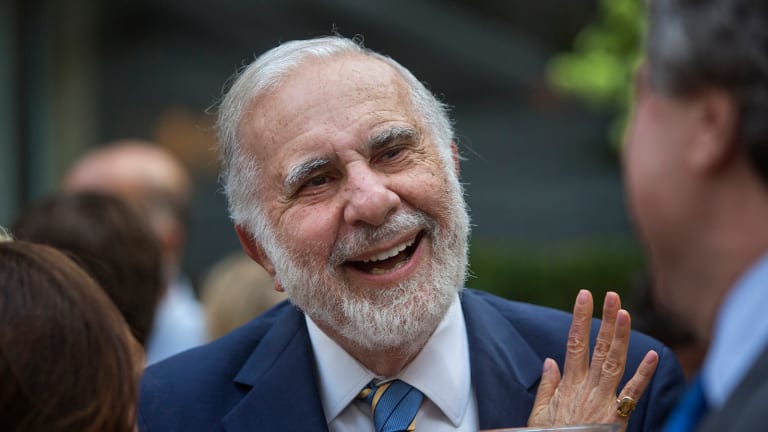 It's Over: Icahn Beats Ackman in Battle Over Herbalife
Icahn has returns of almost $1 billion on his investment in the nutritional supplements company while the Pershing Square Capital Management chief exited his short position deep in the red
Bill Ackman's war with Carl Icahn over the future of Herbalife Ltd. (HLF) - Get Report is finally over—and it is clear who came out on top.
Ackman, according to sources, finally closed out his 5-year-old $1 billion Herbalife short position deep in the red. His opponent at the nutritional supplement company, billionaire raider turned activist Carl Icahn, posted returns of about $1 billion on his investment there, according to people familiar with the situation.
The two investors have been at odds over the investment since Ackman, who leads Pershing Square Capital Management LP, launched a short-selling campaign at the company in December 2012, asserting that Herbalife is a "pyramid scheme" with a worthless stock that should trade at zero.
Icahn, alternatively has defended Herbalife as a good investment that will improve if it expands further into China and he has accumulated a significant stake and director positions in the company over the years. According to FactSet Research Systems Inc., Icahn, who first took a position in 2013, is the largest shareholder with a 26% position.
People familiar with the situation note that Icahn, earlier this month had profits of $961 million on the investment, which have risen to about $1 billion lately.
Herbalife's shares have spiked in value from about $40 a share in 2013 to trade recently at $94.06 a share, up 9% on the news of Ackman's exit. Icahn accumulated his initial 13% position between December 2012 and February 2013 at prices ranging from $25.72 a share and $39.96 a share, well below its current share price. 
Ackman, meanwhile accumulated a short position in Herbalife in 2012 and he offered up a three-hour presentation in December of that year about why he thought the company was a pyramid scheme.
The Deal sought to calculate Ackman's losses on Herbalife based on public documents and estimates. Consider that Herbalife's average price prior to Ackman's presentation in 2012 was about $45 a share and his $1 billion short position suggests that his original short position was in approximately 22 to 23 million shares.
On Nov. 1, 2017, Ackman announced that he had closed out his short position in Herbalife and bought put positions in the nutritional supplement company. Herbalife traded at roughly $78.76 a share in mid-October, shortly before the announcement. Subtracting $78.76 a share price from $45 a share equals a loss of $33.76 a share. Multiplied by 22 million shares, represents a loss of as high as $740 million.
Ackman's Pershing Square fund's public exposure report shows that 4% of the fund as of Oct. 31, 2017 was invested in Herbalife and the fund's net asset value as of Oct. 31 was $9.4 billion. As a result The Deal estimates that Ackman's implied put value was about $377 million.
In a Jan. 29 presentation, Pershing Square said it converted its short position in Herbalife to in-the-money put options representing about 2% of capital. It is possible that this is 2% of $8.9 billion, which is what the fund reported its assets under management was on Jan. 31, which comes to about $177 million. As a result it is possible that Ackman lost an additional $200 million in the month of January on his puts.
According to a trader familiar with the situation, it was possible that Ackman accumulated puts with a strike price ranging from $80 to $85 a share. If that figure is correct, Ackman's puts expire as worthless if the share price rises to more than $80 or $85 a share, which they did earlier this week. If so Ackman lost his entire put position as well. 
In addition, Herbalife on Wednesday, Feb. 28, announced that it was seeking to buy between $450 million and up to $650 million of shares as part of a modified Dutch auction. A person familiar with the situation suggested that Icahn may want to see Herbalife go private at some point down the road, which is easier to realize as the company continues to buy back shares.
Ackman's team declined to comment on the valuation estimates or on the Herbalife exit.
Editor's note: This article originally appeared on The Deal , our sister publication that offers sophisticated insight and analysis on all types of deals, from inception to integration. Click here for a free trial.