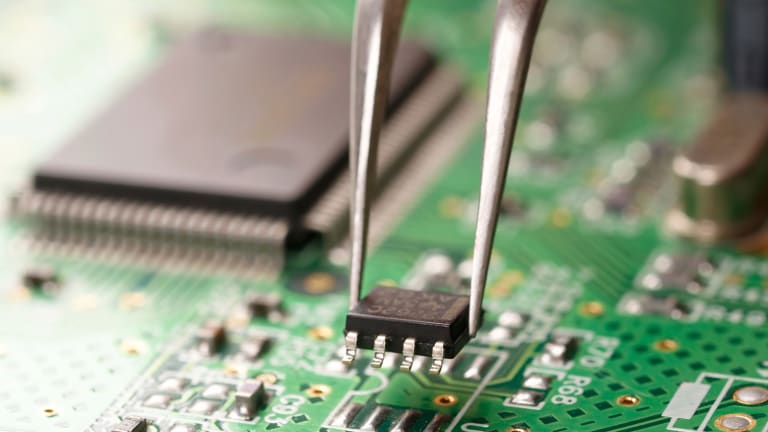 ISSI Shareholders Vote for China's Uphill to End Bidding War
The Milpitas, Calif., chip maker was the subject of a bidding war between the Chinese investor consortium and Cypress Semiconductor.
The Milpitas, Calif., chip maker was the subject of a bidding war between the Chinese investor consortium and Cypress Semiconductor.
NEW YORK (The Deal) -- A nearly two-month bidding war for Integrated Silicon Solution (ISSI) has crossed the finish line as the chip maker's shareholders signaled their support for a tie-up with China's Uphill Investment Co.
ISSI announced on Monday after the markets closed that its shareholders had approved an acquisition by Uphill for $23 per share in cash, or about $730.5 million.
The Milpitas, Calif., semiconductor company said it expected the deal would close in the third quarter following satisfaction of conditions of the acquisition agreement, including the restructuring of ISSI's operations in Taiwan and approval from the Committee on Foreign Investment in the United States.
Sources previously had said they believed the Uphill transaction would allow ISSI co-founder and executive chairman, Jimmy Lee, to stay on board.
With the green light from shareholders, an eight-week bidding war draws to a close. ISSI agreed in March to be acquired for $19.25 per share, or about $611.4 million, by the consortium of Chinese investors in the midst of an activist campaign from Starboard Value LP. Cypress Semiconductor (CY) - Get Report then launched a spoiler bid of $19.75 in May, and a heated battle ensued.
Cypress on Friday put forth its "best and final offer" for its smaller peer -- $22.60 per share, a bid that still didn't trump Uphill's proposal of $23 per share made three days earlier. San Jose, Calif.-based Cypress, which has a $4 billion market capitalization, gave ISSI the last punch last week by asserting that while it still could be interested in acquiring ISSI should the Uphill transaction be delayed or fail to close, its offer would be much lower than $22.60 per share.
A source familiar with the matter previously had said Starboard was closely watching the bidding war and was holding off on getting more involved as long as Cypress remained in the process. In fact, the investor was vocal in criticizing ISSI at the start of the battle when talks between the target and Cypress remained in a stalemate.
Starboard, which teamed up with hedge fund Oliver Press Partners for its campaign, previously held a 11.5% stake in ISSI, but has decreased its stake to 4.3%, according a Schedule 13D filing with the Securities and Exchange Commission on Monday.
While the activist still isn't "pleased" with ISSI, it sees the outcome as an "acceptable result," a source familiar with the matter said on Tuesday. The investor isn't getting further involved because it has decided that Uphill's final bid was "a good enough outcome."
"They killed it," said another source familiar with the situation, who asked for anonymity, of Starboard. "This is a dream scenario. This is exactly what you want to happen.
"It probably reflects on why Starboard is a good activist. Culturally, you can see why this is a company that's ripe for change and needed some adult supervision to make sure that the management was acting in the best interest of shareholders," the source said, adding that the activist achieved a nice valuation without having to fight for board seats.
In revealing a 7.2% stake in November, Starboard pointed to issues with ISSI's noncore acquisitions and board structure, among other things, and said it intended to nominate five directors at the company's annual meeting. The meeting was scheduled to take place on Feb. 15, but never took place this year.
The result of the bidding war is "not all that surprising given that the Chinese virtually (have) an unlimited pot of money," Craig-Hallum Capital Group analyst Richard Shannon said, adding that the Chinese government has been pushing to expand its domestic chip industry.
Previously, Shannon said the odds of ISSI shareholders voting against the Uphill transaction was low.
Shannon noted that while CFIUS could request more restructuring from ISSI as part of its deal with Uphill, he expected the agency would approve the acquisition.
ISSI repeatedly pointed to potential regulatory risks of the Cypress deal, which sources referred to as a negotiating tactic to persuade shareholders to favor the Uphill deal.
Some observers, however, believe ISSI's customers could be a wild card in the target's proposed tie-up with Uphill.
Betsy Van Hees, senior vice president of equity research at Wedbush Securities, said she sees potential regulatory hurdles because ISSI's customer base consists of major U.S. corporations that could have issues with having their future products in the hands of the Chinese government.
"Customers are looking for long-term support," she said, citing Cisco (CSCO) - Get Report, General Electric (GE) - Get Report and Motorola Solutions (MSI) - Get Report as examples.
Sources had said Cypress had long been watching ISSI. In fact, the semiconductor company approached the target in the past about a potential transaction, as ISSI has DRAM memory chips--the last piece of the puzzle Cypress needs to become a leader in the automotive chip market.
"It's pretty clear that automotive is an important end market," Shannon said on Tuesday, adding that mobile, communications and the Internet of Things are other end markets that are becoming increasingly crucial for chip makers.
Despite ISSI's fit with Cypress, "We're happy that Cypress is showing financial due diligence and has set a certain amount that they were willing to pay for the asset," Van Hees said.
Officials with Uphill, Cypress and Starboard could not be reached for comment on Tuesday. ISSI representatives declined comment.
Read more from: