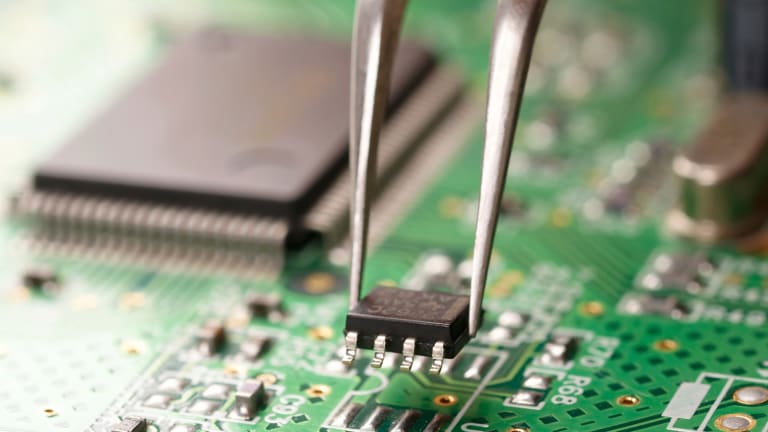 ISSI Agrees to Cypress Semiconductor's Offer After Bidding War
Chipmaker Integrated Silicon Solution has agreed to be acquired by Cypress Semiconductor following a month-long bidding battle, but people who follow the target wonder if the tug-of-war is truly over.
NEW YORK (The Deal) -- Chipmaker Integrated Silicon Solution (ISSI) has reached an agreement to be acquired by Cypress Semiconductor (CY) - Get Report following a month-long bidding battle, but people who follow the target wonder if the tug-of-war for the Milpitas, Calif., company is truly over.
ISSI announced Wednesday that it has finalized a definitive agreement to be acquired by the much larger Cypress for $20.25 per share. Based on the 31.76 million outstanding shares of the target, Cypress' offer is valued at about $643 million.
The target said that San Jose, Calif.-based Cypress has agreed to take "all reasonable actions" to obtain regulatory approval for the acquisition, including the divestiture of ISSI's SRAM memory chip business, if necessary.
ISSI had been the subject of a bidding war between Cypress and a consortium of Chinese investors operating under the name Uphill Investment since mid-May. ISSI had initially agreed in March to be acquired for $19.25 per share by Uphill Investment, in the midst of an activist campaign by Starboard Value. Cypress launched a spoiler bid for ISSI on May 13 and has been duking it out with Uphill investment ever since.
The ISSI board has already recommended the Uphill Investment offer and isn't modifying it, but the company said the board is prepared to revise that recommendation if Uphill Investment doesn't increase its bid.
Uphill Investment has until 5 p.m. PT Sunday to increase its offer, and ISSI has notified Uphill Investment that its board is ready to approve or recommend the Cypress offer and terminate the agreement with Uphill Investment if it doesn't. A special meeting for shareholders to conduct a vote that was scheduled for Friday has now been postponed to June 19.
The big question now is whether Uphill Investment will make another bid, said a source close to the matter via phone Wednesday.
"I don't think they're going to keep bidding against Cypress," the source said of Uphill Investment, wondering whether the consortium's wherewithal to bid is meeting its threshold.  This person said Cypress was never notified that ISSI was on the market and wasn't given the opportunity to participate in the sale process.
The Deal previously reported that Cypress was an obvious strategic buyer for ISSI and had long been interested in acquiring the target. ISSI, however, rebuffed Cypress' attempts to start talks. "They had a buyer out there who was prepared to pay $20.25," the source said.
When considering the termination fee of around $19 million Cypress would pay to Uphill on a per-share basis, ISSI could have received a price tag of about $21 per share from Cypress.
"I would say chances of higher bids are greater than 50%," said Richard Shannon, an analyst at Craig-Hallum Capital Group, by phone Wednesday. At the same time, it is difficult to tell how strong the motivations of Cypress and Uphill Investment are, he said. After all, Uphill Investment has the support from the Chinese government, which has been vocal about wanting to grow its domestic chip business.
"It took a little bit of time for Cypress to figure out what they wanted to do," Shannon said. "They had to commit to sell the business and make this deal happen."
Cypress, he said, would be purchasing ISSI primarily for its DRAM memory chip and automotive businesses.
Shannon said that if Cypress is required to sell ISSI's SRAM assets, GSI Technology  (GSIT) - Get Report, Renesas Electronics, Winbond Electronics and Macronix International would likely be interested in buying them. Officials at those companies didn't return calls.
The acquisition agreement came just two days after ISSI said Cypress had failed to finalize a merger agreement by a June 7 deadline because the bidder did not provide Integrated Silicon with protection against potential regulatory risks. ISSI had previously expressed concerns with Cypress' ability to get antitrust clearance in the U.S. and Germany, since the combined company would be the largest supplier of memory chip SRAM to the automotive market.
But sources had previously told The Deal that such concerns appeared to a negotiating tactic ISSI was using to persuade shareholders to favor the Uphill Investment deal. While there is no clarity around what the back end of the transaction with Uphill Investment entails, it is widely believed that it would allow ISSI chairman and co-founder, Jimmy Lee, to stay involved at ISSI.
Sources have also said the Uphill deal would pose more regulatory hurdles, since the required restructuring or divestiture of its Taiwanese operations in connection with the Chinese group would remove a lot of value from ISSI. Not only that, there are question marks surrounding Uphill's true plans when it comes to technology and customer support.
In a separate statement Wednesday, Cypress revealed that its CEO, T.J. Rodgers, has sent a letter to Lee and ISSI CEO Scott Howarth.
"Cypress is assuming the antitrust risk because it believes the antitrust authorities will readily appreciate the fundamentally procompetitive nature of this transaction and, in that light, will not object to the 'SRAM overlap' that you have expressed concern about," Rodgers wrote, explaining that the SRAM overlap amounts to less than 2% of the sales of the combined entity.
The merger between the two companies will enable the combined entity to provide a more complete product portfolio, he added.
Rodgers went on to say that the merger agreement has been approved by the Cypress board and that Cypress is ready to execute the agreement once ISSI terminates the existing agreement with Uphill Investment.
Cypress, which completed its $5 billion merger with Spansion in March, has a track record of going beyond the pale to grab an asset it wants. It successfully purchased Ramtron International for $110 million in 2012 after chasing the company for three months.
Uphill Investment includes Summitview Capital, eTown MemTek, Hua Capital Management and Huaqing Jiye Investment Management among its investors. Hua Capital's involvement is notable, since it agreed in April to take chipmaker OmniVision Technologies (OVTI) private for about $1.9 billion.)
About three months after Uphill Investment offered $19.25 per share for ISSI, Cypress launched a spoiler bid of $19.75 per share on May 13. Uphill responded May 29 by raising its offer to $20 per share, only for Cypress to sweeten its bid to $20.25 per share later that day.
Meanwhile, Jeffrey Smith's Starboard Value has been agitating for change at Integrated Silicon since late November, when it launched an activist campaign with hedge fund Oliver Press Partners.
The investors pointed to issues with ISSI's noncore acquisitions and board structure, saying that they intended to nominate five directors at the 2015 annual shareholder meeting scheduled for Feb. 15, but they never did. Starboard, which has a 11.5% stake in the chipmaker with Oliver Press, put pressure on ISSI when the company's talks with Cypress stalled.
The semiconductor space at large has been racing to consolidate this year. Intel (INTC) - Get Report has agreed to buy Altera (ALTR) - Get Report for $16.7 billion while Avago Technologies (AVGO) - Get Report is paying $37 billion for Broadcom (BRCM) . Dutch chipmaker NXP Semiconductors  has agreed to shell out $16.7 billion for Freescale Semiconductor (FSL) of Austin, Texas.
Shares of ISSI closed at $20.27 Wednesday, down 0.9%, while Cypress' stock finished at 13.14, up 4.3%.