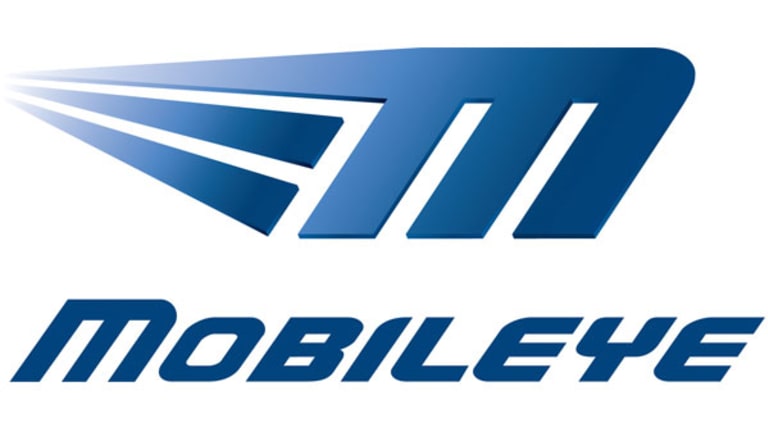 Israel's Mobileye Looks to Driverless Car after Record IPO
Mobileye hopes to win the race to in the development of 'autonomous' or 'driverless' car technologies in the wake of its initial public offering.
NEW YORK (TheStreet) -- Mobileye (MBLY) , a market leader in software that gives drivers alerts on collisions, lane changes and oncoming pedestrians, hopes to win the race to develop an 'autonomous' or 'driverless' car in the wake of its initial public offering on Friday.
Jerusalem-based Mobileye sold 35.6 million shares for $25 each, raising $890 million in its listing on the New York Stock Exchange. The offering priced above Mobileye's $21-to-$23 a share range and is the largest-ever U.S. IPO of an Israeli company. Mobileye's stock surged 48% to $37 a share in the company's first day of trading.
Mobileye expects to continue pioneering the market for advanced driver assistance systems (ADAS) after its technologies have been adopted by premium automakers such as BMW, Audi, Jaguar Land Rover and Tesla (TSLA) - Get Tesla Inc Report, in addition to mass market carmakers like Ford (F) - Get Ford Motor Company Report, Honda (HON) - Get Honeywell International Inc. (HON) Report and Nissan.
The company also believes its radar, sensor, microchip and camera technologies will allow it be the first to develop a semi-autonomous driving car at highway speeds. Mobileye is designing the first system for hands-free driving at highway speeds with two automakers, which it expects to launch in 2016.
Mobileye also expects to launch its autonomous driving system with six more automakers by 2018. Two other innovations, autonomous driving for country roads and city traffic, are forecast by the company launch as early as 2018. As with its ADAS systems, Mobileye believes its autonomous driving software will begin with premium car models and then filter into mass market models.
Fast Adoption Since 2007
Founded 15 years ago by Hebrew University professors Amnon Shashua and Ziv Aviram, Mobileye shipped its first technology, the EyeQ chip, in 2007. Within five years, Mobileye installed 1 million such chips, which anticipate collisions with vehicles, pedestrians and debris.
In 2013, Mobileye shipped 1.3 million chips and by the end of 2014, it forecasts that the company's technology will be adopted by 18 automakers for inclusion in 160 car models worldwide.
The company earned $19.9 million in 2013 net income on $81.2 million in revenue, a more than doubling of sales from the previous year. 
Selling Shareholders
Mobileye has attracted a long list of investors, including Goldman Sachs, Fidelity Investments and BlackRock.
The company's IPO prospectus shows that Goldman Sachs is its largest investor with an over 12% stake after the offering, while Fidelity and BlackRock own more than 5% of the company each. Co-founders Shashua and Aviram will each own 8% stakes in Mobileye in the wake of its offering.
The company will receive proceeds of nearly $200 million before underwriting expenses as part of its IPO, while selling shareholders will receive $647.5 million.
Mobileye intends to use proceeds to buy EyeQ chips and Mobileye 5-Series inventory, with the remainder of proceeds used for general corporate purposes such as working capital and capital expenditure. Proceeds may also be used for acquisitions, Mobileye said in its prospectus.
Bottom Line: Mobileye quickly emerged as the leading developer of sensors, camera's and chips that are increasingly prevalent in new car models. The company expects its technologies will pioneer the autonomous car within a few years of its IPO.
-- Written by Antoine Gara in New York