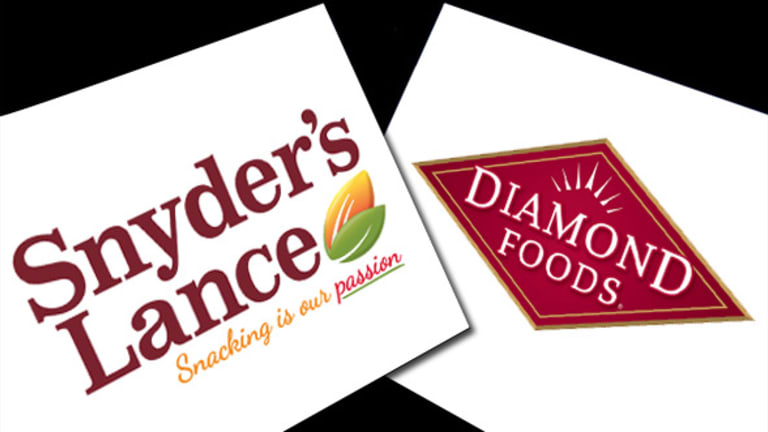 Is Snyder's-Lance's Bid for Diamond Foods Too Sweet?
Industry sources have said anything higher than $35 per share would be overpaying for Diamond. Even after Wednesday's decline for Snyder's-Lance, this deal values Diamond near $38 per share.
Snack food maker Snyder's-Lance (LNCE) has agreed to acquire competitor Diamond Foods (DMND) for about $1.9 billion in a cash-and-stock deal, the two companies announced on Wednesday.
The deal will be paid for with $12.50 in cash and 0.775 shares of Snyder's-Lance for each share of Diamond Foods. The purchase price also includes the assumption of about $640 million of debt. The merger will be financed by the Charlotte, N.C.-based acquirer with cash on hand, existing credit facilities, committed financing provided by Bank of America Merrill Lynch and is expected to close in early 2016.
Oaktree Capital Management, Diamond Foods' largest shareholder, has agreed to vote in favor of the transaction. Shareholders of Diamond Foods will own about 26% of the combined company.
Snyder's-Lance will add five brands to its portfolio, including Kettle chips, Pop Secret popcorn, Emerald snack nuts and Diamond of California culinary nuts, with the acquisition. The brands will be added to a roster that includes Snyder's of Hanover, Lance, Cape Cod, Snack Factory Pretzel Crisps, Late July, Krunchers!, Tom's, Archway, Jays, Stella D'oro, Eatsmart, O-Ke-Doke and others.
Industry sources have previously told The Deal that pegging the value of Diamond Foods' at $35 per share or above would be overpaying for the company.
Synder's-Lance is limiting its risk by largely paying with stock rather than debt, but the company is diluting its shareholders in the process. The multiple Synder's-Lance is shelling out is typically reserved for companies with consistent growth.
Such a transaction may end up giving Snyder's-Lance shareholders indigestion. 
The buyer's shares were down 8% near the close Wednesday, to $33.23.
The acquirer's CEO, Carl Lee, justified the deal, stating that the two companies' combined sales teams would achieve better revenue growth, and grow internationally via Diamond's presence in Europe.
The buyer said the combination could potentially generate cost-saving synergies of about $75 million on an annual basis, of which $10 million will be re-invested in the company's growth plans. 
Synergies will come from utilizing Snyder's-Lance distribution system and reducing costs. 
The acquirer will also receive the benefit of tax net operating losses valued at $110 million.
With a $1.9 billion valuation, investors in Diamond Foods would be selling at a multiple of nearly 17.3 times adjusted EBITDA, according to data provided by Bloomberg, a rich valuation for a stale snack food company.
Revenue at Diamond Foods has been flat for the past three years, with net sales ranging from $864 million to $865 million for its fiscal years 2013 through 2015. 
That's a significant decline from fiscal 2012 when Diamond had about $980 million in net sales.