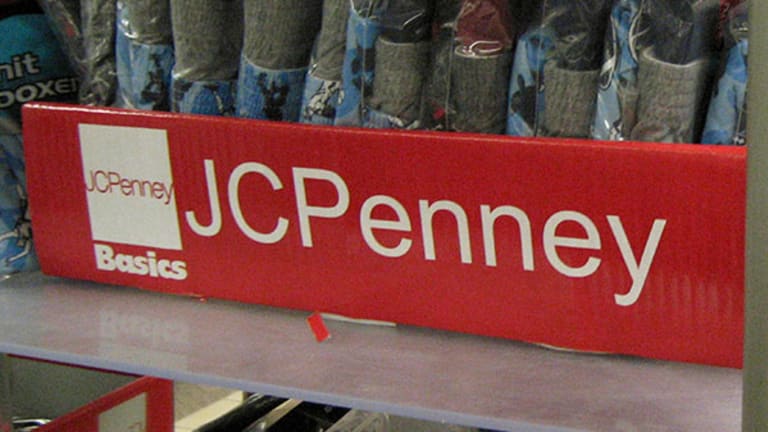 Is J.C. Penney Raising Enough Capital?
J.C. Penney was facing a life or death holiday season before its capital raise.
NEW YORK (
) --
J. C. Penney
(JCP) - Get Free Report
could step back from the brink of collapse, after announcing a highly dilutive capital raise that all but assures the retailer will be among the worst stock market performers of 2013. But will it be enough?
J.C. Penney is looking to raise about $810 million in equity through an 84 million share offering that UBS analysts calculate will dilute existing shareholders by roughly 38%. While that dilution will hinder J.C. Penney's ability to generate meaningful earnings per share in coming years, it also means that the company may have stepped back from the brink of a make it or break it holiday season.
The real question is whether J.C. Penney can use a extra quarter's worth of cash to stabilize its business and begin a turnaround, or whether the company will be in need of additional equity after the holiday season.
On one hand, most Wall Street analysts have taken the surprising equity raise as a signal that J.C. Penney wanted to shore up its vendor relationships heading into the holiday season. The company receives inventory on credit and also relies on firms such as
CIT Group
(CIT) - Get Free Report
for short-term financing.
Read: J.C. Penney to Raise $810M in Equity Offering
Placating vendors ahead of the holidays could be seen as a necessary, if painful pill for the company to swallow, after it wasted billions of dollars trying to implement a new pricing strategy and store branding under the management of former CEO Ron Johnson.
"While just 37 days prior,
on J.C. Penney's second quarter conference call CFO Hannah stated that additional liquidity would not be needed through year-end, our conversation with management pointed to (1) a recent change in the macro picture heading into holiday (i.e., increased uncertainty), and (2) the need to assuage swirling vendor and investor concerns as key explanations for the recent mindset shift," JPMorgan analyst Matthew R. Boss wrote in a Friday note to clients.
So assuming that vendors are now in place through year-end, shareholders are likely left wondering whether a similar equity raise might be in the cards in 2014. On that front, there is reason for concern.
Read: J.C. Penney Investors Suffer Whiplash
Friday's stock sale is less than the over $1 billion in equity many analysts say they expected the company to raise. The Plano, Texas-based retailer said Friday that it would price 84 million shares of common stock at $9.65 a share, well below the closing price of $10.42 on Thursday.
"
The timing was somewhat surprising, especially given the low stock price, the size of the deal was in-line with our thoughts, albeit at the low-end of our forecasted range ($1.0-$1.5 billion)," Deutsche Bank wrote in a Friday client note. Those analysts said the smaller raise will give J.C. Penney year-end liquidity of $2.3 billion, in a deal that prevents the fourth quarter from being a "make it or break it period" for the company.
Some analysts even believe J.C. Penney can continue to generate negative free cash flow in coming years without having to raise additional capital. "We do not believe that J.C. Penney will need to tap any additional financing in 2014 or 2015, and it does not have any debt maturities in these years," Citigroup analyst Deborah L. Weinswig wrote in a note.
Others aren't so sure.
"While an equity raise improves near-term liquidity (like the $2.3B loan completed in May'13), we remain concerned that J.C. Penney will continue to burn cash in '14 and beyond," UBS analysts wrote on Friday. They calculate that J.C. Penney could burn $650 million even in an recovery that includes 5% same-store-sales growth and gross margins above 500 basis points.
Those analysts fear J.C. Penney could require additional capital until it can generate $750 million to its interest expense and maintenance capital expenditure.
J.C. Penney shares were tumbling over 7% to $9.65 in pre-market trading on Friday.
Reports surfaced this week that the troubled retailer was looking for an equity infusion, possibly as high as $1 billion, to get it through the holiday season.
J.C. Penney shares have had a rocky week, down 20% since last Friday. On Wednesday, Goldman Sachs credit analysts raised concerns about the company's liquidity and financial position heading into year-end.
"In our view a combination or weak fundamentals, inventory rebuilding and an underperforming home department will likely challenge J.C. Penney's liquidity levels in
the third quarter," Goldman Sachs wrote in a credit report.
Those analysts expected J.C. Penney to raise additional debt financing, however, the company has gone with an equity raise that will do more to stabilize the company's finances, albeit, at the expense of shareholders.
J.C. Penney has already borrowed more than $3 billion this year to fund its turnaround, including a $2.25 billion term loan from Goldman. The investment bank is advising J.C. Penney on its equity capital fundraising.
J.C. Penney said on Thursday that it was "pleased with its progress thus far in the company's turnaround efforts and the traction its initiatives are starting to achieve," by seeing "greater predictability in its performance across many areas," according to a statement.
The company still anticipates "positive comparable store sales trends coming out of the third quarter and throughout the fourth quarter of 2013."
-- Written by Antoine Gara and Laurie Kulikowski in New York.