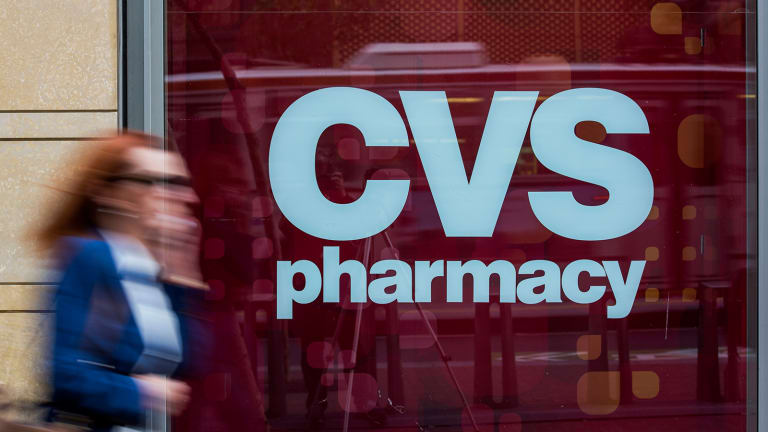 With Aetna Deal, Is CVS Turning Its Back on Retail?
The drugstore chain's deal for the insurer, which could be valued at more than $70 billion, would affect healthcare much more than retail.
CVS Health Corp. (CVS) - Get Report  is getting closer to sealing its bid for insurer Aetna Inc. (AET)  for reportedly more than $66 billion in cash and stock. The acquisition could be announced as soon as Monday, Dec. 4. 
The latest price tag — down from The Wall Street Journal's previously reported $70 billion — values Aetna at about $200 to $205 per share, and the healthcare company allegedly is pushing for more cash than stock. Aetna shares reached about $181 on Thursday, with a market cap of just over $59 billion. 
If it cleared regulatory hurdles and closed, the deal would be an unprecedented merging of industries, experts told TheStreet last month. 
But no one was blindsided by the deal rumors, they said. CVS has been increasingly focusing on healthcare ventures, with its acquisition of pharmacy benefit management companies Caremark Rx Inc. in 2006, and then Omnicare Inc. in 2015, as well as with its expansion of in-store clinics and long-term care.
"At this point, CVS is definitely more of a healthcare company with a retail presence than the other way around," said Jeremy Bryan, a portfolio manager at Gradient Investments LLC, a minor CVS shareholder. Shares of Aetna rose as much as 12% when news of the reported deal first surfaced on Oct. 26. 
Still, a traditional insurer's entrance into retail would be a first, with the integration of those two fields undefined. All that, Bryan said, remains for CVS to answer.
While the impact likely would be light on retail, insiders predicted, the deal certainly would light a fire under competitors such as Walgreen Boots Alliance Inc. (WBA) - Get Report , which announced 600 store closures on top of dismal earnings on Oct. 25.
"We're seeing diverging directions for CVS and Walgreens," said Tom Charland, founder and CEO of Merchant Medicine LLC, a firm that tracks retail health clinics. "But the merger puts [CVS] on a stronger growth trajectory."
Retailers have long invested in healthcare in hopes of getting into the trillion-dollar market. Amazon.com Inc. (AMZN) - Get Report would be a strong contender if it were to enter the retail pharmacy space, Bryan said. He added that CVS' absorption of an insurance company "probably won't have an effect on Amazon's ambitions."
For CVS itself, its retail pharmacy could either grow or suffer. If it successfully leveraged Aetna's insurance offerings, store traffic could pick up, Bryan said. "But what if they lose customers who have other carriers? That could be the case, too."
More likely change, however, will happen on the healthcare side of things. For insurance companies, the deal would mean that healthcare is on track to be more consumer-friendly, according to Charland. "All of a sudden, Aetna now has a partner in a very big way, and we'll see the whole movement for healthcare to become much more consumer-oriented," he said. "Those that can get ahead of the game with partnerships like this one will be at a very strong position."
The merger also could mean innovative insurance offerings, said Adam Fein, president of Pembroke Consulting Inc., a pharmaceutical distribution consulting firm. With CVS' consumer insights, "Aetna could have more intimate relationships with beneficiaries," he said. "CVS has a lot of touch points to the consumer as a retailer, so they could influence consumers and manage outcomes in a way that traditional insurers can't."
For instance, CVS is virtually the only retail player to expand its in-store health clinics in recent years, TheStreet reported earlier in October. It opened its first walk-in MinuteClinic in 2000, and as of early October, there were more than 1,100.
"Right now, a typical insurer has to rely on a network of care providers to interact with patients," Fein said. "But now, Aetna could have that same network of access much closer through CVS' influence on consumers as a care provider itself."
The deal, while the first of its kind, would fall in line with a larger trend of pharmacy benefit management companies, or PBMs, consolidating with traditional insurers, according to Fein. "The convergence of PBMs and the health insurance business has been building for some time," he said, citing UnitedHealth Group Inc. (UNH) - Get Report and its acquisition of Catamaran Corp., a PBM, under its healthcare service arm. 
CVS and Aetna could agree on terms of the deal as early as December, sources told Reuters Nov. 3. They've already agreed that CVS will finance the deal through cash and stock, a structure that would minimize tax liabilities for Aetna's shareholders. With a price tag of $70 billion, Aetna would be valued far above the originally reported $200 per share.
As for the well-being of CVS, it's too early to assess the move's value, Bryan said. 
More of What's Trending on TheStreet:
Editors' pick: Originally published Oct. 26.