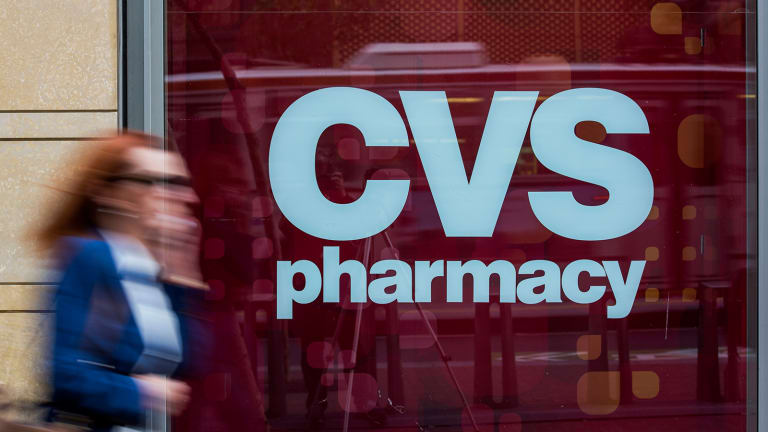 Is CVS Ready for Blockbuster M&A After Disappointing Earnings?
Executives aren't ruling anything out after the pharmacy operator reported first quarter earnings that exceeded analyst estimates but missed on guidance.
After reporting mixed earnings, CVS Health (CVS) - Get CVS Health Corporation Report  could be headed for a deal, the size of which remains unclear, but the company seemed open to various transactions.
"It sounds to us like CVS is open to nearly everything, though there seems to be a leaning towards enhancing the capabilities of the in-store clinics with medical services that can bend medical trend," wrote Leerink analyst David Larsen in a note Tuesday. "When questioned on whether or not a health-plan deal might make sense, CVS seemed to be open to considering the possibility."
The comments come after the pharmacy operator reported first quarter earnings that exceeded analyst estimates but missed on guidance. 
CVS earned $1.17 a share adjusted, with revenue up to $44.51 billion. Pharmacy same-store sales slid 4.7 percent, more than some estimates. CVS lost some key pharmacy contracts over the past year. Analysts has projected a 7 percent profit drop to $1.10 a share, with revenue rising 2% to $44.2 billion.
"And we're continuing to focus on the cost side as we think about the things that we need to do to be more productive both in the PBM business and in the Retail business and the Long Term Care business," said CVS CFO and Executive Vice President David M. Denton on the call May 2 with investors. "We're making investments this year that will deliver for us over the next many years significant savings to drive performance."
Shares of CVS closed down about 3.6%, or $2.96 per share, to $79 on Tuesday. The company rebounded Wednesday and Thursday and was trading up about 1% to $80.60 per share midday Thursday.
Major deals by CVS in recent years include its $12.7 billion acquisition of Omnicare, the country's leading provider of pharmacy services to nursing homes, assisted living facilities and other institutional healthcare providers in 2015 and  its $2.1 purchase in 2013 of Coram, one of the nation's largest providers of infusion therapies and nutrition services.
The Woonsocket, R.I.-based company is showing some signs of weakness in its retail division and lowered guidance for the division's income growth to a range of negative 9.5 percent to 7.75 percent from 9.5 percent to 7 percent. 
"CVS also mentioned that there was some early recognition of earnings in the Retail division and some expenses were pushed forward," Larsen wrote.
CVS forecast second quarter earnings between $1.29 per share and $1.33 per share, with the midpoint below Wall Street's consensus. For the just concluded quarter, the company reported earnings of $1.17 per share on revenue of $44.51 billion vs. consensus estimates of $1.10 per share on revenue of $44.2 billion.
CVS wasn't only on the minds of its own investors Tuesday, as the company was also mentioned in Aetna's (AET) quarterly earnings call. In July 2010 the two signed a 12-year contract to provide pharmacy benefit management services to Aetna customers.
"As we talk to CVS about our relationship going forward, we're trying to fundamentally rethink how we could work closer together both on the pharmacy side but also on local care delivery that could go on in the community given that CVS has 9,000 stores within 3 miles of 80% of the American public," said Mark T. Bertolini, Aetna's CEO, on a call Tuesday morning after the company posted earnings per share of $2.71 (excluding one-time charges), blowing by the average analyst estimate of $2.37.
Aetna, which walked away from a $34 billion deal for Humana (HUM) - Get Humana Inc. Report after it was blocked by regulators, said adjusted revenue fell 1.3 percent to $15.49 billion, but marginally above estimates of $15.44 billion. The company also announced it would reduce its presence in the Affordable Care Act exchanges in 2018 as it expects losses in the business this year.
Aetna shares have since traded up to about $139 per share from $137.
CVS competitor Walgreen's (WBA) - Get Walgreens Boots Alliance Inc Report , which is currently entangled in a battle to close its acquisition of Rite Aid (RAD) - Get Rite Aid Corporation Report , and is a holding in Jim Cramer's charitable trust portfolio, is among the many topics being discussed over on TheStreet's premium website Real Money. Get in on the conversation with a free trial.
Editor's pick: This article was originally published on May 2 at 2:17 p.m. ET. 
Read More Trending Articles:
Tesla Didn't Earn Any Money in First Quarter, But Here Are 8 Awesome Things We Just Discovered
Here Are Some Companies Apple Might Acquire With its Huge $250 Billion Cash Stockpile
Crashing Crude Snuffs Out Occidental, Chesapeake Earnings Beats
Kraft Heinz' Ruthless Cost-Cutting Could Be Scaring Off M&A Targets -- Jim Cramer Weighs In