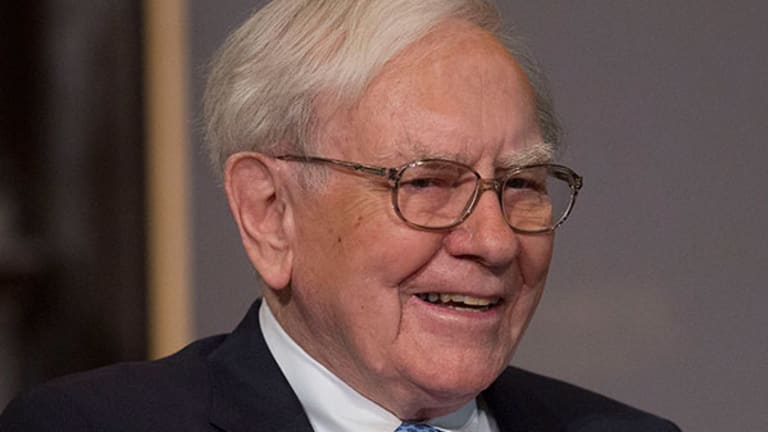 Is Buffett's Graham Holdings Deal a Glimpse into Berkshire's Future?
Could Warren Buffett be testing a new dealmaking strategy in swapping his Graham Holdings stock for assets, cash and Berkshire shares.
Updated from 10:50 a.m. ET to include closing share prices and calculations of Graham Holdings exchange

NEW YORK (TheStreet) -- Warren Buffett may be perfecting a new way for Berkshire Hathaway to exit its large investments. On Wednesday, Berkshire Hathaway (BRK.A) - Get Berkshire Hathaway Inc. Report and Graham Holdings (GHC) - Get Graham Holdings Company Report agreed to a deal where the Warren Buffett-run company will acquire Miami TV station WPLG, cash and Graham Holdings shares in Berkshire Hathaway in exchange for Berkshire's 1.6 million share stake in the former owner of the Washington Post.
Berkshire Hathaway's deal essentially cashes out the investing conglomerate from its long-standing investment in Graham Holdings. But Berkshire won't sell a single share in the deal, even as it forks over about 21% of graham Holdings' stock.
Instead of selling shares on the open market, Berkshire will give its 1.6 million shares back to Graham for a TV station, cash and Berkshire shares that Graham Holdings acquired during a long-relationship between Buffett and the newspaper's founding family.
The Miami TV station will be valued at $364 million, and Graham Holdings will fork over $327.7 million and $400.3 million worth of Berkshire shares, as part of the deal, according to an 8-K filing with the Securities and Exchange Commission. Berkshire Hathaway will retain between 91,490 and 111,716 shares in Graham Holdings depending on the trading prices of both firms as the exchange closes.
For Berkshire Hathaway, the deal is more of an estate sale than anything. Buffett held onto a large chunk of Graham Holdings shares for decades amid the chronic decline in the newspaper industry, partly out of a relationship he had with the Graham family and particularly Katherine Graham. "I can afford to be sentimental," Buffett said of Berkshire's investment in Graham Holdings.
That sentiment, however, may have been lost when Graham Holdings sold The Washington Post to Amazon (AMZN) - Get Amazon.com Inc. Report founder Jeff Bezos in 2013. What remains of Graham Holdings, formerly known as The Washington Post Company, is a conglomeration of educational businesses and broadcast TV channels.
If history is any guide, there may be tax savings in Buffett's share swap deal with Graham Holdings, over a sale of the company's stock.
For Graham Holdings, Monday's deal mostly amounts to a large stock buyback. Instead of Berkshire selling those shares on the open market, Graham will transfer assets such as WPLG, cash and Berkshire shares to Buffett.
Essentially Berkshire and Graham Holdings agreed to a swap, and not a sale.
Two things stand out. First, Buffett has now officially exited Berkshire's biggest newspaper investment, a stake often criticized by outside observers. There are few stock market "Oracles" still invested heavily in newspapers.
More importantly, however, Buffett's swap deal may be indicative of how Berkshire Hathaway could increasingly look to exit large investments.
Because Berkshire has so many large investments with unrealized gains, both Buffett and the company he invests in are in a slight bind if Berkshire wants to exit an investment. Large sellers of shares sometimes cause a company's stock to fall. There are also tax implications for Buffett.
Exchanges of company assets appear be an alternative way for Berkshire to exit its investments.
In December, Berkshire Hathaway exited its stake in Phillips 66 (PSX) - Get Phillips 66 Report by agreeing to a deal with the company for its Phillips Specialty Products unit, which optimizes the flow of oil and gas through pipelines. The deal may have underscored Buffett's willingness to invest in the logistics surrounding a surge in onshore oil and gas transport across the U.S.
It also amounted to a cash-rich spin-off for Phillips 66 and Berkshire Hathaway, according to Robert Willens, a tax expert.
Willens noted that the Phillips 66 deal was similar to Berkshire's divestment of White Mountains Insurance Group (WTM) - Get White Mountains Insurance Group Ltd. Report. In 2008, Berkshire divested an over 16% stake in White Mounts directly to the company in exchange for $751 million in cash plus two units of the Hamilton, Bermuda-based insurer.
Berkshire's Graham deal is similar to its White Mountain and Phillips 66 stake sales.
Whether Buffett's deal-making ways extend to Berkshire's larger investments like Wells Fargo (WFC) - Get Wells Fargo & Company Report, American Express (AXP) - Get American Express Company Report, Coca-Cola (KO) - Get Coca-Cola Company (The) Report and IBM (IBM) - Get International Business Machines Corporation Report could be a story to watch in coming years.
"I am sure this is a mutually beneficial transaction for both companies," Buffett said of his Graham Holdings deal on Monday. "While this transaction will greatly reduce our position in Graham Holdings, our admiration for the company and its management is undiminished."
"Warren Buffett's 40-year association with our company has been extremely good for our shareholders. Naturally, the deal that we have put together is one that will be good for both companies," said Donald E. Graham, chairman and chief executive officer of Graham Holdings Company, said on Wednesday.
Graham Holdings gained over 3% in Wednesday trading, closing at $730.79. Berkshire Hathaway shares closed up less than 0.5% at $187,750. 
-- Written by Antoine Gara