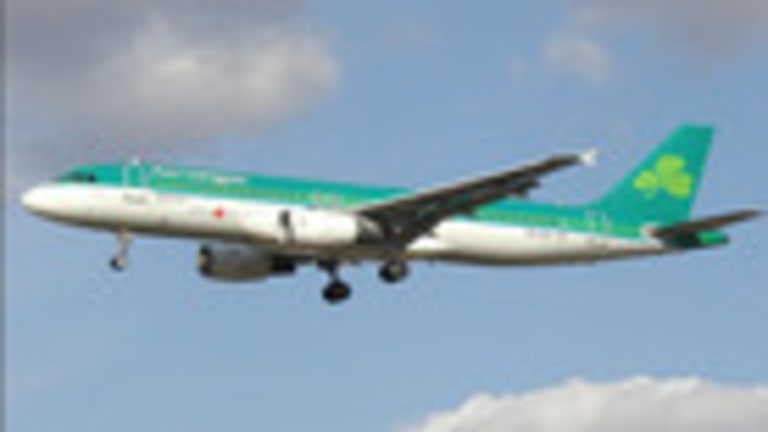 Irish Government OKs IAG Deal for Aer Lingus Following Guarantees
The support removes a major obstacle to a takeover, which would give the British Airways and Iberia parent vital new transatlantic capacity at Dublin Airport.
NEW YORK ( The Deal) -- The Irish government has thrown its support behind International Airlines Group's €1.4 billion ($1.5 billion) bid for Aer LingusHoldings, removing a major obstacle to a takeover, which would give the British Airways and Iberia parent vital new transatlantic capacity at Dublin Airport.
After four months of intense discussions with the bidder, Transport Minister Paschal Donohoe said late Tuesday that the government "considers that a sale of the state's minority shareholding to IAG, on the basis of the terms offered, would be the best means of securing and enhancing Ireland's connectivity with the rest of the world and maintaining a vibrant and competitive air transport industry in Ireland."
"It would also best serve the interests of the traveling public, Aer Lingus and its employees, the Irish tourism industry and the Irish economy as a whole," he added in a statement released after a cabinet meeting.
Aer Lingus shares extended gains made Tuesday on anticipation of government clearance and were up 1.9% at €2.44 in Dublin by Wednesday afternoon.
In London, International Airlines Group, or IAG, also edged higher. The U.K. company has a market value of about £11.2 billion ($17.2 billion).
The government said that it would tender its 25.1% stake, subject to approval by the Irish parliament, after IAG agreed to make legally binding commitments to retain Aer Lingus flights between three Irish airports and London's Heathrow for at least seven years, up from five years originally.
IAG also gave jobs and employment rights guarantees and signed up to binding pledges to keep the Aer Lingus brand and its Irish head office. IAG is led by Willie Walsh, a former Aer Lingus chief executive.
Attention will now turn to leading Aer Lingus shareholder, Ryanair Holdings (RYAAY) - Get Report, whose 29.8% holding is a legacy of previous unsuccessful bids.
Ryanair has consistently refused to deliver its verdict on the IAG offer until it has the bid documentation in its hands. However, it has been fighting a lengthy court battle in the United Kingdom to challenge the domestic competition regulator's decision that it must reduce that stake.
IAG's offer is conditional on Ryanair's approval and on it securing a 90% Aer Lingus stake.
IAG is offering €2.50 a Aer Lingus share and on Jan. 27 garnered the approval of the Aer Lingus board in principle after the target's directors had batted back an opening gambit of €2.30 a share in mid-December and a sweetened €2.40-a-share proposal two weeks later.
Aer Lingus' transatlantic slots are key to the deal amid a capacity squeeze at Heathrow as U.K. politicians and lobbying groups continue to bicker about whether to build a third runway there.
Dublin is Europe's sixth-largest transatlantic hub and has a purpose-built facility that allows U.S-bound passengers to gain pre-clearance under U.S. border protection rules. Heathrow is Europe's No. 1 hub for transatlantic travel.
IAG said that it will feed transatlantic traffic to Dublin from regional U.K. airports.
"The beauty of this dual hub Dublin-Heathrow is that it gives us opportunities that we don't have in the U.K. We have a lot of frequent fliers who will use Heathrow for long-haul flying but find it more convenient to fly with other airlines transatlantic, so it will benefit our existing customers as well as Aer Lingus customers," Walsh said during a conference call.
He declined to comment in detail about the antitrust process but suggested that he expects the fusion to have a relatively smooth ride.
"The city overlap is not significant, so based on previous deals we expect this to be done in an efficient manner," Walsh said.
He predicted that the takeover of Aer Lingus would result in 635 new jobs at the Irish airline by 2020 and provide knock-on benefits to the Irish economy, for example by boosting tourism.
IAG declined to give synergy figures, though Walsh said that they would be significant, particularly on the revenue side.
IAG said that the takeover will boost its earnings in the first full financial year, while Aer Lingus will meet or exceed IAG's existing operating margin and return-on-invested-capital targets.
IAG, which was created through the $9 billion takeover in 2011 of Iberia Lineas Aereas de Espana by British Airways, expects to finance the acquisition through syndicated debt.
The offer is 40% more than Aer Lingus' undisturbed share price as of Dec. 17. Aer Lingus shareholders will get a €0.05-a-share dividend on Friday on top of the IAG offer, which Walsh said Wednesday that the airline wouldn't sweeten further.
The €2.50-a-share price is "acceptable and is satisfied that it represents fair value to the state as a shareholder from a financial point of view," according to the Irish government.
If, as expected, given the ruling coalition's parliamentary majority, the sale is approved by Irish lawmakers, the government plans to use the proceeds of the stake sale to establish a "connectivity fund."
The Impact labor union late Tuesday reiterated its opposition to the transaction and questioned how watertight IAG's guarantees really are.
In a statement Aer Lingus Chairman Colm Barrington welcomed the government's approval of the takeover and called the transaction "compelling."
Advisers on the deal include Tom Cooper, James Maizels and Javier Rapallo at Deutsche Bank and Joe Gillfor and Finbarr Griffin at Goody Stockbrokers for IAG; and Goldman Sachs' Anthony Gutman, Nick Harper and Eduard van Wyk, as well as Investec Bank's Liam Booth and Shane Lawlor for Aer Lingus.
Read more from: