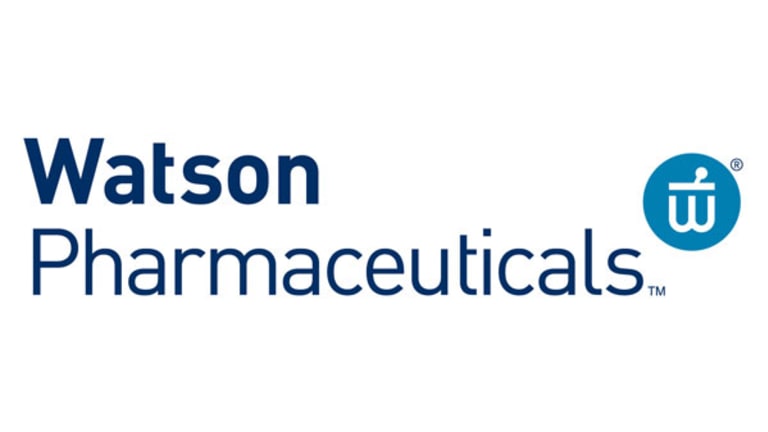 Ireland Welcomes Watson Pharmaceuticals, an American Success
Another entrepreneurial U.S. startup bites the dust... sort of.
NEW YORK (
) --
Watson Pharmaceuticals
, founded by a Taiwanese immigrant in the early 1980s and now a rival to generic drug giants
Teva Pharmaceuticals
(TEVA)
and
Novartis
(NVS)
, is such an American success story the company has wound up in Ireland.
On Monday, Watson capped its intercontinental move when the company announced a $8.5 billion deal to buy Dublin-based-
Warner Chilcott
(WCRX)
. In order to take advantage of byzantine tax and merger laws, the combined company will now incorporate in Ireland, ending Watson's spectacular three-decade rise to become a U.S. success story in the global pharmaceutical market.
Watson was founded in 1985 by an immigrant Purdue University Ph.D., Allen Chao, and a colleague, David S. Hsia, as a fledgling pharmaceutical with a few million dollars raised by friends and family in the Taiwanese community living in California.
The company's growth to a market cap of over $16 billion and the third leading share of the generics market is nearly on par with the rise of
Intel
(INTC)
,
Google
(GOOG)
, and
Yahoo!
(YHOO)
, all great American businesses founded in the U.S. by first generation immigrants.
Its move abroad, however, underscores that while the U.S. remains a hotbed of innovation, successful companies are using tax loopholes to leave the country's shores.
In the case of Watson Pharmaceuticals, the corporate shape-shifting it has undertaken in the name of tax avoidance is likely to obscure the company's enterprising immigrant roots.
Already, much of Watson Pharmaceuticals' history has been bleached over by corporate PR to effectuate its move to Ireland.
In 2012, Watson Pharmaceuticals
Actavis, a Swiss competitor in the generic drugs market. While Watson was the acquirer, the company nevertheless changed its name to Actavis.
"A pioneer at the dawn of the U.S. generic industry in 1984, the Watson corporate name was never registered globally... it became clear that we could not establish a single, unified market presence under the Watson brand," CEO Paul Bisaro said in an October 2012 statement.
Watson Pharmaceuticals name was an amalgamation of founder Allen Chao's Taiwanese mother's maiden name 'Hwa' and 'son.' The company mostly makes generic drugs.
Watson also changed its ticker on the
New York Stock Exchange
from 'WPI' to 'ACT' in 2013 and hence Actavis, a U.S.-European conglomerate, was born.
In that deal, Actavis represented only about 30% of the combined company's revenue, according to internal projections.
On Actavis's
, little remains of the roots of the parent company, Watson Pharmaceuticals, or its fantastic rags-to-riches-story.
For instance, there is no 'history' section to detail Watson's growth from Purdue University to the heights of the pharmaceuticals market. A 1994
Forbes Magazine
profile,
Still Running Scared
, is likely to be end up the best reminder of Watson's accomplishments.
Wiping Watson Pharmaceuticals from the history books may be a matter of convenience in moving the parent company from New Jersey to Ireland for tax reasons. It may also have PR benefits, if anonymity is what the pharmaceutical company's top management wants. It's much easier for the media to turn a blind eye to Actavis, a company with Swiss roots incorporating in Ireland, than Watson, with its proud entrepreneurial history in the U.S.
Follow the money, however, and it's clear that on Monday it was Watson Pharmaceuticals that incorporated in Ireland ostensibly to dodge US taxes.
While Watson's legacy businesses have lost their name and their home, they will nevertheless represent about 50% of "New Actavis's" overall pro-forma revenue.
In one acquisition, Watson picked up a new name and in the other, it found a new home.
According to Monday's all-stock merger, Warner Chilcott shareholders will receive 0.160 shares of "New Actavis" for each Warner Chilcott share they own, equating to a $20.08 per share value according to May 17 closing prices.
"New Actavis," in this instance, doesn't just mean the merged company. It also signifies the firm's new Irish incorporation.
Actavis is inverting its ownership structure so the U.S. parent becomes a subsidiary of Irish-based Warner Chilcott, according to Robert Willens, a tax expert.
Warner Chilcott shareholders, after all, will have just a 23% interest in the merged company in an inversion that mirrors other recent U.S. and E.U. mergers such as
Eaton's
(ETN)
of
Cooper Industries
in 2012, Willens said in a telephone interview Monday.
Of course, there is a dollar and cents rationale behind all of the tax maneuvering. According to Willens, inversion transactions are motivated by income shifting, which could allow a company to move U.S. earnings internationally and lower its overall tax rate.
"It's purely a paper thing," Willens says. By incorporating in Ireland, Willens expects Actavis's tax rate may fall as U.S. earnings are magically converted to Irish earnings.
Analysts cheering Monday's deal highlight the importance of the move to Ireland and Actavis's lower projected tax rates. Marc Goodman, a UBS analyst, stresses tax rates above all in assessing the merger.
"This is an all-stock deal that allows Actavis to redomicile as an Irish plc," Goodman writes in the first sentence of a Monday client note. He expects the company's tax rate will fall from 27% to 17%.
Watson's continental drift from Parsippany, New Jersey to Ireland is emblematic of corporate planning across America, as C-Suites find ever more creative ways to move earnings to offshore tax havens.
U.S. industrials and engineering giants
Ingersoll-Rand
(IR)
and
Eaton Corporation
(ETN)
have histories that pre-date the writings of Theodore Dreiser; however, they have similarly used tax gimmicks in recent years to ship their headquarters to Dublin, Ireland.
The case of Watson Pharmaceuticals' eviscerated identity stands out in a politically charged battle over corporate taxation not as an example of how tax rates have thwarted innovation, but rather as an indication of how readily a company will sacrifice its entrepreneurial history at the altar of tax avoidance.
Johnson & Johnson Synthes Deal Revives Foreign Tax Debate