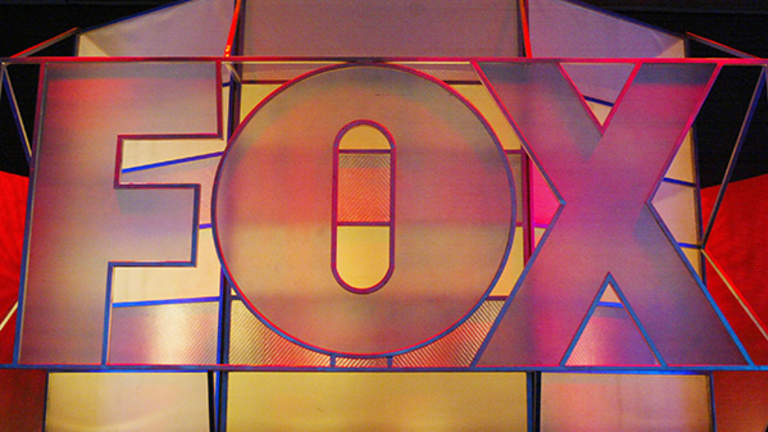 ION Media Sweetens Offer to 21st Century Fox for Local-TV Station Venture
ION Media is eager to form a joint venture with 21st Century Fox to own and operate their local-TV stations, according to sources close to the talks.
Twenty-First Century Fox Inc. (FOXA) - Get Fox Corporation Class A Report stands to gain from an elevated offer from TV station owner Ion Media Networks Inc. for a joint venture that would combine the companies' local broadcast stations.
According to two people familiar with the talks, the potential deal would give Fox as much as 90% of the retransmission fees for its affiliated stations collected by the JV from pay-TV operators. That's a marked increase from where talks stood during the summer, the industry sources said.
At present, broadcast network companies such as Fox or CBS Corp. (CBS) - Get CBS Corporation Class B Report receive anywhere from 50% to 70% of the revenue generated by affiliates owned by TV station groups such as Sinclair Broadcast Group Inc. (SGBI) , the country's largest.
If a deal were consummated, Fox would transfer ownership of its 28 mostly large-metro-area TV stations into the joint venture, combining them with 60 stations owned by ION Media, a privately held company based in West Palm Beach, Fla. Fox's owned-and-operated TV station group includes affiliates of Fox, MyNetworkTV and the CW in 17 markets including New York, Los Angeles, Chicago and Dallas.
A deal with ION Media also would provide Fox with a means to transfer the financial results of its lower-growth stations off its books into the JV.
The idea of creating a separate entity to own and operate Fox Television Stations LLC comes amid the increasing speculation that Sinclair will win regulatory approval from the Trump administration for its acquisition of Tribune Media Co. (TRCO) - Get Tribune Media Co. Class A Report , a deal valued at $6.6 billion. Fox, which came up short in its own pursuit of Tribune, views a joint venture with ION Media as a means of offsetting the leverage Sinclair would gain by combining with Tribune, which owns 14 stations affiliated with Fox.
If regulators did approve the Sinclair-Tribune Media deal, the merged company would own TV stations accounting for 30% of Fox's local network. It also would become the largest owner of local stations tied to any one of the four major broadcasters.
By combining with ION Media, Fox would be in a position to transfer its affiliates to ION-owned stations from Sinclair, traditionally a tough bargainer for retransmission fees. Fox, however, did renew affiliation agreements with Fox Broadcasting for five of its stations in August, a signing that sent Sinclair shares surging by nearly 7%. 
At that time, Wells Fargo media analyst Marci Ryvicker wrote that "If Fox were changing its business model or really contemplating taking its affiliations away from [Sinclair], we don't think either party would have signed this deal, regardless as to its size." The five stations included affiliates in Columbia, S.C.; El Paso; and Reno, Nev.
Fox and ION Media declined to comment on a possible JV. Sinclair also declined to comment.
A joint venture between Fox Broadcasting and ION Media is complicated by ION's status as a "must-carry" station owner, as proscribed by the 1992 Cable Act. ION Media, like all station groups, must declare every three years whether it wants to be funded by pay-TV operators as a must-carry station or through a retransmission agreement.
Yet because ION doesn't affiliate with a broadcast network, it doesn't own programming or a local news operation. Therefore, it relies entirely on advertising while keeping expenses low. As of Oct. 1, ION Media had elected to remain "must carry" for another three years, eliminating the need to negotiate fees with cable and satellite TV operators.
While ION's status as "must carry" makes any JV less financially attractive, sources said it didn't preclude a deal from taking place.
Additionally, the negotiations may be a move by Fox to gain leverage over Sinclair and Tribune Media for a host of other station affiliates whose contracts come up for renewal in the coming months. 
For its part, ION Media would gain access to programming and local news, which it doesn't produce on its own, unlike Sinclair or Tribune. By having an ownership stake in Fox's large-market affiliates, ION would benefit from higher growth, affording the company more appeal if it chooses to sell shares through an initial public offering.
Fox considered a similar arrangement in April with Blackstone Group LP (BX) - Get Blackstone Inc. Report when Tribune Media was entertaining buyout offers. Fox was interested in acquiring Tribune Media to buy back more of its own stations.
Sinclair's acquisition of Tribune Media, valued at $6.6 billion including debt, is under review at the antitrust division of the Department of Justice. Sinclair CEO Chris Ripley said in May when the deal was announced that the most likely markets where regulators would seek a divestiture would be St. Louis, Salt Lake City and Wilkes-Barre, Pa. Tribune owns Fox affiliates in St. Louis and Salt Lake City.
A Fox-Ion joint venture would create a supergroup of broadcast TV networks that would rival or even surpass the reach of Sinclair, currently the country's No. 1 TV station owner. The group would have roughly 100 stations covering nearly all of the country's major and midsize markets.
More of What's Trending on TheStreet: