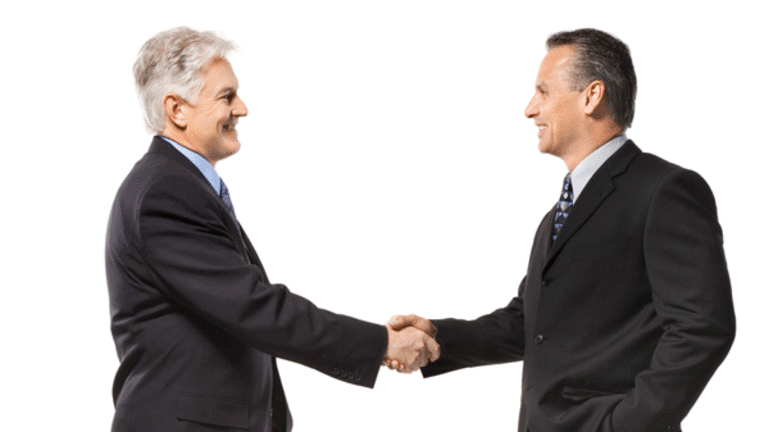 TPG Joins EMC in $100 Million Financing of Cybersecurity Firm Zscaler
The private equity firm has invested in software firms Uber, Airbnb and Box. Zscaler, now valued at over $1 billion, is TPG's first investment in cybersecurity.
The private equity firm has invested in software firms Uber, Airbnb and Box. Zscaler, now valued at over $1 billion, is TPG's first investment in cybersecurity.
NEW YORK (The Deal) -- While TPG has backed such prominent software developers as Uber Technologies, Airbnb and Box, a new investment in Zscalermarks its first stake in a cybersecurity company.
The private equity firm led a $100 million round of funding for Zscaler that the parties announced Monday, Aug. 3. EMC (EMC) and Lightspeed Ventures also participated in the investment, which pushes Zscaler's valuation above $1 billion.
Nehal Raj, a partner at TPG who is joining Zscaler's board, said in a phone interview that the firm considered investments in legacy cybersecurity firms that deploy services through an appliance, or a dedicated server that resides in a client's data centers, but became invested in Zscaler because of its breadth of cloud computing offerings.
"We've seen the rest of enterprise computing, enterprise software move to the cloud," he said, pointing to companies such as Salesforce.com (CRM) - Get Report and Workday  (WDAY) - Get Report.
"Security has been a little behind in that trend but we are starting to see security moving in a big way toward the cloud as well," he added. "We see Zscaler as the leader in that category of security."
The private equity firm made the investment through its TPG Growth fund, which backs pre-IPO companies. Had it purchased a mature, legacy security company, the firm would have drawn from its TPG Capital fund, which is geared toward later-stage LBOs.
Among other goals, Zscaler CEO Jay Chaudhry said the funds from TPG will help the company build its partnerships with "channel partners," such as telecom service providers who need to secure networks. "They will be able to sell cleaner pipes," he said.
Another group of partners include systems integration consultants, such as Deliotte LLP and Accenture LLP, which work with chief information officers of large companies to address cloud security.
Ultimately, Chaudhry said he plans to take the company public.
Cybersecurity is a fragmented industry, partly because of the evolution of attacks. "I hear there are some 3,000 security companies out there," Chaudhry said.
Zscaler's cloud platform integrates a dozen security capabilities, from advanced firewalls to malicious software detection and sandboxing, or setting up a separate computing environment to test untrusted code without exposing it to an entire network, to a breach.
"One-hit wonder type of companies that do one thing really well but don't do anything else are likely to be acquired or may stagnate," TPG's Raj said, suggesting that Zscaler's cloud platform could develop into a type of Salesforce.com for the security market, integrating multiple services.
"There will be room for 3, 5, 10 players max that fit that model to become big, multi-billion dollar public companies,' he said.
Zscaler has favored internal development over acquisitions. While the company could make acquisitions to plug more security offerings into its cloud platform, Chaudhry suggested the company will not be a large consolidator.
"We always keep our ears and eyes open," he said. "If we do [make acquisitions], we will look on the smaller side."