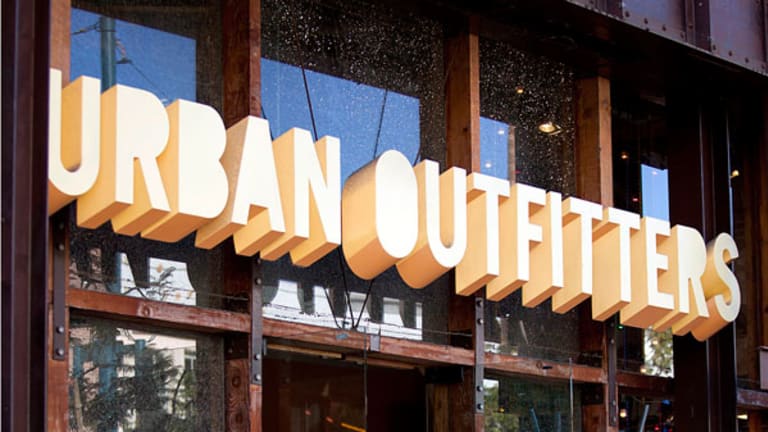 Publish date:
Investment Group Urges Board Changes at Urban Outfitters, Cites 'Extreme Insularity'
CtW Investment Group is encouraging shareholders to vote against the re-election of Robert Strouse and Harry Cherken Jr.
CtW Investment Group is encouraging shareholders to vote against the re-election of Robert Strouse and Harry Cherken Jr.
An investment group is urging Urban Outfitters (URBN) - Get Report shareholders to vote against the re-election of two of its longest-serving directors, noting that the board's "extreme insularity" has contributed to the retailer's underwhelming performance.
CtW Investment Group, which works with union-sponsored pension funds to enhance shareholder returns, issued a letter on Monday encouraging Urban investors to vote against the re-election of Robert Strouse, 69, and Harry Cherken Jr., 68. Strouse has served as a director since 2002. He is currently the lead independent director and chair of the Nominating and Governance Committee, according to BoardEx, a business unit of TheStreet. Cherken, meanwhile, has been a director since November 1993.
"The board is so insular that it has led to a broken nomination process," Dieter Waizenegger, executive director at CtW, said in a statement. "Improving the diversity of the board is needed to disrupt the echo chamber and redirect the company's strategies to improve Urban's performance."
Urban's nine-member board is comprised of five over-tenured male directors and two women, one of whom is chief executive Richard Hayne's wife, Margaret Hayne. The Urban CEO, a co-founder of the company, has been chairman of the board since the company's incorporation in 1976. Co-founder Scott Belair, 70, and director Joel Lawson III, 70, have served on the board for 41 years and 32 years, respectively. Strouse and Cherken are the other over-tenured directors.
"The average tenure of directors at Urban is 19 years, as compared to the average tenure for the S&P MidCap of 9.4 years," CtW said, citing a March 2017 study by Institutional Shareholder Service (ISS).
Urban, in response, said it has a "longstanding record of engaging with shareholders and responding to their suggestions." The company noted that it had has been taking "targeted, strategic steps to alter the make-up of the board over time," adding that "changing the composition of a board is not something that can or should take place overnight."
Since 2011, Urban has added two female board members, and three of the last four directors added to the board have been independent. The clothing chain also said that it has retained an independent search firm to assist the nominating committee in identifying additional candidates.
Furthermore, the Philadelphia-based retailer stated that CtW's assertion that the board composition has caused or contributed to URBN's recent stock price declines is "not supported by the facts."
"As shareholders who follow the retail industry know well, the entire sector is currently facing structural headwinds," the company said via email. "URBN has avoided becoming over-stored, has diversified its assortment thus reducing the impact of a currently challenged apparel market, and has significantly higher e-commerce penetration than most legacy retailers."
The push by CtW to alter the board composition is not the first time the teen fashion retailer has been pressured to do so. In 2015, the California State Teachers' Retirement System submitted, and later withdrew, a proposal asking Urban to prepare an annual report describing what steps, if any, its board or nomination committees had taken to include women and racial minorities to its boards.
The measure was withdrawn after Urban appointed a second woman, Elizabeth Lambert, to its board, said Anne Sheehan, CalSTRS chief of governance.
In 2014, a proposal submitted by the New York State Common Retirement Fund seeking a report on board diversity only garnered 33% of the vote, after getting 30% and 39% in 2013 and 2012, respectively, according to ISS.
Shareholders will vote on the 2017 director nominations at the company's annual meeting on May 23.
Shares of URBN were declining by approximately 1% to $22.638 around 12:35 p.m. EST on Monday. The stock has declined more than 20% year-to-date.
—Ronald Orol contributed to this report.
This article was originally published by The Deal, a sister publication of TheStreet that offers sophisticated insight and analysis on all types of deals, from inception to integration. Click here for a free trial.