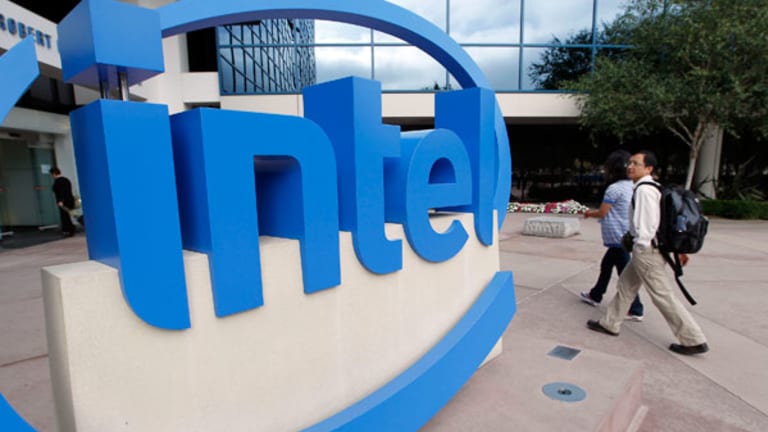 Intel Seen Acquiring MediaTek Within Three Years
RBC Capital Markets analyst Doug Freedman says Intel can pay around $27 billion to buy wireless chipmaker MediaTek.
NEW YORK (TheStreet) -- RBC Capital Markets analyst Doug Freedman says Intel (INTC) - Get Intel Corporation Report can pay around $27 billion to buy wireless chipmaker MediaTek, in a deal that would benefit the company's earnings while stemming investment losses it is incurring to grow wireless market share.
Freedman said in a telephone interview he believes a deal will happen within the next two-to-three years "almost out of necessity." The analyst noted an acquisition of MediaTek is Intel's best option to grow in the wireless market. Intel may also find that the timing is improving for a large deal as the baseband market continues to consolidate, the analyst said.
Intel is spending more than $1 billion a quarter to expand into the mobile and wireless market, suffering heavy losses in the unit as it tries to boost market share beyond the single digits. An acquisition of MediaTek could be a less expensive way to drive market share gains and would entail less risk, Freedman said.
Taiwan-based MediaTek manufactures mobile and tablet chipsets, in addition to Bluetooth, WLAN and GPS chips and NFC system on chips. In contrast to Intel, MediaTek has made steady market share gains in the baseband market.
After acquiring Infineon's wireless solutions business for $1.4 billion in 2010, Intel's baseband market share has fallen to the mid-single digits. Other companies such as MediaTek and Qualcomm (QCOM) - Get Qualcomm Inc Report have benefited from a consolidating market, especially as players as large as Texas Instruments (TXI) exit the market. Qualcomm's baseband market share has grown to 62% as of 2013, while MediaTek has grown to 14.4%.
In spite of Intel's struggles, Freedman believes the company has increased spending within its Mobile & Communications division from $1.2 billion annually at the time of the Infineon acquisition to $4 billion this year. Despite that rising spending, the division isn't expected to post revenue growth in the next two and a half years, according to Wall Street consensus.
An acquisition of MediaTek, which currently operates at a profit and has strong gross margins, could save Intel money, according to Freedman.
"Instead of Intel continuing to spend $4-$6 billion a year to enter the market (higher end of spending range as it achieves success), hypothetically, an acquisition of Mediatek may reallocate Intel's best-in-class under-utilized fabs and financial resources to a rising star in the system-on-chip world, solidifying Mediatek's market position," Freedman wrote in a Wednesday note. He forecasts synergy between MediaTek's operations and Intel's foundries, which could boost MediaTek's gross margins to 60%, while also increasing Intel's foundry utilization.
Sticker Shock
Freedman calculates in his note that Intel would likely have to pay around $27 billion for MediaTek, a 30% premium to the company's current enterprise value. He said in a telephone interview that a deal would likely be immediately accretive at that price, because reduced spending in the wireless market would more than offset financing costs on the debt needed to fund an acquisition.
The analyst also said a deal would utilize Intel's offshore cash hoard, and that additional financing would be easily repaid by Intel even as the company pursues share buybacks.
Intel's other alternative is simply to close the spigot on its wireless investment. While such a move might immediately boost Intel's stock upwards of $40 a share, according to Freedman's estimates, it might be the wrong decision for the chip-maker over the long term.
"Intel can enhance the PC user experience from success in mobile, so we do not ascribe a lot of credibility to the idea that Intel should exit mobile. Our questions mainly surround why Intel is spending so much to be successful in mobile," Freedman wrote.
Intel needs to continue growing its revenue and overall volume to realize the benefits of scale that the company has historically enjoyed from its R&D spending and technological advancements. The weak state of the PC market is cutting into Intel's growth; however, a stronger footing in the fast-growing wireless market could bolster Intel's top-line.
Newly introduced CEO Brian Krzanich has no option but to continue investing in the wireless market, Freedman said. He ultimately believes a deal between Intel and MediaTek is inevitable over the long-term.
Intel didn't respond to an email seeking comment. Shares in the company have gained over 30% year-to-date on better operating performance and rising returns of capital to shareholders.
-- Written by Antoine Gara in New York