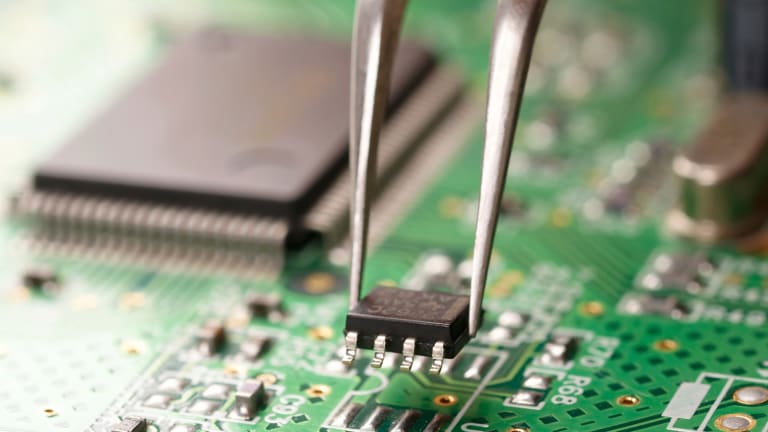 Integrated Silicon Bidding War Gets Hot as Cypress Addresses Financial Concerns
Integrated Silicon had agreed to an offer from a consortium of Chinese investors before Cypress stepped in with a spoiler bid.
Integrated Silicon had agreed to an offer from a consortium of Chinese investors before Cypress stepped in with a spoiler bid.
NEW YORK (The Deal) -- The bidding war for Integrated Silicon Solutions (ISSI) is heating up as suitor Cypress Semiconductor (CY) - Get Report tried to assuage the company's financial concerns about a merger in the face of a bidding war from a consortium of Chinese investors.
Cypress said Tuesday after the markets closed that it had sent a letter to the Integrated Silicon Solution board to address the target's financing and regulatory concerns on a tie-up between the two. That letter comes a day after Integrated Silicon said it was considering Cypress's latest bid of $20.25 per share but had worries about an acquisition by its larger peer with a market capitalization of approximately $4.6 billion.
Integrated Silicon initially agreed in March to an offer of $19.25 from a consortium of Chinese investors led by Summitview Capital, now called Uphill Investment Co., in the middle of an activist campaign from Starboard Value LP. The group also includes eTown MemTek Ltd., Hua Capital Management Ltd. and Huaqing Jiye.
Then, in May, Cypress launched a spoiler bid of $19.75 per share. Uphill raised its bid to $20 per share May 29, to which Cypress responded by sweetening its own offer to $20.25 per share later that day.
Integrated Silicon said Monday it had previously asked Cypress to provide a financing commitment letter to support its proposal, but that its larger peer had not done so. The chipmaker also asserted that it was concerned about Cypress' ability to get antitrust clearance in the U.S. and Germany, as the combined entity would be the largest supplier of memory chip SRAM to the global automotive market.
Cypress addressed such concerns Tuesday, calling them "misleading."
In a letter to Integrated Silicon Solution CFO John Cobb issued Tuesday, Cypress CFO Thad Trent argued that Cypress's offer does not have regulatory or financing risks. He explained that SRAM overlap amounts to less than 2% of the sales of the combined entity and that antitrust agency reviewers will see this to be a "fundamentally pro-competitive transaction within an exceptionally dynamic industry."
By comparison, the regulatory issues from the deal with Uphill Investment are "far more daunting," Trent said, adding that the Committee on Foreign Investment in the U.S. has stated in the past that there are national security concerns when it comes to foreign control of chipmakers.
Read more from: