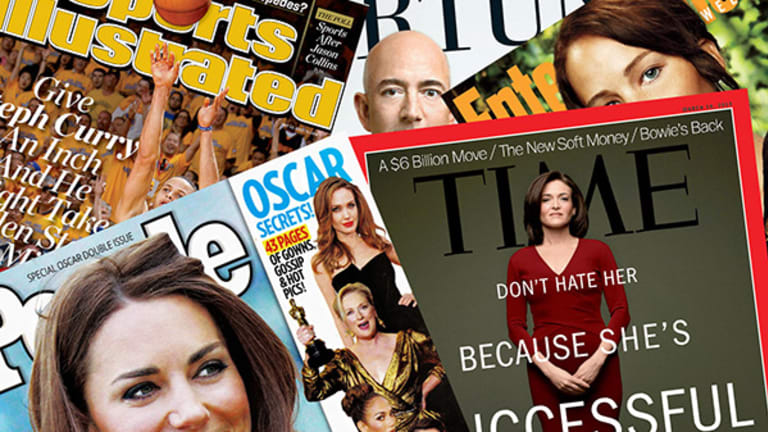 Magazine M&A Speculation Heats Up
A number of magazines reportedly are on the block or are attracting interest, including Us Weekly, Time, Playboy and The Hollywood Reporter.
A number of magazines reportedly are on the block or are attracting interest, including Us Weekly, Time, Playboy and The Hollywood Reporter.
It's hardly page-turning news at this point: Print magazines are under pressure as readers flock to the internet for instant news and entertainment updates. As a result, publishers have been forced to cut costs, restructure operations and explore sales.
Classic magazines such as Time's (TIME) namesake publication, Wenner Media's Us Weekly and Eldridge Industries' The Hollywood Reporter are among those in play or rumored to be.
"What we're seeing in real time is the massive consolidation of the magazine industry," said Peter Kreisky, founder of Kreisky Media Consultancy.  
This long-term trend has accelerated due to the "economics of the industry," as print continues to lose advertising share to digital offerings dominated by Facebook (FB) - Get Report and Alphabet's (GOOGL) - Get Report Google, Kreisky continued. "They need to change the cost structure of these brands," he said, referring to publishers. 
Condé Nast, Time and Meredith (MDP) - Get Report (publisher of Better Homes and Gardens and Shape) are just three large publishers to recently implement layoffs and restructuring, as print publishers realize they have to adjust to the tougher environment, said Reed Phillips, co-founder of media investment bank DeSilva & Phillips.
"It's a sign of what's going to continue to happen over the next 10 years," he said.
By consolidating, magazine owners also can reduce the cost of business to "publish vibrant high-quality titles," as well as leverage each other's technology to better adapt to the digital age, Kreisky explained. It's important for them to find a home that will help them continue to produce superb content, he said. 
Another solution for the companies is to diversify with additional businesses, such as extending further into digital media, hosting consumer events or shows, creating apps, offering experiences and getting into e-commerce, according to both Kreisky and Phillips.
"Print publications have strong relationships with their advertisers and readers," Phillips said. "They need to take advantage of those relationships."
A recent example from Monday is the purchase of Baseball America by Alliance Baseball from TEN: The Enthusiast Network. 3STEP Sports CEO David Geaslen, whose company also will be part of Baseball America's ownership team, said in a statement the new owner wants to boost subscriptions to the biweekly print publication as well as its online presence.
The actions aren't necessarily a fight to stay alive, but rather it's publishers accepting reality and doing what's necessary to stay in the industry long term, Phillips said. Print is obviously a declining business, and those who adapt to the changing environment will be more likely to end up as acquirers rather than the acquired, he added. 
For publications that remain stubborn and unwilling to create new revenue streams, they will have to sell at some point, Phillips noted.
With talk of consolidation in the industry swirling around Wall Street, what follows is a look at five subjects of speculation.
Facebook and Alphabet are holdings in Jim Cramer'sAction Alerts PLUS Charitable Trust Portfolio. Want to be alerted before Cramer and the AAP team buy or sell FB or GOOGL? Learn more now.
1. The Hollywood Reporter
Entertainment magazines The Hollywood Reporter, founded in 1930, and Billboard, founded in 1894, are both reportedly for sale by owner Eldridge Industries. Condé Nast, publisher of Vanity Fair and The New Yorker, however, recently walked away from a potential acquisition of The Hollywood Reporter-Billboard Media Group, the New York Post reported last week. 
While the two companies discussed a possible deal, the talks ended in December over a disagreement on price, the publication reported. 
A Condé Nast representative declined comment, aside from pointing to the recent acquisition of social data and marketing platform CitizenNet. 
The Hollywood Reporter shouldn't have trouble finding another buyer, Phillips said. Besides, Condé Nast isn't proactively looking to acquire other print publications because it wants to extend its business into other areas, he said. "So not a big surprise this didn't work. It wasn't a great fit in my opinion." 
Kreisky agreed, saying that while it seems to be a "challenge" for The Hollywood Reporter to find a buyer, it will find one for the right price. 
Earlier this month, Condé Nast bought CitizenNet, a sign of the company diversifying away from print publications. The Culver City, Calif., target is intended to help the publisher reach its intended audience better on all platforms, Condé Nast said. 
It also purchased indie music website Pitchfork in 2015 and has partnered with Budweiser owner Anheuser-Busch InBev (BUD) - Get Report to recently spin off a website focused on beer, October, from Pitchfork.  
Finally, last year it acquired tech blog Backchannel from Medium, an online publisher owned by Twitter (TWTR) - Get Report co-founder Evan Williams. The company made it part of its Wired Media Group, which also includes Wired and website Ars Technica. 
Representatives for The Hollywood Reporter and Billboard did not immediately return requests for comment. 
2. Condé Nast
The company that reportedly just turned down The Hollywood Reporter has been undergoing some major restructuring to reduce costs since the company hired Jim Norton from AOL as its chief business officer and president of revenue at the end of 2016, WWDreported. 
The company has talked of potentially selling itself in the past, sources told the publication. The most likely buyer would be privately owned Hearst, although Apple (AAPL) - Get Report and Google also have been speculated about as potential suitors. 
These seem unlikely, particularly as Google's PR team responded to the report about its potential interest in the company with a witty comment using as many Condé Nast publication names as possible: "You seem Wired into the latest chatter. We got some Backchannel from a New Yorker that this gossip was en Vogue. When your question came in and we Reddit, it made us quite Epicurious because your stories have some Allure. But Self-ishly we don't comment on rumors (Glamour-ous or otherwise). Bon Appétit!"
The speculation is "interesting," and if either of the tech giants acquired the company, that would be a "bellwether transaction for the magazine industry because tech companies have not been active magazine buyers," Phillips said. 
Hearst isn't a likely buyer because that would be a "big bite" for the company, plus this kind of deal would "put it in a position of being overly concentrated in magazines," he said. Hearst already owns Cosmopolitan, Car and Driver, Esquire, Good Housekeeping, Elle and others, plus newspapers, TV stations and stakes in both cable networks and media companies such as AwesomenessTV, BuzzFeed and Vice Media.
In fact, Phillips doesn't believe Condé Nast is really for sale as the rumors say because it has a number of advantages above its peers. First, it doesn't own a lot of weekly magazines, which are really struggling. Second, it has diversified with the previously mentioned acquisitions, as well as by launching a video platform, The Scene, in 2014. Third, it's privately owned by family-owned Advance Publications, meaning it can make changes in a "more relaxed environment," he said. 
Kreisky gave a similar view, asserting that as long as the family behind Condé Nast has "firm control" of the company, he doesn't see a sale happening. 
In contrast, the in-play Time owns a lot of weekly magazines and is a public company, meaning anything it does is "easily viewed by everyone," Phillips said. "It's probably hard for Time to go through the changes it needs to because it needs to continue to produce earnings."  
A Condé Nast representative deferred comment on the reported negotiations to Advance Publications, which did not return a request for comment.
3. Us Weekly
The weekly gossip publication's potential suitors include Bauer Publishing and Time. Methuselah Advisors was hired to search for the right acquirer for the magazine and valued it at more than $100 million, the New York Post has reported.
American Media, publisher of the National Enquirer and Star Magazine, was an additional potential suitor until its deal with Us Weekly owner Wenner Media fell apart, the Post reported this week. 
Previously, the publication reported that there was some drama between the two companies. Wenner Media Chairman Jann Wenner and AMI Chief Executive David Pecker have a complicated history dating to when AMI hired Us Weekly editor Bonnie Fuller in 2003 to help revive Star Magazine. Wenner payed Pecker back by pulling out of AMI's distribution arm.
While this "industry gossip" about the bad blood between them probably has some truth to it, it probably would not be enough to stop a sale, Kreisky said. He also noted that Pecker was widely seen as overly supportive of President Donald Trump during the campaign, undermining the "fair balance treatment," while Wenner is an avid Democrat. "That gulf between their political interests may have compromised negotiations," he said. 
In addition, Time doesn't seem likely to buy Us Weekly because Time is considering selling itself anyway, plus it already owns competing celebrity magazine People, Phillips pointed out.
A "nonmagazine company," though, remains interested in Us Weekly, the Post reported Friday, citing an anonymous source.
The Post has alleged that another matter complicating a possible sale is that Wenner Media is still dealing with the effects of a story it ran on a purported rape that happened at the University of Virginia but that was later discredited. A UVA administrator was awarded $3 million in damages as she was painted as the villain in the story, and the publication now has a sizable black spot on its reputation, the newspaper said. The writer owes her $2 million, while the publication owes her $1 million, a court determined. 
Us Weekly, Wenner Media and AMI did not immediately return requests for comment.
4. Time

Time, owner of Sports Illustrated and People, has a number of potential suitors, including Meredith and an investment group led by Edgar Bronfman Jr. Both companies have signed nondisclosure agreements, as have other parties. 
Time in November rejected an $18 per share bid by Bronfman, Ynon Kreiz and Len Blavatnik's Access Industries, leading the publisher to retain Morgan Stanley for financial advice. Parties to the NDAs will receive information about the company's businesses that isn't always available in quarterly filings. 
No timetable has been set for the talks, which could terminate without a sale.
In a USA Today report, Huber Research Partners CEO Craig Huber said he doesn't see a buyer paying more than a 10% premium on Time's share price, which currently yields a $1.9 billion market capitalization. 
The company has been more open about being up for sale than other publications. This past December CEO Rich Battista sent a note to staff that said "it would not be surprising if third parties were to show interest in our company," The Wall Street Journal reported after obtaining a copy of the note. In addition, Meredith CEO Steve Lacy said on a January earnings call that the company continues "to explore opportunities to add attractive print, broadcast and of course digital brands to our media portfolio." Lacy called Meredith a "very disciplined" acquirer and noted the company does not comment on rumors or speculation.
Shares of Time are up nearly 40% since late November, when the formal bid by the Bronfman group began the sale talks. 
Meredith seems like the most likely buyer, although it would probably want specific magazine titles rather than the whole company, Phillips said. In fact, no buyer is probably interested in buying the company as a whole, he said. 
In addition, Time most likely has other potential bidders out there, Kreisky said. A challenge for the company is its very diverse portfolio of publications that have different brands, formats, frequencies and content, he said. The company has to find a buyer that could gain a strategic advantage by integrating all of its publications into its portfolio. 
For example, Meredith previously only was interested in Time's lifestyle titles because its entire portfolio is centered on women, so the news and men's titles wouldn't fit in, Kreisky pointed out. On the other hand, a financial institution such as Access Industries could buy Time as a whole and then sell the pieces of it to the highest bidder, but that's a "big risk" considering it may not be able to sell them, he added.
Time declined to comment on any rumors or speculation regarding a sale. 
5. Playboy

The magazine founded in 1953 ditched nudity for a year in hopes of increasing sales but announced on Monday that it's bringing nude models back this March.
It might be banking on the clothes-shedding to attract buyers. Founder Hugh Hefner's son, Cooper Hefner, became chief creative officer last October and had been vocal about his opposition to the new no-nudity direction. 
"I'll be the first to admit the way in which the magazine portrayed nudity was dated, but removing it entirely was a mistake," Cooper Hefner tweeted on Monday. "Nudity was never the problem, because nudity isn't a problem. Today, we're taking our identity back and rediscovering who we are."
Rizvi Traverse, the private equity firm that holds a majority stake in publisher Playboy Enterprises and took it private in 2011, has been actively seeking buyers or other investors, but to no avail, the New York Post reported this week. 
Talks of a potential sale were first reported by The Wall Street Journal last March when Moelis was hired to research possible buyers for the magazine. The publication along with the Playboy Mansion could have a value of more than $500 million, sources told the newspaper. 
The next news of a possible sale came in October, when sources told Reuters that Double Eagle Acquisition (EAGL) , the special-purpose acquisition vehicle of Hollywood executives Jeff Sagansky and Harry Sloan, was in advanced talks to purchase Playboy Enterprises. The price tag was said to be between $2 billion and $3 billion, sources told the publication. 
Playboy Enterprises declined comment, citing its status as a private company.