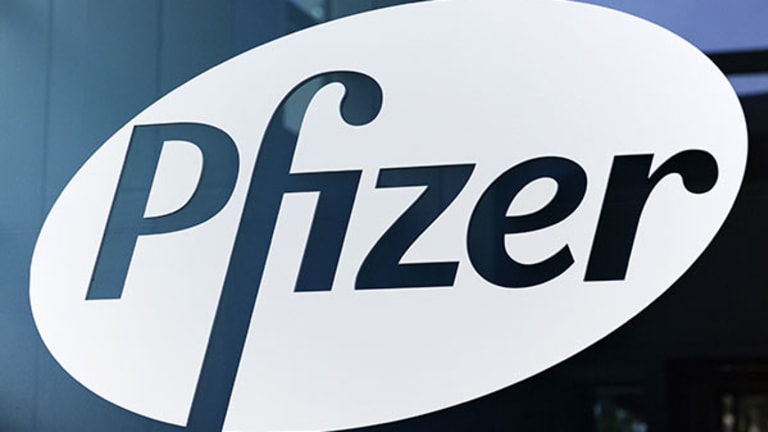 Pfizer Could Remain In Dow After AstraZeneca Tax Scheme
Even if Pfizer moves to the U.K. as part of a strategy to lower its overall corporate tax rate, the company is likely to remain a component of both the S&P 500 Index and the Dow Jones Industrial Average (DJIA).
NEW YORK (TheStreet) - Those outraged by Pfizer's (PFE) - Get Pfizer Inc. Report plan to move to Britain as part of a $100 billion acquisition of AstraZeneca (AZN) - Get Astrazeneca PLC Sponsored ADR Report may be better off calling their brokers than their Congressmen. After all, even the most passive retirement investors are subtly helping to make the proposed off-shoring of Pfizer possible.
Even if Pfizer moves to the U.K. as part of a strategy to lower its overall corporate tax rate, the company is likely to remain a component of both the S&P 500 Index and the Dow Jones Industrial Average (DJIA). Currently, the S&P 500 and DJIA appear to give U.S. companies the ability to move their domicile to lower-tax jurisdictions without losing their eligibility for either index.
If the average retirement investor in a S&P 500 or DJIA index is outraged by the flight of corporations from U.S. shores, they might be even more incensed to know their dollars are tacitly a part of the problem.
On the other hand, if the trillions of dollars that go to stock indices like the S&P 500 and DJIA had a voice in corporate governance and chose to exercise that voice against a trend of "re-domiciling" away from the U.S. for tax purposes, it could have a meaningful impact. Being a member of the S&P 500 and DJIA is likely of critical importance to Pfizer's management and Board of Directors given that both indices open the company to one of the biggest investor bases in the world.
Would it be worth it for a CEO to lose a wide spectrum of U.S. retirement and index investors just to drive a five percent reduction in annual corporate taxes? That might be a tough question for Pfizer Chairman and CEO Ian Read to consider. It might also complicate Read's pitch of the AstraZeneca acquisition and "re-domicile" of Pfizer.
Thankfully for Pfizer and Read, it is unlikely they would need to prepare for an exit from the S&P 500 or the DJIA in moving to the U.K.
The S&P 500 Index requires that a company be considered a U.S.-domiciled firm for it to be listed on the popular index, in addition to other criteria on market capitalization, SEC registration, and New York Stock Exchange or Nasdaq listing.
However, the Index Committee for the S&P 500 reserves the right to treat companies domiciled out of the U.S. for tax purposes as a U.S.-based company, allowing firms headquartered in Ireland and the U.K. to be a part of the popular index.
"In situations where the only factor suggesting that a company is not a U.S. company is its tax registration in a 'domicile of convenience' or another location chosen for tax-related reasons, S&P Dow Jones Indices normally determines that the company is still a U.S. company," McGraw Hill, the owner of S&P Dow Jones Indices, states on its website.
"The final determination of domicile eligibility is made by the U.S. Index Committee," it concludes.
There are currently 17 non-U.S. companies, including Michael Kors (KORS) , Delphi Automotive (DLPH) - Get Delphi Technologies Plc Report, Transocean (RIG) - Get Transocean Ltd. Report, Tyco (TYC) and Seagate Technologies (STX) - Get Seagate Technology Holdings PLC Report that are part of the S&P 500, according to Bloomberg data.
As of 2012, there were $1.6 trillion worth of assets indexed to the S&P 500.
Pfizer as a Groundbreaker
While no DJIA component is currently domiciled outside of the U.S., Pfizer's bid for AstraZeneca and a so-called inversion to the U.K. could be a groundbreaker.
S&P Dow Jones spokesperson Dave Guarino said in a telephone interview the DJIA generally follows the S&P 500 Index when it comes to rules on U.S. domicile.
"Since there is no specific offer or consummated transaction at this point, it would be inappropriate to speculate on the Dow Jones and the S&P 500," Joan Campion, a Pfizer spokesperson, said in an e-mail to TheStreet.
The Tax Strategy
Robert Willens, an  independent tax expert said in a Monday telephone interview, Pfizer looks to be pursuing a fairly straightforward inversion in trying to acquire AstraZeneca.
Pfizer will create a U.K. holding company to merge the two pharmaceuticals sector heavyweights. Pfizer will have to ensure AstraZeneca shareholders wind up with more than 20% of the stock of that U.K. holding company, with Pfizer shareholders owning less than 80% of the holding company.
"We've never seen an inversion of this magnitude, much less one that involves the migration of such an iconic U.S. company. Thus, you would think the potential for 'headline' risk here is vast," Willens said. He also noted Pfizer's large stockpile of foreign cash means it could likely buy AstraZeneca in a regular acquisition effort that doesn't require a change of headquarters to the U.K.
The Deal
Pfizer said on Monday it had proposed to buy AstraZeneca for $76.62 a share in cash and stock in January 2014, however, those efforts were rebuffed by management. Pfizer said on Monday a merger would yield significant synergy, growth opportunities and financial benefits. The company also expressed confidence a merger "is capable of being consummated."
"We believe patients all over the globe would benefit from our shared commitment to R&D, which is critical to the future success of the pharmaceutical industry, in the form of potential new therapies that help to fight some of the world's most feared diseases, such as cancer," Pfizer said.
The company wouldn't directly say whether a merger would impact its 26-cent quarterly dividend, however, CFO Frank D'Amelio said that the dividend remains a priority for the company. He also said Pfizer has a "strong track record" when it comes to synergistic mergers, highlighting that the company exceeded its $4 billion synergy guidance when acquiring Wyeth in 2009 for $68 billion.
-- Written by Antoine Gara in New York.