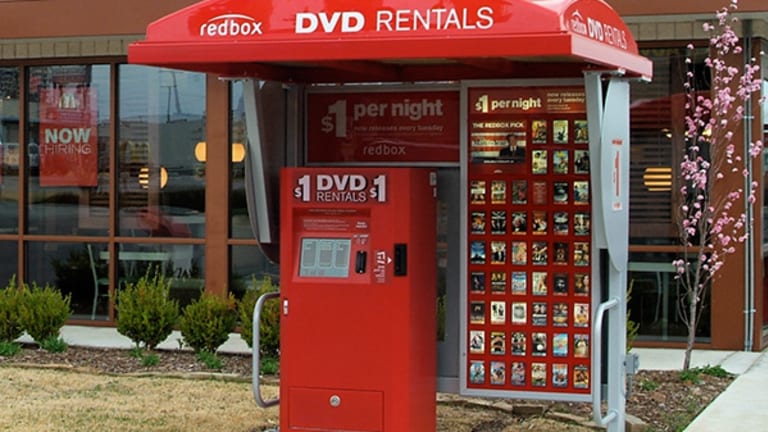 In Shock to Short-Sellers, Apollo Pays $1.6B for Outerwall
The parent company of Redbox DVD kiosks and Coinstar change machines agreed to be acquired in a deal that was largely driven by activist Engaged Capital's Glenn Welling.
Shares of Outerwall (OUTR) rose more than 10% on Monday after the parent company of Redbox DVD kiosks and Coinstar change machines agreed to be acquired by buyout shop Apollo Global Management  for $1.6 billion in a deal that was largely driven by activist fund Engaged Capital LLC and one that likely is a shock to the large number of short-sellers in the stock.
Specifically, Apollo agreed to acquire Outerwall for $52 a share or $895 million in debt in a go-private deal that gave it a $1.6 billion valuation with the assumption of debt. The price represented an 11% premium to Outerwall's closing price Friday.
The sale was also likely a shock to short-sellers invested in Outerwall. At the time that Engaged launched its campaign in February, roughly 55% of its public float was short -- an amount that one short-selling specialist investor described as "ultra-crowded" and "extremely-highly-shorted." Since then not much has changed: According to FactSet, as of July 12, Outerwall was the third most shorted U.S. company as a percentage of its overall float - roughly 46% of its public float was short. "I imagine the short-sellers are surprised," said one short-seller activist who requested anonymity.
The sale comes after Outerwall hired Morgan Stanley in March to conduct a strategic review and settled with governance-focused activist investor Glenn Welling in April to expand its board by two and add three of the activist fund's nominees by Aug. 1. Since February, Welling had been pushing Outerwall to consider selling itself or instituting a large dividend. The activist investor is no stranger to launching proxy contests to get his way. According to people familiar with the situation, Engaged threatened a contest and continued its push to install directors to ensure that Outerwall ran a process that had a sense of urgency.
The Deal reported in mid-April, according to people familiar with the situation, that Engaged believed that the review process would take about three months to complete.
In an unusual twist, Welling had a direct line to the review process: the activist fund installed Jeffrey Brown, CEO of Brown Equity Partners, on Outerwall's board. However, as part of the agreement, Brown was permitted to participate in any conference call or meeting between the company's chairman, Nelson Chan, and its financial advisers regarding the review and auction process.
Welling had sought to have Outerwall institute a large recurring dividend, which would have pressured short sellers to settle up rather than be forced to pay the not insubstantial dividend to shareholders. When Welling launched his campaign, Outerwall's shares traded at roughly $32 a share, down from about $82 a share in July 2015.
The sale represents a significant profit for Engaged, which reported owning a 14.1% stake in February when Welling launched his campaign. On Feb. 8, Engaged reported acquiring shares between Dec. 18 and Feb. 5 at prices ranging from $26.54 a share to $38.88 a share - prices significantly below Apollo's $52 a share acquisition price.