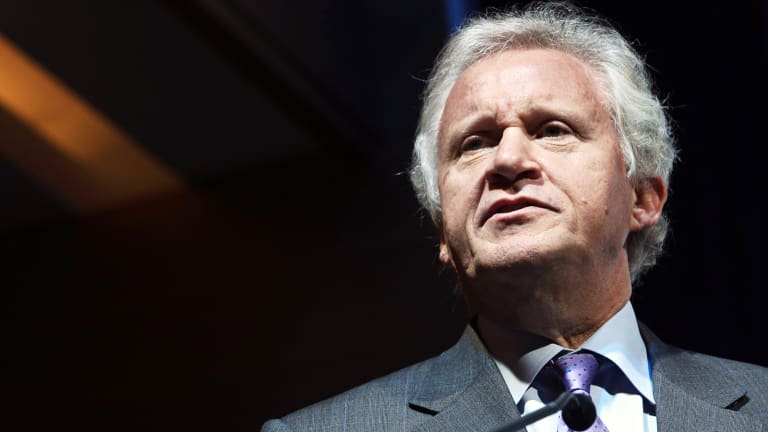 In GE Antares Action, Banks Have the Advantage Over Buyout Firms
The sale process for the sponsor finance business is already starting to reshape the world of private equity lending.
NEW YORK ( The Deal) -- General Electric (GE) - Get General Electric Company (GE) Report  reportedly was slated to begin receiving bids last Thursday for its private-equity financing operation, GE Antares. It's among the first pieces of the GE Finance operation the conglomerate will shed. CEO Jeff Immelt outlined the sales plans early last month.
GE Antares didn't respond to requests for updates on the sales process, and declined to make executives available for interviews. 
In 2014, GE Antares provided $27 billion in financing for 200 transactions, the firm said earlier this year, making it the largest provider of financing for middle market transactions. GE Capital spun off its private label credit card operation, now called Synchrony Financial (SYF) - Get Synchrony Financial Report in an IPO last year that netted $29 billion in proceeds.
GE reportedly limited the number of prospective bidders for the PE financing asset, capping the roster at no more than 12 prospective buyers.  The company sent out non-disclosure agreements to its pool of prospective bidders last month. 
Bidders reportedly come from across the financial spectrum, including market-leading private equity firms such as Apollo Global Management (APO) - Get Apollo Global Management Inc. Class A Report, Blackstone Group  (BX) - Get Blackstone Group Inc. Class A Report and Ares Management  (ARES) - Get Ares Management Corporation Report. Antares has relationships with some 300 private equity firms, having financed transactions for nearly 20 years, since a break-away group from what was then Heller Financial split to form Antares in 1996.
GE bought Heller in 2001 in a $5.3 billion transaction, paying what was at the time a nearly 50% premium for the publicly traded shares. Four years later it bought Antares, immediately doubling its middle-market lending capability.
The company has what could be considered special relationships with several of the larger PE firms. Blackstone, working with Wells Fargo (WFC) - Get Wells Fargo & Company Report, agreed to buy GE's real estate operations for $26.5 billion last month, a transaction that was seen as GE's first step in off-loading its financial assets. Antares already works closely with Ares on its Senior Secured Loan Program, a $16 billion provider of senior secured loans that the companies founded in December 2007. There's been no indication what would become of the stake that Ares, the SSLP's junior investor, holds in the program if Antares is sold to another party. Antares did not respond to requests for comment.
Private equity firms with designs on GE Capital might find themselves at a disadvantage to conventional banks, not just in competing for Antares, but for the entirety of GE Capital. One of the impetuses for GE's desire to get out of the finance business -- aside from the over-riding fact that it's no longer the revenue generator it was when Jack Welch was cobbling it together in the 1980s -- is that GE wants to get out from under the constraints of being tabbed as a Systemically Important Financial Institution, or SIFI. The company was yoked with that mantle in the aftermath of the financial crisis. As most banks already operate under the strictures of SIFI, their status wouldn't be affected.
Wells Fargo -- again, one of the participants in the purchase of GE's real estate holdings -- is regarded as a front-runner among banking institutions pursuing the GE assets. However, there's almost no one outside GE's Fairfield, Conn., campus who publicly claims to know the identities of all the potential bidders. 
Assuming that the entirety of GE Capital goes for something approaching its $200 billion in capital commitments, the transaction figures to be one of the largest in corporate deal-making history, a prospect that must appeal to the financial institutions, including Citibank (C) - Get Citigroup Inc. Report,  that are assisting GE in the off-loading process. The spin-off by McDonald's (MCD) - Get McDonald's Corporation (MCD) Report of Chipotle Mexican Grill (CMG) - Get Chipotle Mexican Grill, Inc. Report in 2006 netted the burger giant about $1.5 billion. The largest straight M&A deal last year -- the purchase by Berkshire Hathaway  (BRK.A) - Get BRK.A Report of H.J. Heinz was valued at $28 billion -- obviously doesn't compare with GE's spinoff. The 2000 combination of America Online and Time Warner, a transaction then valued at $350 million is generally regarded as the largest transaction in U.S. history. That deal, of course, considered one of the greatest corporate missteps of all time.
Given the quality of GE Capital's asset base, the prospective sale doesn't figure to go the way of esperanto, the move to the metric system, or new Coke as entries in the annals of failed experiments. In fact, the prospective sale of GE Antares already has had a palpable effect on at least one part of the private equity market. On Thursday, American Capital (ACAS) , an alternative asset manager, told analysts on the conference call following the release of its quarterly earnings that it was reshaping the fabric of its long-gestating reorganization.
American Capital had been attempting to move away from the private equity model to become more of a credit investor. Its vehicle for doing so, at least originally, was to create two business development companies that would purchase credit assets. However, in the wake of GE's plans to sell its private equity financing operation, American Capital -- saying it sensed enough of a seismic shift in the alternative asset financing landscape -- would alter its plans in such a way as to create a single BDC. It remains to be seen whether its forecast that a sale of GE Antares will  become a significant event in an arena whose business is to transact asset sales.
Editor's note:  David Brackett, chief executive of GE Antares, spoke with The Deal in an exclusive video interview March 24, about two weeks before GE announced that it would sell its roughly $200 billion capital finance operation to focus on industrials and manufacturing. To watch the interview,  click here.
Read more from: