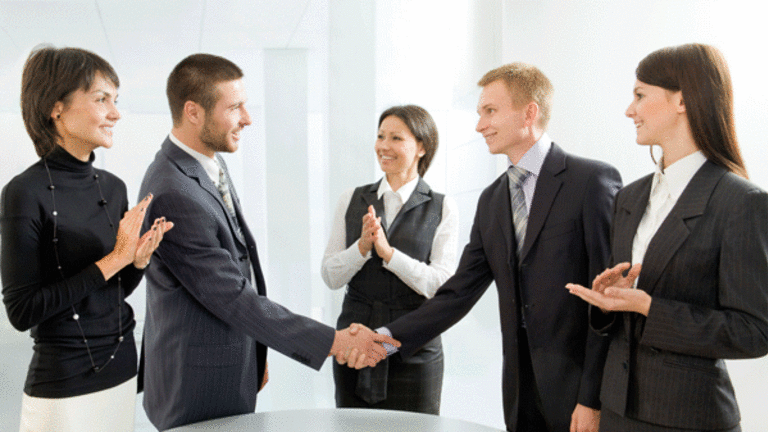 Illumina Poison Pill May Choke Roche, but Push Up Bids (Update 1)
Illumina's poison pill isn't a lethal cocktail for a takeover premium.
Illumina's poison pill isn't a lethal cocktail for a takeover premium.
Updated to reflect share prices and additional data throughout.
NEW YORK (
) --
Illumina
(ILMN) - Get Report
is adopting a poison to fend off a hostile $5.7 billion bid made by
Roche
on Tuesday.
The "shareholders rights plan" -- which was announced by Illumina on Thursday -- adds to the company's argument that the Roche bid comes at an "opportunistic" price just as it is developing genetic sequencing machinery that may tap a growing use in personal cancer treatment therapies.
While Roche's bid represented an 18% premium to Illumina's shares, analysts and investors signaled
. Enacting a poison pill now may force Roche or other possible bidders to win over shareholders with big price increases.
The poison pill will allow Illumina to give out one preferred stock purchase right as a dividend to all shareholders if a buyer accumulates 15% of the company's stock, diluting the worth of a hostile bid. Illumina said in a statement that the plan "is designed to deter coercive or otherwise unfair takeover tactics."
"By adopting the poison pill, Roche is going to have to offer more money," says Maxim Group analyst Bryan Brokmeier, who rates the company buy with a price target of $53. Brokmeier argues that with the poison pill in place, any bidders will need to offer a price to win over a majority of shareholders, offsetting those who would enact their rights to ice a takeover. Because there are many logical buyers of Illumina, the poison pill and Roche's offer may just catalyze a
bidding war
.
Biotech firms with medical diagnostics divisions like
Abbott Laboratories
(ABT) - Get Report
,
Johnson & Johnson
(JNJ) - Get Report
may look at Illumina's sequencing machinery as a strong acquisition, while medical equipment makers like
Becton, Dickinson
(BDX) - Get Report
,
Agilent
(A) - Get Report
and
Siemens Healthcare
(SI) - Get Report
could also show interest, according to Brokmeier.
The poison pill will also be active for other Illumina suitors, not just Roche. "It's going to make the deal more expensive for Roche or for any other potential bidder," adds Brokmeier.
"We believe the bid by Roche will be a long, drawn out process, reminiscent of Roche's purchase of Ventana Medical in 2007-2008," says Peter Lawson of Mizuho Securities. In previous hostile bids for U.S. based companies, Roche finalized acquisitions by upping its initial offers. Roche had to up a previous $43.7 billion hostile offer for
Genentech
and a $3 billion bid for
Ventana Medical Systems
by over 10% for the bids to close.
The same price increases are expected in Roche's Illumina bid, even as company management signaled no intention to raise their offer. On Wednesday, Illumina shares traded 24% higher than Roche's bid to more than $55 a share, with many analysts signaling a need for a price increase. "We view this as the initial bid and the initial move, expect more from Roche," adds Lawson.
The poison pill also may force a takeover premium that credits Illumina for its long-term prospects, as some revenue sources are jeopardized by looming federal research budget cuts in the short term.
Illumina has a near 50% market share in making high-speed DNA sequencing machines; however, the company's stock was cut in half in 2011 as revenue slowed on declining federal research budgets and it dropped its earnings outlooks. Illumina draws a third of its revenue from the National Institutes of Health, according to
Bloomberg
.
Shares of Illumina fell more than 4.7% to $52.54 in early Thursday trading on news of the poison pill.
For more on Illumina shares, see
.
The shares of Illumina's competitors
Life Technologies
(LIFE) - Get Report
,
Pacific Biosciences of California
(PACB) - Get Report
and
Complete Genomics
( GNOM) surged after news of Roche's bid.
Roche, the world's largest maker of cancer treatment drugs, is looking at using Illumina's genetic sequencing machinery to help it develop new cancer therapies just as some key drugs come online. The Basel, Switzerland-based company sells Herceptin, a specialized breast-cancer drug and in August, its melanoma treatment drug Zelboraf received U.S. regulatory approvals. The development of both drugs relied on sequencing cancer causing genetic abnormalities.
With sequencing machinery, Roche could bolster its drug research and development efforts and enter genetic diagnostics as costs fall to a point where they may be viable for individual patient use. Other suitors may simply look at the machinery as a long-term growth avenue. Illumina's poison pill also adds force to its management's case that the bid captures an opportunistic pricing based on its near-term struggles while discounting the prospects for its leading sequencing machinery business.
Illumina's board will now need to review Roche's offer and recommend an action to shareholders, the company said in a Tuesday statement. If Illumina were to spurn the bid, shareholders would then have to vote on whether the hostile proposal represents their best interests. Currently, Illumina's largest shareholders are
Capital Research
,
Baillie Gifford
,
Sands Capital Management
,
Morgan Stanley Investment Management
and
Jennison Associates
, each with over 5% share stakes, according to
Bloomberg
compilations of their most recent filings with the
Securities and Exchange Commission
.
Still, other threats lurk for Illumina's management. When making its bid, Roche said that if Illumina were to advise its shareholders to reject the offer it would nominate a hostile slate of directors to move the takeover forward. Illumina has a staggered board, meaning that in any given year, only a handful of directors come up for re-election, making it hard for a hostile entity to gain control to push for a takeover. However,
The New York Times
reports that Roche may have found a way to nominate a majority of directors to Illumina's board at its 2012 annual general meeting.
"Illumina also has a staggered Board of Directors, which makes it harder to replace Board members and gain control with your own nominations, although there are loopholes in this defense, which Roche has exploited before, as in did with its acquisition of Ventana," adds Lawson of Mizuho Securities.
Analysts currently give Illumina a price target of $47 a share, according to estimates polled by
Bloomberg
. The company is expected to report fourth-quarter earnings of 28 cents a share on Jan. 31, according to estimates compiled by
. In its previous two quarters, Illumina missed
Zacks
consensus earnings estimates. The deal is also priced at an enterprise value of 21 times EBITDA, higher than the 10 year U.S. healthcare average of 31X, according to
Dealogic
.
Presently, Roche is willing to pay a significant premium for Illumina's sequencing machinery, in spite of slowing earnings. Nevertheless, that bid is below Illumina's historical three year average of 38 times earnings, making the firm's intrinsic value closer to $70 a share, according to William Blair analysts.
-- Written by Antoine Gara in New York