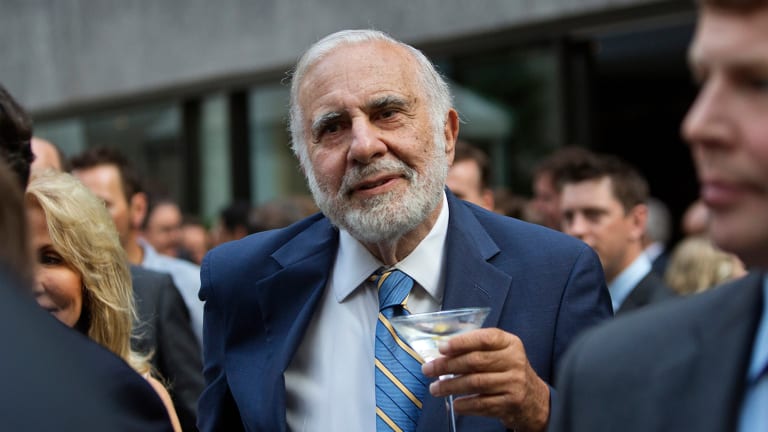 Icahn's Xerox Boardroom Battle Suggests M&A May Be Next
The famous corporate raider-turned activist investor is seeking to install four dissident directors to the document technology company that he had already successfully convinced in 2016 to break up
Corporate raider-turned activist Carl Icahn on Monday launched a boardroom battle at Xerox Corp. (XRX), nominating a minority-slate of four dissident directors to the document technology company's 11-person board even as its share price is up nearly 30% year-to-date. 
According to a securities filing, a director that had previously been installed by Icahn, Jonathan Christodoro, resigned from the board on December 8 so he could be renominated along with three other Icahn-backed dissident candidates. The candidates were nominated on the final day possible to be considered at Xerox's 2018 annual meeting, expected in May.
Xerox's shares jumped up slightly by about 1% to $29.78 in pre-market trading on the news.
Icahn owns a 9.72% stake in Xerox, a company that in January 2016 moved to separate into a document technology business, including printers and copiers, from its business processing outsourcing division as part of a deal with the insurgent fund manager. Icahn also maintains a 10% stake in the business processing operation, now called Conduent Inc. (CNDT).
Neither Icahn nor Christordoro makes clear what they are seeking. In an activist 13D filing, Icahn only provides biographies for his candidates, without stating his goals for the company. In a letter to Xerox's board chairman released Monday, Christodoro said that directors have been addressing issues he considers to be vital and until the last few weeks it appeared that "decisions would be consistent" with his views on the best interest of Xerox and shareholders. However, he added that it now appears the board will take the company "in a direction in which I strongly disagree."
Nevertheless, it is possible Icahn wants to see Xerox sell itself now that it has been independent of Conduent for roughly a year. It is also possible Icahn could push Xerox to divest assets and raise funds for share buybacks. Corporations pressured by Icahn to split in two also are later urged by the activist investor not to install anti-takeover protections, which suggests that they could also be pressured to sell themselves down the road. Icahn successfully pressed Manitowoc Co. Inc. (MTW) to split in two in 2015. One of the units, a food service business, agreed to a series of governance provisions that could make it easier to be sold. Conduent agreed to waive a whole host of anti-takeover protections as part of a deal struck between Xerox and Icahn in January 2016. That also makes it more susceptible to activist pressure or an acquirer.
An Icahn representative declined to comment.
Christodoro, one of Icahn's nominees on Monday, had served as a managing director at Icahn Capital between 2012 and February. In addition to Christodoro, Icahn nominated Keith Cozza, Icahn Enterprise's chief executive as well as Jaffrey Firestone, CEO of Prodigy Pictures Inc., a film and TV production company. Also, Randolph Read, CEO of Nevada Strategic Credit Investment and an independent director at New York REIT, was also nominated.
Xerox reached a follow-on settlement with Icahn in June 2016 to add Christodoro, then an Icahn deputy, to the company's board. However, the truce reached then was called off on Monday when Icahn nominated his candidates. In a statement, Xerox said that since the December 2016 separation of Conduent it has "delivered its commitments to shareholders" and are ahead of its plan to relative to our well-defined strategic transformation. The company's share price is up almost 30% year-to-date, rising roughly 28.65% since December 30, 2016.
"In 2017 alone, we expect to meet or exceed our target of $600 million of gross cost savings, a critical step as we continue our journey to improving our revenue trajectory," Xerox said in a filing.
Xerox's shares are up slightly from mid-$23 a share it was trading at when it reached a deal to split off Conduent. It is also up from about $26 a share it traded at in mid-2016 when Xerox reached its agreement to include Christodoro to its board.
Centerview Partners LLC is serving as financial advisor to Xerox and Paul, Weiss, Rifkind, Wharton & Garrison LLP is serving as the company's legal counsel.
Another possible activist fund, D.E. Shaw & Co. LP owns a 0.06% stake in Xerox as well.
Xerox has already proven to be an extremely successful investment for Icahn, who acquired a 7.13% stake in Xerox in late 2015 at prices ranging from $9.64 a share to $10.66 a share. When the two businesses were split, Icahn received a large new stake in the spun-off unit, Conduent. Now he owns a 9.74% stake in Xerox, which is trading at $29.67 a share and a 9.4% stake in Conduent, which is trading at $15.31 a share. 
Centerview Partners LLC is serving as financial advisor to Xerox and Paul, Weiss, Rifkind, Wharton & Garrison LLP is serving as the company's legal counsel.
Another possible activist fund, D.E. Shaw & Co. LP owns a 0.06% stake in Xerox as well.
For more coverage like this, sign up for the Activist Daily.
Join us in New York City on June 7 for Corporate Governance 2018: Understanding the Changing Agenda, where leading industry experts and other influential members of the governance and investing community will gather to discuss key issues that will confront dealmakers in 2018.
More of What's Trending on TheStreet: