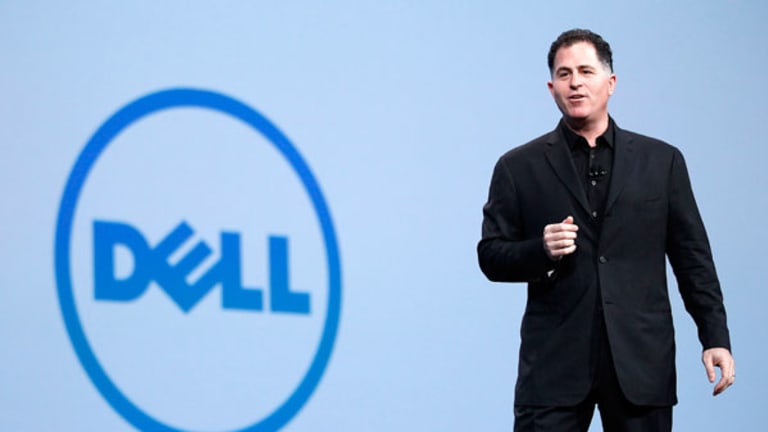 Icahn Invents 'Leveraged Shareholder Buyout' in Dell Deal (Update 1)
Carl Icahn may be breaking new ground in M&A when it comes to his Dell proposal.
Updated from 1:05 p.m. to include Icahn filing and closing share prices.
NEW YORK (
) -- Carl Icahn may be breaking new ground in the world of mergers and acquisitions when it comes to his proposal to trump a
offer for
Dell
(DELL) - Get Report
arranged by
Silver Lake Partners
and company founder Michael Dell.
Instead of a management buyout or a private equity buyout, Icahn is offering a shareholder buyout, of sorts.
A
offered by Icahn seeks to pay a $12 a share cash dividend to Dell shareholders and give them about $1.65 a share in Dell's remaining stock.
Icahn and Southeastern Asset Management, two top Dell Shareholders, will opt out of the cash dividend and instead take the $12 payment in Dell shares priced at $1.65. Current shareholders will have the ability to either take the cash dividend or additional shares under Icahn's proposal, which does not constitute a formal offer for the company.
Were Dell to eventually agree to Icahn's proposal as it stands, the deal will look like a leveraged recapitalization of the company for shareholders who take the $12 cash dividend that Icahn plans to finance using $5.2 billion in debt, Dell's cash stockpile and other unutilized assets.
For Icahn and Southeastern Asset Management, the deal will look more like a shareholder buyout given their dramatically increasing stake in Dell.
Late on Monday, Icahn proposed himself and five nominees to Dell's board of directors, while Southeastern proposed six nominees, according to a
with the
Securities and Exchange Commission
.
Icahn and Southeastern said in a
that they hold about 13% of Dell's outstanding shares and expect at least 20% of Dell shareholders in total to take Dell shares instead of the stock dividend.
According to the proposal, investors opting for Dell shares over the dividend would get about 7.3 Dell shares priced at $1.65 for each current share. They would also retain their existing Dell shares, but priced at $1.65.
Were the deal to meet expectations outlined in the Friday proposal, the Icahn-Southeastern "consortium" is likely to hold a controlling stake in Dell's remaining publicly traded shares.
The Dell deal would also look like a shareholder buyout, a novel act of financial engineering that could be the most imaginative of Icahn's career.
In recent proposals for
Clorox
(CLX) - Get Report
,
Lions Gate Films
(LGF)
and
Commercial Metals
(CMC) - Get Report
, Icahn has held out "tender offers" to buy out those companies' shareholders at a fixed price, in offers that are similar to the average private equity buyout.
Friday's proposal is closest to Icahn's 2012 campaign for
CVR Energy
(CVI) - Get Report
, which remains publicly traded after the activist won a $30 a share tender offer for control of the company, but scrapped a plan to take it private in August.
Distributing Dell's unutilized cash on a leveraged basis and taking a far larger stake in the company, however, would be new ground for Icahn beyond his infamous activist campaigns and hostile tender offers.
At face value, Friday's proposal also may be the most earnest proposal yet to turn Dell around and recoup years of declining share prices. The Icahn proposal gives all shareholders a continued stake in Dell's turnaround, while it even allows investors the ability to double down.
More importantly, the proposal seeks to make
of Dell's unused cash and its balance sheet. That contrasts to the debt-laden $24.4 billion takeover that Silver Lake and Michael Dell have offered shareholders.
In the Silver Lake offer, which has already been agreed by Dell's board of directors, Dell shareholders get no remaining stake in the company. Meanwhile, Dell's near $13 billion in unused cash will help to finance the
deal.
That cash belongs to existing Dell shareholders and not potential private equity and management buyers. Icahn's proposal makes far more effort in returning Dell's cash to shareholders, while also giving investors the ability to benefit from the company's resilient earnings figures and a nascent tech services business.
Still, some analysts expect Dell shareholders to favor the certainty of Silver Lake's cash takeover offer even if Icahn's proposal could net a higher share price.
"Overall, we think it adds some pressure on Silver Lake to raise its bid but still see the acceptance of the $13.65 bid as the most likely outcome," wrote Peter Misek, a Jefferies analyst, in a Monday note to clients.
Still, Misek calculated a $13.95-to-$20.68 a share value for Dell in Icahn's proposal, given the company's projected earnings per share of 50 cents to 89 cents.
Icahn indicated on Friday Jefferies could arrange about $1.6 billion in financing for his proposal.
Dell shares closed Monday trading up 7 cents to $13.52, slightly below Silver Lake's formal takeover offer. Shares reached as high as $14.50 earlier in 2013 amid a frenzy of takeover proposals that's since cooled.
As Icahn has said in recent media appearances, Dell has made over $10 billion in acquisitions in recent years to bolster its enterprise division, however, shareholders are yet to see the benefit from
those assets
.
While much ink has been spilled on the adversity Dell has faced in a sharply declining PC-market, the company nevertheless generated over $2.3 billion in 2012 profits and over $3.2 billion in operating cash flow.
Both figures reflect sharp year-over-year declines.
Those earnings and cash flow metrics, in addition to unheralded enterprise division assets such as
Quest Software
and
Wyse Technologies
indicate Icahn, Southeastern and shareholders who would opt out of the $12 a share dividend would have heavy lifting to garner a value from their shares.
Icahn also said Friday that
Microsoft
(MSFT) - Get Report
or
Hewlett-Packard
(HPQ) - Get Report
could be natural buyers of Dell's PC-unit.
A look at debt-laden private equity owned companies such as
HCA
(HCA) - Get Report
,
Caesars Entertainment
(CZR) - Get Report
and
Seaworld
(SEAS) - Get Report
indicate there is an appetite in markets for highly leveraged companies.
Icahn, meanwhile, has a
credible track record
in unlocking the value of assets in the technology that rivals
Silver Lake Partners
, the pre-eminent buyout firm in the tech sector. Icahn was a savior for Motorola shareholders and he did early work on the retooling of
Yahoo!'s
(YHOO)
management ranks.
Still, investors and even Dell would be wise to view Icahn's current proposal skeptically. Icahn has yet to submit a formal, fully financed offer for the special committee run by Dell's board of directors to evaluate. Icahn's Friday proposal also was dramatically different from a
he proposed in April.
On Monday, Dell's special committee evaluating competing proposals asked Icahn to submit a formal offer, while also providing firm details on financing commitments, shareholder agreements and more specific financial information surrounding tax rates and asset sales that are assumed in the proposal.
The Monday filing by Icahn didn't include further detail on proposals for Dell outside of a slate of board nominees.
Icahn's response will indicate just how serious the activist investor is in making M&A history with his proposed Dell shareholder buyout.
"The Special Committee of the Dell board is reviewing the Southeastern Asset materials and will provide comment in due course," said Jess Blackburn, a Dell spokesperson, in an emailed statement Friday.
-- Written by Antoine Gara