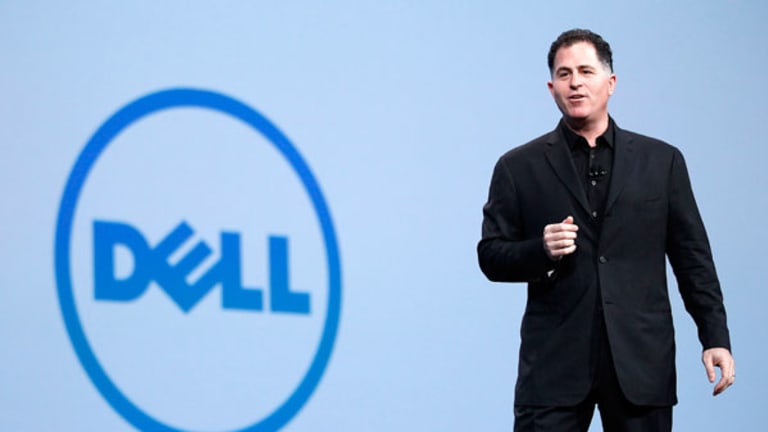 Icahn, Southeastern, Shift Dell Takeover Goal Posts (Update 1)
Carl Icahn and Southeastern Asset Management are joining forces in trying to block a Dell giveaway.
Updated from 9:23 a.m. ET to include a statement from Dell and opening share prices
.
NEW YORK (
) -- The battle for
Dell
(DELL) - Get Report
continues, however the stakes have changed dramatically after Carl Icahn tabled a
for the PC maker and joined with
Southeastern Asset Management
to propose the company pay a $12 a share special dividend to investors.
Icahn and Southeastern Asset Management are joining ranks to propose a cash dividend of $12 a share to Dell shareholders and receive a piece of the company's remaining publicly traded equity.
The other option, according to the proposal, is to receive $12 in additional shares valued at $1.65 a share. Both Icahn and Southeastern say they will take stock rather than cash.
Combined, Icahn and Southeastern Asset Management hold about 13% of Dell's outstanding shares, meaning the investors will have a big influence on whichever way the company moves forward, amid competing takeover offers.
"Either give shareholders the real choice they are entitled to or face the legal liability for your failures," Icahn and Southeastern wrote in a Friday letter to Dell, of their offer.
Icahn said in recent interviews with
Bloomberg
he would not keep company founder Michael Dell as CEO of the company were his proposal to win out.
Morningstar analysts said Friday that the Icahn and Southeastern proposal limits Dell's downside to about $13.65 a share, while giving shareholders potential to benefit from operating improvements and a full valuation of the company's recently acquired enterprise assets.
Icahn's move, disclosed in a Friday
with the
Securities and Exchange Commission
is just the latest twist to a standing offer to buy Dell
.
For investors, the goal posts on Dell's possible takeover have shifted significantly in recent weeks, after it appeared a bidding war would dip into buyers' pockets.
Company founder Michael Dell and private equity giant
Silver Lake Partners
have offered Dell shareholders
to take the company private, in a deal that was accepted by Dell's board of directors in early February.
A special committee of Dell board of directors, however, hired investment bank
Evercore Partners
to run a so-called "go shop" period to seek higher offers from strategic bidders and private equity funds. By the end of the 45-day go-shop,
Blackstone Group
(BX) - Get Report
had proposed $14.25 a share for Dell, while Icahn put out a proposal to buy the company for $15 a share.
Blackstone, however,
its proposal for Dell amid sharp PC market sales declines in the U.S. and a due diligence process that led the private equity giant to believe Dell's operating income would come in significantly below guidance in coming quarters.
Friday, the stakes again changed for Dell.
Instead of moving forward with a
that would seek to cash out shareholders at a price far higher than Silver Lake's offer, Icahn is now proposing shareholders take a deal that, at first glance, promises a per share payout $1.65 below Dell's initial takeover offer.
"The Special Committee of the Dell board is reviewing the Southeastern Asset materials and will provide comment in due course," Jess Blackburn, a Dell spokesperson said in an e-mailed statement.
Icahn and Southeastern Asset Management believe their proposal is a compelling alternative to a full takeover for Dell because it will dividend out Dell's cash and give investors continued upside in a possible turnaround of the PC-maker and burgeoning IT services specialist.
Icahn has called Silver Lake and Michael Dell's proposal for the world's third leading computer maker the "great giveaway."
To finance Friday's proposed $12-per-share payout, Icahn and Southeastern will use Dell's existing cash and $5.2 billion in new debt, which they point out pales in comparison to the $16 billion in debt Silver Lake's consortium has already arranged for a go-private. Icahn will obtain a bridge loan to guarantee his proposed financing.
"Evercore Partners, the investment banker Dell purportedly hired to euphemistically 'go shop' the company, has told Mr. Icahn on more than one occasion that the 'independent committee' has only one concern, and that is to do what is right for shareholders," Icahn wrote in a letter to Dell's board of directors. "Our proposal gives the Board a final chance to prove that what they say is correct. "
Dell shares were rising less than 1% in early Friday trading to $13.44 a share.
Shares currently sit below Silver Lake's proposed $13.65 a share offer and are well below prices that reached as high as $14.50 a share amid a takeover frenzy that's cooled.
-- Written by Antoine Gara