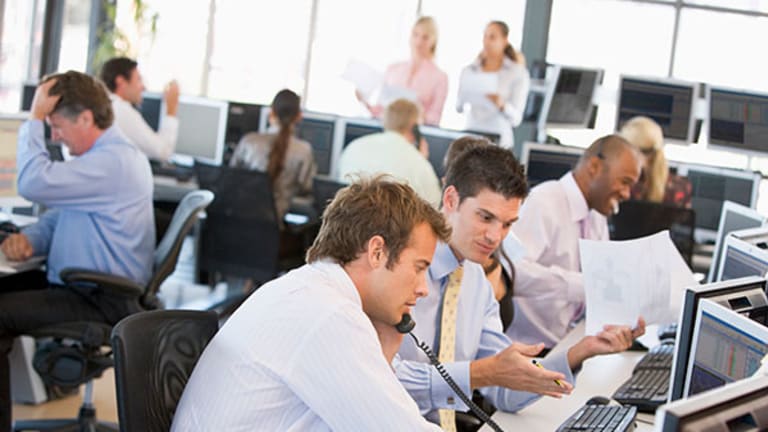 Icahn, Ackman and You? Investing LIke an Activist Not So Easy
Can you make money by following activists? S&P's new index ETF wants to help you try.
NEW YORK (The Deal) -- With activist investing on the rise among hedge funds -- almost 200 campaigns of various stripes are taking place annually now -- it was only a matter of time before someone would try to capture the promised returns for the retail investor.
It sounds good on paper. Activists have become more prominent players in the markets and can cause significant swings in valuation. But the somewhat idiosyncratic nature of activist investing makes it a difficult model to replicate.
Nonetheless, several market-savvy entities have tried to make activism more accessible to a wider group of investors. The latest into the field is Standard & Poor's, owned by McGraw Hill Financial (MHF) - Get Western Asset Municipal High Income Fund Inc. Report. The ratings agency recently introduced an index that seeks to track activist campaigns through their Schedule 13D filings with the Securities and Exchange Commission. Investors are required to file 13Ds within 10 days of their stakes going over 5% where they seek to materially influence the company.
The U.S. Activist Interest index, formally launched earlier this month, tries to set a benchmark against which to measure the performance of companies that have been targeted by13D campaigns for a period of time after the stake is revealed. S&P hopes to license out the product to some exchange-traded funds, or ETFs, specializing in activist investors.
"We're seeking to find out whether activists, when they take a stake, add shareholder value over a period of time," said Vinit Srivastava, senior director at S&P Dow Jones Indices. "We are trying to capture the performance of companies that have seen some activist campaigns."
The current index is a snapshot of 67 companies targeted by activists and includes some of the biggest names in the field going up against billion-dollar companies including Carl Icahn's sally at Hertz Global Holdings (HTZ) - Get Hertz Global Holdings Inc Report, Bill Ackman at Zoetis (ZTS) - Get Zoetis, Inc. Class A Report, Dan Loeb's proxy fight with Sotheby's (BID) - Get Sotheby's Report and Jeff Smith's engagement with Darden Restaurants (DRI) - Get Darden Restaurants, Inc. Report.
But the list also includes activist campaigns launched by firms known mostly to Wall Street cognoscenti, such as Clifton Robbins' Blue Harbour Group at Investors Bancorp (ISBC) - Get Investors Bancorp Inc Report and Daniel Lewis' Orange Capitalat casino operator Pinnacle Entertainment (PNK) - Get Pinnacle Entertainment Inc Report.
The targeted companies on the list must be members of the S&P U.S. Broad Market Index, or BMI, which covers most publicly traded U.S. companies. They also must have a three-month average daily trading value of $20 million to meet liquidity needs.
The activist investors come from a pool of 253 insurgent investors, as so classified by S&P Capital IQ, which considers a wide variety of fund managers as activists: from "non-confrontational" insurgents who seek to privately engage management, like Blue Harbour, to those that tend to launch proxy fights (Icahn, Ackman). Companies are removed from the index 24 months after the activist campaign is launched through a 13D filing.
S&P spokesman Dave Guarino said that as of July 31, on a total return basis, the Activist Interest Index returned 20.5% annualized over 3 years and -7.45% over the past year. The ratings agency has back tested its index 10 years -- as of Aug. 17, the annualized return stood at 16.51%, according to S&P's Web site. compared to its benchmark index, the S&P 500, which had 10-year annualized returns of 5.59% as of the same date.
The numbers sound good, but the structure of the S&P index itself illustrates the difficulty of trying to make money by following activists. The insurgency game changes quickly, and assumptions that seem valid now can become outdated before the index can adapt. And many activists operate under the radar, making it almost impossible to account for their activities.
S&P was not deterred by the obstacles, but it's not clear that it overcame them. The company settled on the two-year period for its index was based on an assumption "that a 24-month holding period was reasonable to be able to capture that effect [of shareholder activism] -- it is neither short nor very long," Guarino said in an email. He noted a 2008 study, The Returns to Hedge Fund Activism, found that the "median holding period of funds is close to a year with most approaching about 20 months." That study looked at data on activism from 2001 to 2006 and concluded that the insurgent funds outperformed the S&P 500.
The two-year period, however, might not take into account the more sophisticated analyses performed by activists these days. In addition, some of the firms -- whether through sensitivity over accusations of short-termism or for strategic purposes -- will stay involved longer, especially when a company begins a complicated series of restructuring moves.
For example, Manitowoc (MTW) - Get Manitowoc Company, Inc. Report, which is included in the list, moved to split itself in two companies -- one for its construction cranes business and the other for its foodservices unit -- under pressure from Icahn. But Icahn has insisted that the new companies maintain shareholder-friendly governance standards, an indication he may eventually want one or both companies sold. That could come outside the two-year time period contemplated by the index.
In fact, two of the authors of the 2008 article cited by S&P, Alon Brav of Duke University and Wei Jiang from Columbia University, together with Harvard Law School's Lucian Bebchuk, focused on a longer time period in a 2015 paper -- five years -- to determine whether the positive results to shareholders and the targeted companies outlasted an activist's efforts.
S&P also launched a related U.S. Spin-Off index this month, which is designed to measure the performance of companies that have spun off divisions over the past four years. There is overlap between the two indexes as activists often push for a corporate breakup. Potentially, it would help ETFs capture the complexity of the modern activist investing environment.
Another anomaly not taken into account by the two-year time period is situations where a shareholder is exiting for reasons other than the end of a campaign. For example, oil and gas companyMagnum Hunter Resources (MHR) , also in the index, had been a target of Relational Investors, the fund where founder Ralph Whitworth had to step down for health reasons. Relational is gradually winding down its positions, but that has little to do with whether its targeted companies have performed or not.
Guarino said S&P can't comment on changes to the index because they are "market moving material" that has to be announced publicly.
No index can reflectall aspects of equity trading. Because the Activist Interest index captures only 13D filings, it doesn't include those situations where the investor has less than the triggering 5% stake.
In these days of more campaigns at bigger companies that can include some very large activism efforts, including Icahn's successful push at Apple (AAPL) - Get Apple Inc. Report to have the company use its huge cash pile to buyback more shares, Nelson Peltz's epic proxy fight with E.I. du Pont de Nemours  (DD) - Get DuPont de Nemours, Inc. Report, which the fund manager ultimately lost, or Jana Partners and its insurgency at Qualcomm (QCOM) - Get Qualcomm Inc Report.
The number of activists with sub-5% stake campaigns has been steadily rising over the past five years, according to FactSet. It rose to 85 campaigns or 34% of all insurgencies in 2014, up from 57 campaigns from investors with less than a 5% stake or 27% of all insurgencies in 2013.
While the index has yet to be licensed for an ETF product, Srivastava said that is the plan "down the road." In the meanwhile, he said, S&P has licensed it for "structured products such as indexed-linked CDs for private wealth clients."
There is at least one activist ETF in existence already, the Global X Guru Activist Index ETF (ACTX) , which was launched April 29. It identifies the top 50 aggregate stock holdings held by a pool of activist investors, after screening for certain liquidity and market capitalization requirements.
ACTX holds 51 positions and, unlike the S&P activist index, many of the target companies include insurgencies launched by activists with smaller than 5% stakes, including Apple, DuPont and Microsoft (MSFT) - Get Microsoft Corporation Report.
The ETF recently traded at $12.81, down 3.3%, down from its April open of $15.08.
Neena Mishra, director of ETF Research at Zacks Investment Research, expects more activist fund-focused ETFs to emerge as investors look for strategies that can outperform the broader market. She expects S&P to succeed at licensing its activist index to ETFs. "Following smart money like activist funds has been one of those strategies as broader market returns are expected to be lackluster," she said.
However, Mishra cautioned that investors should wait until there are more activist-focused ETFs, or at least until ACTX -- with $2.8 million in assets -- accumulates more investors. She argues that small ETFs such as ACTX inherently face the risk of closure due to low asset volume. "Any ETF with less than $50 million in assets under management faces closure risk," she said. "Thus, investors should wait for some time before investing in newly minted ETFs. Low AUM for ACTX shows that this strategy is not popular with investors as of now."
S&P's move to include a three-month average daily trading value of $20 million for targeted companies is critical, Mishra argues, because it enables potential ETFs to obtain the liquidity they need to buy and sell shares in the bundle. But it means that investors won't gain access to less-liquid activist targets that could ultimately generate significant returns. Mishra says that an ETF following the index would give investors a low-cost diversified way of following the activists.
Beyond ETFs, there is the 13D Activist Fund (DDDAX) - Get 13D Activist A Report, a mutual fund that also offers retail investors exposure to shareholder activism. DDDAX recently traded at $16.50, down 2.5%, and has a three-year annualized return of 24% as of Dec. 31. According to a June 30 report, the fund held stakes in activist targets Darden, Juniper Networks (JNPR) - Get Juniper Networks, Inc. Report and Canadian Pacific Railway  (CP) - Get Canadian Pacific Railway Limited Report, as well as several others.
Admire Capital, primarily a quantitative hedge fund focused on activist and value investments, is another option restricted to high net-worth accredited investors. Armen Karamanian, the fund's managing director, said he uses 50 quantitative factors to identify the most promising companies from activist and value investor portfolios.
One of the factors, Karamanian said, is based on a 2014 paper by Harvard Ph.D. candidate, Jonathan Rhinesmith, which suggested that when investment fund managers "double down" on positions that drop in value, those stock later outperform.
"We do a lot of predictive analysis on hedge fund behavior," Karamanian said.
The effect of the interest in investment products that track the campaigns mounted by activists are not likely to be used to actually back those insurgencies for some time.
Mishra contends that ETF managers are likely to back activist campaigns down the road, for example at target-company proxy fights, but their assets haven't gotten to the point where it could make any impact.
"If interest picks up you will see ETFs through their votes aiding the activists and be a force for change," Mishra said. "But that's not going to happen any time soon."
Read more from: