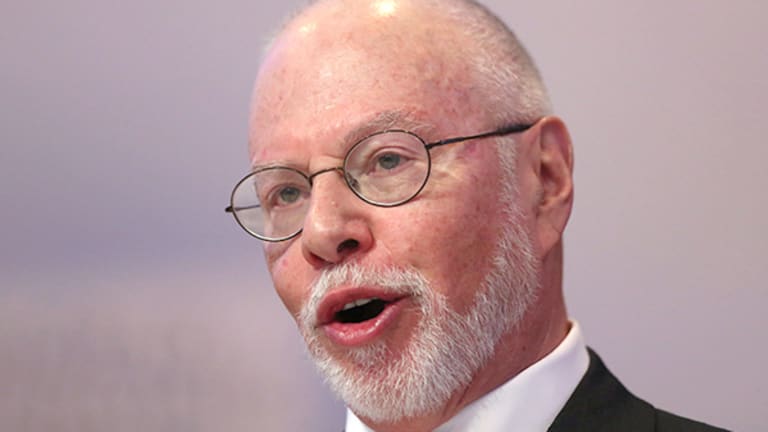 IBM, Cisco or Raytheon Could Buy Imperva, Now Seeking Suitors
Under pressure from Elliott, the cyber security products company hired Frank Quattrone's Qatalyst Partners to launch a strategic review, which is likely focused on a sale of the business.
Under pressure from Elliott, the cyber security products company hired Frank Quattrone's Qatalyst Partners to launch a strategic review, which is likely focused on a sale of the business.
Imperva (IMPV) - Get Report shares surged after the market closed Thursday in response to the company's announcement that it has retained Qatalyst Partners, founded by famed deal-maker Frank Quattrone, as a financial adviser and launched a strategic review--a clear indication the company is shopping itself.
A person familiar with the situation suggested that the cyber and data security data security products company is part of a consolidating industry and has a variety of strategic or private equity companies that may be interested in buying it.
Analysts agreed that a sale is likely the main option under consideration following a call for a strategic review by activist investor Paul Singer of Elliott Management.
Analysts and investors familiar with the situation note that the top potential buyers include Cisco Systems (CSCO) - Get Report , Juniper Networks (JNPR) - Get Report and IBM (IBM) - Get Report . One analyst said that IBM has a security business that directly competes with Imperva and as a result it would like to combine the two units. He added that non-traditional companies like defense contractors, including Raytheon, could be interested as well. In addition, a number of private equity firms could be interested, they added.
"We believe one of the options the company is considering is indeed a sale of itself, though it would be difficult to tell whether it will be a public or private entity," said Jonathan Ho, analyst at William Blair, in a report. "We have always viewed Imperva as a strong pure-plan option in the data security space, given it was the largest such provider and what we view to be the strength of their offerings."
Jack Andrews, analyst at D.A. Davidson, said that there has been a fair amount of consolidation in the cyber and data security products space and that Imperva has strong products that could be attractive to both strategic and private equity buyers. He argued that there are three categories of potential strategic buyers, security companies, large technology giants and non-traditional buyers such as defense conglomerates that are looking to break into the security space. "Given the product's strength I think there is likely to be interest," said Andrews.
A sale of Imperva comes after the sector has faced some consolidation in recent months, with Symantec's (SYMC) - Get Report acquisition of Blue Coat Systems Inc. and defense contractor Raytheon Co.'s (RTN) - Get Report purchase of Websense last year from private equity firm Vista Equity Partners LLC for $1.9 billion.
And another analyst agreed that Imperva's decision to hire Quattrone's firm suggests that the cyber security company's only goal is to sell itself. He added that had Imperva hired
Morgan Stanley
(MS) - Get Report
or
Goldman Sachs
(GS) - Get Report
for the review it is more likely they would be focused on fending off the activists or recapitalizing the firm. He noted that the company hasn't been managed well lately and that may have brought Elliott into the fold. "Quattrone's firm is an M&A boutique that has historically been known for getting high prices for companies," he said. "If you are hiring them you are looking to sell the business."
Elliott Management and Singer have waged a month-long public campaign to have the company consider "strategic opportunities."  The fund took a previously private effort public in June, noting in a securities filing that its portfolio managers had begun a dialogue with corporate officers at the Redwood Shores, Calif.-based company. The hedge fund argued that Imperva was materially undervalued and operated in a highly strategic area of the technology industry with an attractive competitive position and compelling product set.
In addition, Elliott suggested at the time that Imperva may be a target for M&A, noting that there are both "strategic and operational opportunities" for the issuer that would meaningfully increase value to shareholders.
According to a person familiar with the situation, "They've received a lot of interest. "You would never hire Qatalyst unless you are selling the business."
Imperva has a $1.5 billion market capitalization and traded up about 7% on the strategic review announcement after the market closed to $45.01 a share. Elliott has a combined economic exposure to Imperva of 11%, including a 4.7% common share stake, according to a June 28 securities filing.
The New York-based activist fund, which specializes in technology companies and other sectors, has launched over 96 campaigns at 92 companies since 1994, according to FactSet. And the fund is no stranger to initiating proxy fights to get its way, suggesting a director election could be launched to drive a sale if one is not forthcoming. It has undertaken 13 proxy fights and threatened director-election contests at four companies in efforts to drive M&A and other moves.