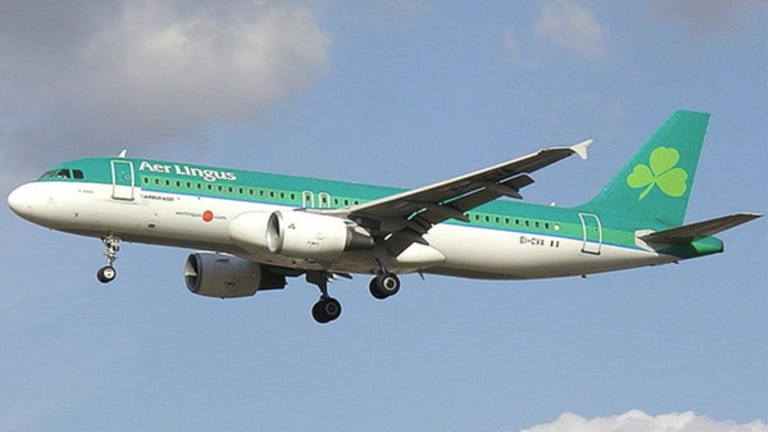 IAG CEO on BCC: We'll Grow Aer Lingus Jobs if Takeover Proceeds
The Irish government rejected IAG's $1.5 billion offer for Aer Lingus this week, saying it needed more clarity about the buyer's employment and investment plans in Ireland.
NEW YORK (The Deal) -- International Consolidated Airlines Group CEO Willie Walsh went on the radio on Friday to reassure the Irish government that it would increase the number of people it employs in Ireland if allowed to buy Aer Lingus Group (AERL) , following Dublin's rejection this week of IAG's €1.4 billion ($1.54 billion) bid for the airline.
The Irish government, which owns a 25.1% stake in Aer Lingus, said it wanted more assurances about how the deal would impact jobs and growth before it gave a commitment to back the purchase. It also wanted IAG to extend five-year commitments to preserve Aer Lingus routes, and explain how it could be held accountable for those commitments, as well as for its pledge to preserve the Irish carrier's slots at London's Heathrow Airport.
Walsh, who oversaw the creation of IAG in 2011 through the fusion of British Airways with Spain's Iberia, told the BBC he would not negotiate with the Irish government on the radio, and he did not offer any additional commitments about jobs beyond those he had already given to the Irish government or the trade unions who have opposed the IAG offer.
But he added that he believed there would be more jobs overall, and that a merger would boost the Irish economy significantly.
"I've been very clear that there will be some back office jobs that will go, but the net increase in employment will be actually quite significant," he said on the BBC's flagship Today program.
"We've been very clear with the Irish government that we want to acquire Aer Lingus to grow the business. We see it as a growth opportunity. It's performing well today. We believe it can perform even better as part of IAG and that's the reason we're interested in it. And we see opportunities to expand in a significant way the Aer Lingus business on the trans-Atlantic [routes], which would have great benefit for Aer Lingus, the employees, the Irish government through the Irish economy and tourism in particular. So we believe this is a very, very strong story for everybody involved."
"We'll have discussions with the Irish government in due course," he said, leaving the path open for further negotiations in the weeks to come. However, some critics have argued that the government will not be ready to shift its position ahead of a general election, due by April next year at the latest.
Nonetheless, Walsh has good reason to believe that a move into Ireland would benefit both IAG and Aer Lingus, because of Ireland's special relationship with the U.S., the development of Dublin as a trans-Atlantic hub, and the fact that Heathrow no longer has the capacity to add new routes or grow passenger numbers.
"It would be an opportunity to provide additional capacity from the U.K. over the Dublin hub onto the trans-Atlantic," Walsh said. "Aer Lingus has done a good job in doing that at Dublin Airport. The airport has a established a very efficient transfer operation there, and it also has the advantage of having the U.S. immigration and customs pre-clearance, which from a customer point of view is very attractive."
Denying he was ever known as "Slasher Walsh" when he was CEO of Aer Lingus, (he'd only come by the nickname when he arrived at British Airways), he said he had rescued the business from "almost certain bankruptcy in 2001" and grown it "in a much more efficient way." Walsh has, however, been ruthless in cutting thousands of jobs at the Spanish airline Iberia, part of a turnaround which proved its worth in IAG's 2014 results, which were also announced this morning. Iberia made an operating profit of €50 million, compared to its €166 million loss in 2013.
IAG also announced that full-year passenger revenue was up 9.6% to €17.8 billion and operating profit was up 95% to €1.1 billion. Total fuel costs were up 0.6%, despite the falling price per liter, but only because capacity growth rose by 9.3%.
Read more from: