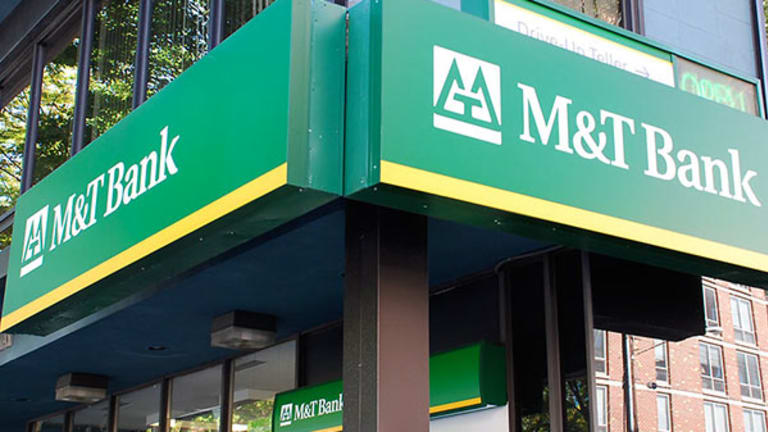 Hudson City, M&T Bank Weigh Options After Fed Delays Merger Approval Again
Hudson City Bancorp and M&T Bank will "review the situation" after the Fed said it won't complete its review of their merger deal by their April 30 deadline.
Hudson City Bancorp and M&T Bank will "review the situation" after the Fed said it won't complete its review of their merger deal by their April 30 deadline.
NEW YORK ( The Deal) -- Hudson City Bancorp (HCBK) and M&T Bank (MTB) - Get Report on Monday said they will "take a short period of time to review the situation" after the FederalReserve on Friday said that it won't be able to complete its regulatory review of their $5.6 billion deal by the April 30 termination date set in their merger agreement.
"We continue to believe that M&T's merger with Hudson City would be beneficial to both institutions, including our shareholders and the customers and communities we serve, and we remain committed to the merger," said M&T CEO Robert G. Wilmers in a statement.
The deal has been pending since Aug. 27, 2012, but it has been in regulatory limbo since April 2013, when the central bank raised concerns about M&T procedures, systems and processes relating to compliance with the Bank Secrecy Act and anti-money-laundering programs.
The termination date has already been extended three times as M&T has worked to implement new procedures and systems in an attempt to comply with banking laws, and it is possible that M&T and Hudson could extend the date by which either side can terminate the deal without penalty again. However, it is also very possible that one or both banks will decide to terminate the deal in light of the Fed's continuing concerns about M&T Bank's anti-money laundering compliance program.
And in fact, Hudson City CEO Denis Salamone, in a statement, seemed less committed to completing the deal. He suggested that "given the unexpected notice of delay "over a holiday weekend" the bank's board needs "more time to understand the nature and timing of the delay and its potential impact on the transaction before the board can determine its course of action."
The termination date for the deal was initially its one year anniversary. That was extended in April 2013 to Jan. 31, 2014, at which point Hudson City was also freed from some restrictions in the merger agreement regarding business conduct. The deadline was extended again on Dec. 17, 2013, to Dec. 31, 2014. On Dec. 9, 2014, the termination date was pushed out once more to April 30, 2015.
In a statement, M&T said that prior to the Fed's comments late Friday, it had believed that the chances of completing the deal before April 30 were "sufficient" to begin taking actions to prepare for the completion of the merger. These preparations included notifying Hudson City shareholders of the deadline so that they could consider how they wanted to proceed with their stock and cash merger considerations. However, on Monday, both banks said that the "election process" had been suspended.
M&T has not publicly disclosed the reasons for the Fed's concerns, but in June, a federal judge ordered M&T to forfeit $560,000 in drug proceeds laundered through a bank branch in Perry Hall, Md. An episode like that would indicate to the feds that the bank's controls were insufficient at the time.
In a March letter to shareholders, M&T's Wilmers said that the bank spent $151 million in 2014 enhancing its Bank Secrecy Act and anti-money laundering compliance program, in addition to $60 million spent the year before. He added that in 2014, the bank had 630 employees dedicated to the program as well as over 300 contractors and consultants representing "nearly 10%" of the institution's office space in Buffalo.
"The systems we began building in 2013 were deployed to great effect this past year. The expanse and depth of our new BSA/AML program is both imposing and remarkable; it ensures that the risk profile of every customer of the bank, old and new, is understood and properly managed," he said.
Hudson City's CEO did not return calls.
M&T Bank opened Monday sharply lower and was trading early at $122.51 a share, a 3.7% drop. In addition, Hudson City declined 6.6% percent to $9.81 a share in early trading Monday.