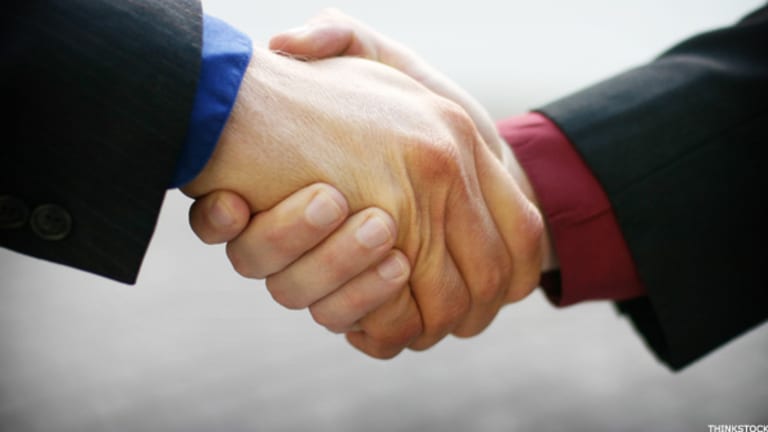 Hudson City lending probe not likely a deal killer
Termination of the long-standing merger with M&T bank still looms at April's end.
New regulatory issues have surfaced for Hudson City Bancorp Inc. (HCBK) but they do not seem to be a determining factor in whether the New Jersey bank's $5.6 billion merger with M&T Bank Corp. (MTB) makes it to the finish line.
The Hudson City deal has been on hold since April 2013 when, just prior to a shareholder vote on the commercial banks' merger, buyer M&T bank came under scrutiny by the Federal Reserve over procedures, systems and processes relating to compliance with the Bank Secrecy Act and anti-money-laundering programs.
That review has been ongoing since and, in early April, Hudson City said M&T bank had been informed that the Fed would not be completing its compliance review of M&T by an April 30 merger termination date.
The deal drop-dead date has already been extended from August 2013 to January 2014 to Dec. 31, and finally to the April 30 date. The latest date looked slightly promising as Hudson City started the election process related to the merger consideration, which it had not previously done. But Hudson City was operating on hope more than certainty that the Fed review would be completed in time.
Now that it's known that the April 30 date is out of reach, it remains to be seen whether the Hudson City board will allow for another extension of the merger agreement or if M&T Bank will move forward.
M&T bank shares have performed well enough during the long and winding deal process that the merger still offers a respectable premium for Hudson City shares.
Now the Department of Justice and Consumer Financial Protection Bureau are reportedly investigating Hudson City's possible violations of the Fair Housing Act because of discriminatory lending practices.
The probe is apparently new as there is no reference to an inquiry by the CFPB in Hudson City's 10K filed with the Securities and Exchange Commission on March 2.
But the underlying issue is also not a new one for Hudson City. The New Jersey Citizen Action coalition has been monitoring Hudson City's participation in markets outside of its core jumbo-mortgage business for years, an NJCA executive said. NJCA petitioned the Fed regarding the merger with M&T Bank, but largely on the lending practices of Hudson City, not concerns about the merger. M&T Bank approached the NJCA regarding Huson City's status as a local lender before entering the merger and has had a dialogue with the community action organization about working on small business and other lending programs, the NJCA said.
Past investigations regarding discriminatory lending by the CFPB have been resolved with relatively small fines, a risk arbitrageur said, noting that Chevy Chase bank settled a similar matter with the DOJ in 2013 for $2.8 million. The merger of Grand Rapids, Mich.-based Mercantile Bank Corp. (MBWM) and Alma, Mich.-based Firstbank Corp. was delayed by such an investigation but the deal closed, an industry analyst said.
That such a fine would be immaterial to the overall merger, and that M&T bank was apparently already exploring the lending practices in its prospective new New Jersey market pending the completion of the merger, suggest the CFPB investigation is not an issue for the deal, which remains subject to Fed approval and the wind-up of the money laundering investigation at M&T Bank.
What remains to be seen is whether Hudson City and M&T Bank further extend the merger agreement past its April 30 termination.
If Hudson City were to consider alternatives, it would have fewer options, as its earnings have taken a substantial hit since M&T announced its plans to acquire the bank in 2012, the industry analyst said. New York-based New York Community Bancorp (NYCB) might take an interest as the bank has been looking for metropolitan banks with strong deposits, but Hudson City would fetch less in a sale to NY Community, which has a lower valuation, he said. 
M&T and Hudson City officials declined comment.