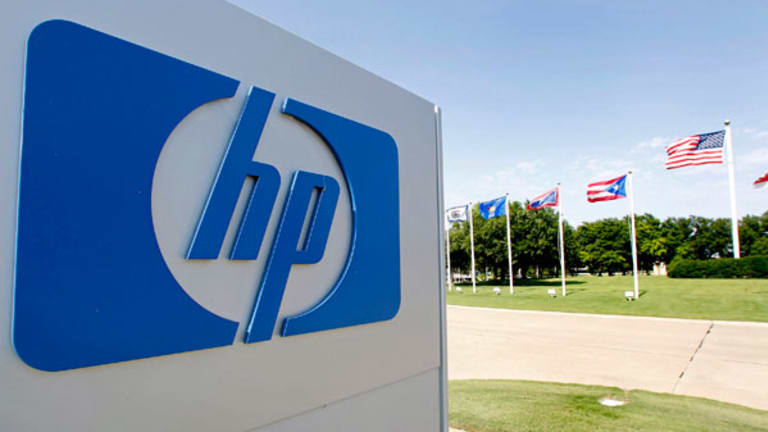 HP Breakup, eBay's PayPal Spin a Sign of Brewing M&A Wave in Tech Sector
A boom in tech sector spinoffs may, counter-intuitively, coincide with a wave of M&A activity.
NEW YORK (TheStreet) - HP (HPQ) - Get HP Inc. Report , eBay (EBAY) - Get eBay Inc. Report and a growing number of Silicon Valley icons are considering breaking apart, but those moves may also create a new wave of consolidation in the faster parts of the technology sector.
While HP and eBay are the latest to formally announce breakup efforts, it is widely expected that other tech giants like IBM (IBM) - Get International Business Machines Corporation Report , Microsoft (MSFT) - Get Microsoft Corporation Report , Oracle (ORCL) - Get Oracle Corporation Report , Cisco (CSCO) - Get Cisco Systems, Inc. Report , EMC (EMC) and Intel (INTC) - Get Intel Corporation Report will continue to pare some of their older business lines and invest in growth markets.
Must Read:
HP Confirms Acquisition Efforts Amid Spin
Daniel Ives, an analyst with FBR Capital Markets said in a Monday telephone interview that spinoffs across the tech sector will make firms leaner, but also more aggressive. "Eventually it all leads to consolidation," Ives said.
Watch the video below to see why there may be more Silicon Valley splits this fall:
Breakups are likely to better align the tech sector giants with their acquisition targets, making M&A more palatable to investors and giving CEOs a greater ability to invest in fast-growing markets like the cloud, IT security, mobility and software services.
There is an emerging strategy in the tech sector to move away from conglomerate structures where a company might own a large hardware division, in addition to software or IT services operations.
Instead, C-Suites have decided to split apart disparate business lines, allowing for a more agile corporate structure that is also easier for investors to understand. Generally, divisions tied to software, services, the cloud and mobility have been floated as growth businesses, while hardware businesses are being managed for their their cash flow.
It is the growth businesses where M&A activity may heat up.
Ives believes that security, cloud and SaaS companies like Splunk (SPLK) - Get Splunk Inc. Report , Tableau Software (DATA) - Get Tableau Software, Inc. Class A Report , Fortinet (FTNT) - Get Fortinet, Inc. Report , Proofpoint (PFPT) - Get Proofpoint, Inc. Report and Demandware (DWRE) may eventually garner acquisition efforts from restructuring tech giants. Rackspace (RAX) recently called off a strategic review, however, hedge fund Blue Harbour Group believes that the managed cloud company may ultimately find interested buyers after it refocuses on providing services to a growing market of small businesses without a large IT infrastructure.
Hedge fund Elliott Management, meanwhile, reaffirmed its interest in buying Riverbed Technologies (RVBD) on Monday, while also urging the company to engage with other prospective acquirers. 
Consolidation in the mobile, IT services and cloud space is already established.
IBM, SAP, Oracle, Dell and HP all have spent billions in recent years in M&A to bolster their mobile, services and cloud businesses. Now, as those businesses become increasingly important to their corporate parents, the pressure to invest and generate results may only rise.
HP and eBay Could Make Acquisitions
By HP CEO Meg Whitman's own words on Monday, it should be fairly clear that a new wave of M&A in the tech sector is brewing even as breakups accelerate.
"The speed of the market is moving incredibly rapidly." Whitman said of HP's decision to split its services and PC and printers division. "[W]e have a position of strength that we can take advantage of," Whitman added, when speaking about M&A. 
As HP announced its split plan on Monday, the company also said it is working on a material acquisition, causing it to suspend share buyback activity ahead of fourth quarter earnings, due Nov. 25. Any acquisition would likely target HP's IT software and services business, Hewlett-Packard Enterprise, which may need to solidify its growth prospects. HP Enterprise is now forecast by the company to see sales fall between 3% and 5% in 2015, as it loses customers to competitors.
The same scenario may hold true for eBay, which is planning to spin of the PayPal business that Whitman acquired when she was CEO in 2002. That spin is planned for the second quarter of 2015; however, analysts have been forced to speculate on whether eBay is in the process of cutting a large acquisition.
In the second quarter of 2014, eBay repatriated $6 billion in net foreign earnings without much explanation. When announcing its spinoff plans last week, eBay CFO Robert Swann noted that those foreign earnings haven't yet actually been repatriated, causing analysts to again wonder whether a large deal is in the works.
Presumably, if eBay is negotiating an acquisition, such a move might be used to bolster either the standalone prospects of eBay's Marketplace business or, PayPal. It is also worth noting that eBay's split businesses both may also attract acquisition efforts, given their profitability and large customer bases.
-- Written by Antoine Gara in New York