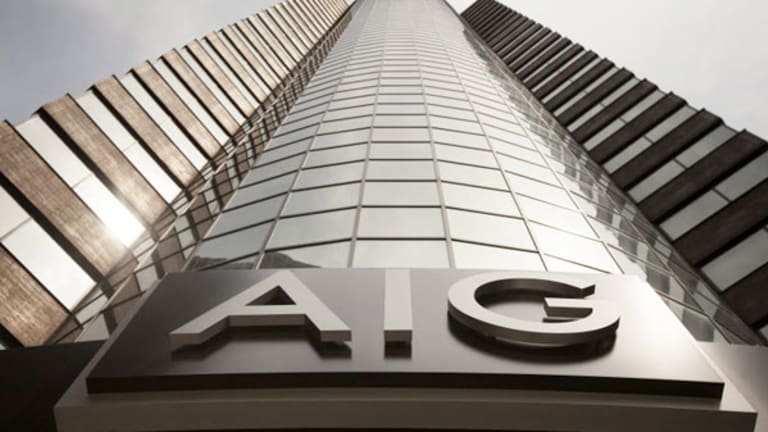 How Trump's Win May Provide a Windfall for Bailed-Out Insurer AIG
The real estate mogul's election is likely to buoy the stock prices of insurers like AIG and MetLife as well as asset managers since a key regulator will become dormant.
Donald Trump's election as president and the Republican sweep of Congress will probably buoy shares in the country's largest insurance companies and asset managers, including the poster child for the financial crisis, American International Group. (AIG) - Get American International Group, Inc. Report .
The reason? Analysts expect the Financial Stability Oversight Council, a regulatory body that has tightened the rules on AIG and Prudential Financial (PRU) - Get Prudential Financial, Inc. Report in recent years, will become dormant in the months and years ahead.
The council was set up by the post-2008 Dodd-Frank Act, partly to put tougher regulations on non-traditional financial institutions after regulators failed to identify significant risk at AIG in the period leading to the crisis.  The insurer ultimately received a $182 billion taxpayer bailout and legislators dismantled its primary federal regulator at the time, the Office of Thrift Supervision, an agency chiefly responsible for overseeing small U.S. savings and loans.
The stability council identifies non-bank companies whose failure could pose a risk to the broader economy and designates them "Systemically Important Financial Institutions," or SIFIs, a label that subjects them to stricter limits on capital spending, heightens liquidity standards and requires yearly stress tests and regularly updated living wills, or plans to wind themselves down without damaging the financial system in the event of bankruptcy.
The multi-agency council originally designated AIG, Prudential, General Electric's (GE) - Get General Electric Company (GE) Report GE Capital unit and MetLife (MET) - Get MetLife, Inc. (MET) Report as SIFIs. The panel agreed to lift GE's designation this year after CEO Jeffrey Immelt shed $180 billion in assets, convincing the council that the lending business was no longer a potential risk.
A federal court judge in March ordered U.S. regulators to remove MetLife's SIFI designation, arguing that the council failed to conduct a cost-benefit analysis for whether it was necessary.
While the government appealed that decision, observers say it's unlikely under current circumstances that MetLife will be re-designated anytime soon, especially since the mega-insurer has spun off a large part of its business. "There are a number of different possible outcomes I could see, but I don't expect MetLife to be a SIFI a year from now," said Ian Katz, financial policy analyst at Capital Alpha Partners in Washington.
EXCLUSIVE LOOK INSIDE: General Electric is a holding in Jim Cramer's Action Alerts PLUS charitable trust portfolio. Want to be alerted before he buys or sells the stock? Learn more now.
And under a Trump administration, there's a very good chance that Prudential and AIG will seek to have their own systemically important designations lifted. Additionally, don't expect any new financial institutions to become subject to the label any time soon.
"There is a real likelihood that the new FSOC is not going to designate SIFIs given the congressional oversight for the various agencies and the fact that this is a Republican administration," said Donald Lamson, a former regulator at the Office of the Comptroller of the Currency. "I think it will be more likely now to be de-designations."
The Fed, meanwhile, still hasn't completed its capital rules for systemically important non-bank financial companies.
Lee Reiners, director of the global financial markets center at Duke University and a former regulator in the New York Fed's bank supervision department, argues that the central bank might never adopt proposed capital requirements for insurers that it introduced in June. The decision to do nothing would effectively remove a large part of the regulatory burdens for AIG and Prudential.
Observers should consider dissenting opinions in the Prudential and MetLife designations from Roy Woodall, the council's independent member with insurance experience, when thinking about the panel's future, Reiners said.
"When conservatives talk about SIFI decisions run amok, they point to Woodall," Reiners said.
Any move to loosen regulatory standards for AIG and Prudential won't happen overnight. The Trump administration's yet-to-be-announced Treasury Secretary will chair the panel and provide staffing, but won't be able to act unilaterally.  
The council is made up of the heads of a number of financial regulators, and many of its members, such as Fed chair Janet Yellen, have staggered terms and won't leave immediately.
"The FSOC under Trump, over time, will de-designate AIG and Prudential, but I wouldn't expect that to happen next year -- maybe 2018," Katz said. "The Treasury Secretary drives the agenda. To get an agreement to de-designate, the Treasury Secretary will need some time to replace some of the regulators on FSOC. Over time they'll replace these folks and the new regulators will be of a mindset that the firms shouldn't be systemically important."
A Clinton administration -- particularly had it come with a Democratic Senate may have considered designating large mutual fund complexes like BlackRock (BLK) - Get BlackRock, Inc. Report , T. Rowe Price Group (TROW) - Get T. Rowe Price Group Report , Fidelity Investments, Invesco (IVZ) - Get Invesco Ltd. (IVZ) Report , Charles Schwab (SCHW) - Get Charles Schwab Corporation Report and big hedge funds and private equity firms such as Blackstone Group (BX) - Get Blackstone Group Inc. Class A Report and KKR & Co. (KKR) - Get KKR & Co. Inc. Class A Report .
Such actions are improbably under Trump. "It is reasonably safe to say that we will be a lot less likely to see new SIFI designations," said Lamson.
Nevertheless, don't expect FSOC to be dismantled altogether. "I don't think it vanishes -- it could become something like a quarterly coffee klatch to discuss whatever crisis is happening at the moment," said Katz. "The Treasury Secretary could use it to harangue other regulators on being too tough on institutions they regulate."
The Trump administration's choice for chief banking regulator at the Fed, a post that's currently vacant and whose duties have been largely handled by Fed Governor Daniel Tarullo, will give the markets a good sense for the regulatory outlook.
Tarullo is unlikely to continue handling those responsibilities because he's "so pro-regulation" that there would be inevitable friction, Lamson contends.