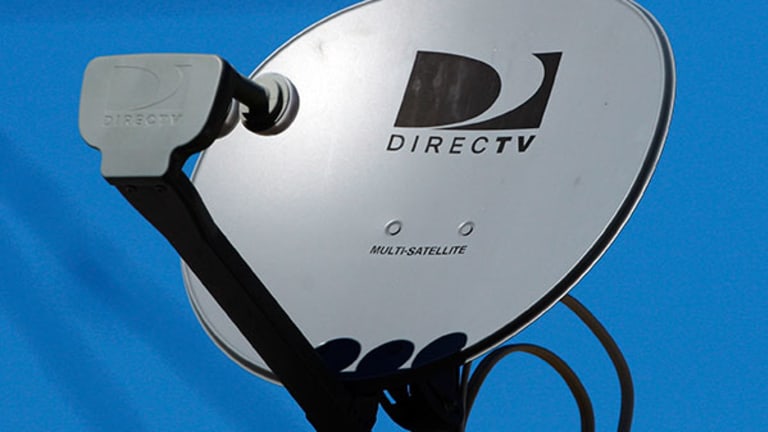 How to Read an AT&T and DirecTV Merger
If a transaction is eventually announced, AT&T's dividend of 46 cents may be an important place to start for investors who are looking for an early read on any deal. DirecTV, while it could help AT&T dramatically increase the scale of its video offerings and potentially contribute spectrum assets to the telecom, could be an important way for AT&T to maintain and increase its dividend in coming years.
NEW YORK (TheStreet) -- We don't yet know whether AT&T (T) - Get AT&T Inc. Report will formally take the plunge and bid on DirecTV (DTV) , but sources familiar with the situation said a deal could be announced in the next few weeks and at a price for DirecTV in the low-to-mid $90s a share, or a valuation of about $48 billion.
>> Read More: Berkshire Lieutenants Could Play Role In DirecTV Takeover
All of this, of course, comes with the caveat that much of the prospective deal, including the future of DirecTV Chairman and CEO Michael White, may remain undecided in spite of some media reports to the contrary.

WATCH: More market update videos on TheStreet TV | More videos from Keris Alison Lahiff
If a deal is announced there are major ramifications for AT&T, one of the most widely owned stocks in the Dow Jones Industrial Average.AT&T's quarterly dividend of 46 cents a share may be an important place to start for investors who are looking for an early read on the transaction.
DirecTV, while it may help AT&T increase the scale of its video offerings and diversify the company's footprint to Latin America, could be an important way for AT&T to maintain and increase its dividend in coming years.
In that sense, a potential combination may have more in common with Verizon's (VZ) - Get Verizon Communications Inc. Report$130 billion acquisition of a remaining interest in Verizon Wireless, than other consolidation running through the cable, satellite, and telecom landscape such as Comcast's (CMCSA) - Get Comcast Corporation Class A Report proposed merger with Time Warner Cable (TWC) .
When Verizon said it was buying the remainder of Verizon Wireless from Vodafone (VOD) - Get Vodafone Group Plc Sponsored ADR Report in August 2013, a little-reported piece of the announcement was the company's decision to increase its quarterly dividend by 3%.
TheStreet perceived Verizon's deal as a means to shore up the company's balance sheet over the next three to five years and put it on a path toward dividend growth in coming years. At $130 billion, the Verizon Wireless deal was also an expensive long-term bet on the U.S. wireless industry and the kinds of profit margins Verizon had reported through most of 2013.
T-Mobile's (TMUS) - Get T-Mobile US, Inc. Report rising market share and its thinner margins are one obvious long-term threat to that bet.
AT&T, if it takes the plunge for DirecTV, could have similar near-term objectives as Verizon, its biggest competitor in the telecom sector. DirecTV, depending on the price and mix of stock and cash in a transaction, in addition to forecast synergies, could give AT&T the financial flexibility to maintain and grow its dividend in coming years, even as competition increases in the wireless industry.
For instance, analysts see many scenarios where a deal adds to AT&T's earnings per share (EPS) and free cash flow (FCF) over a three-to-five year time horizon.
If AT&T announces a dividend increase as part of a DirecTV acquisition, the company's income-oriented investors may be comforted. Those seeking exposure to wireless markets and not the future of pay TV bundles, however, may find a DirecTV deal harder to understand. If pay TV subscriptions enter a phase of decline, DirecTV could prove a burdensome asset over the long-term, outweighing any initial EPS boost.
"Verizon's strategy was to double down in the U.S. wireless market. AT&T's strategy may be to diversify away from it. One of them will be proven right, over time," Craig Moffett, a principal at MoffettNathanson, said in a telephone interview on Tuesday.
AT&T and DirecTV declined to comment.
>>Read More: Verizon Playing Defense In $130 Billion Deal
-- Written by Antoine Gara in New York.