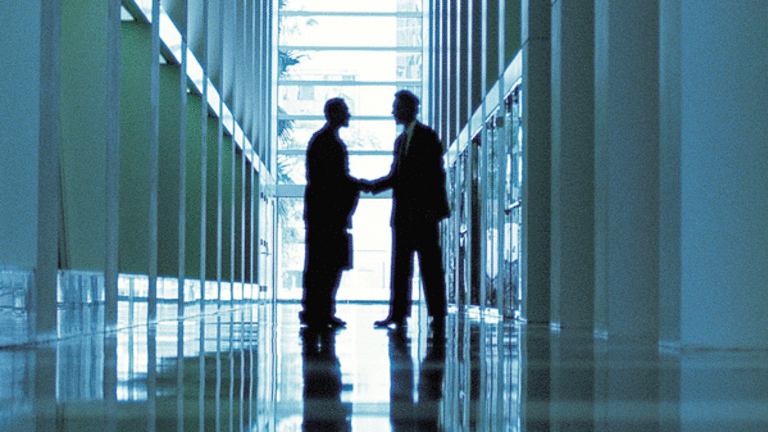 How to Make a Plan Come Together on the Activist-Team
Dissidents find teaming up helps cover costs and drive insurgencies at larger companies.
In December 2013, Jeff Eberwein of Lone Star Value Management LLC went to visit the operations of Pantry Inc. (PTRY) , a convenience store operator he was considering for an activist campaign.
He was joined by James Pappas of JCP Investment Management and a third activist fund manager who were thinking about teaming up with him for the insurgency.
After checking out the Cary, N.C.-based company, all three activists acquired large minority stakes in Pantry at the same time. However, as the group was putting together its plan of attack, they couldn't agree on who would lead the campaign. Ultimately, Pappas and Eberwein decided to go forward on their own.
"They [the third activist fund] were being difficult," Eberwein said. "They wanted their own lawyer and they wanted to run the show and make all the decisions and we broke up with them and decided we'd do it ourselves."
The squabble over Pantry among investors is a cautionary tale for those dissidents considering joining forces in an environment where there are fewer targets and higher costs for activist campaigns.
Activists teaming up against management are an established fact, and becoming more so, according to data compiled by Factset Sharkrepellent. As of Sept. 30, there were already 27 campaigns under way where at least two funds worked together in an activist group, up from 23 such campaigns in all of 2013. In 2012, there were 27 group campaigns.
Not included in those statistics are a number of situations where more than one activist shows up at a target corporation but they haven't formed a formal group. Darden Restaurants Inc. (DRI) - Get Darden Restaurants, Inc. Report has two hedge funds going after it in separate campaigns: Starboard Value LP and Barington Capital Management — firms that have worked together in the past.
Partnering makes sense, particularly for smaller funds, as more firms take up the activist strategy, with an expectation of higher returns and greater investor allocations.
As of the end of the second quarter of 2014, roughly $111 billion had been allocated to activist funds, up significantly from the $12 billion given to the strategy in 2003, according to data from Hedge Fund Research. And those funds have gone to a growing number of activists — HFR reports that there were 72 activist funds as of the second quarter of 2014, up from 67 in 2013, 52 in 2012 and 48 in 2011. A number of those are smaller funds that find a partnership to be more strategically appealing when urging change on corporate management.
THE OBVIOUS ADVANTAGE to partnerships in the activist sphere is that a group can own a larger stake — especially in smaller companies — which can drive the target toward a negotiated settlement more quickly. Splitting the extensive costs can also enable smaller activists to target bigger corporations they may not have considered tackling on their own, according to Damien Park, managing partner, Hedge Fund Solutions.
Bruce Goldfarb, president and CEO of proxy solicitor Okapi Partners LLC, noted that partnerships can help drive institutional investor support by demonstrating that a particular thesis has the backing of more than one fund manager.
"Joining forces adds credibility to their thesis, especially if they reached the same conclusion independently and then discovered each other, which happens," he said.
Case in point: J. Daniel Plants, managing partner of activist fund Voce Capital Management LLC, said he and insurgent investor Glenn Welling of Engaged Capital LLC both discovered "through happenstance" that they both owned Oplink Communications Inc. (OPLK) shares. When the two talked about their investment in the telecom products supplier, Plants said, they discovered they had identical views about what was needed at the company.
"I was very comfortable with the idea of teaming up," Plants said. "The more you own the more you can leverage the fixed costs of running a campaign."
Costs can mount up, especially in a hotly contested campaign and can include hiring a public relations firm, law firm and proxy solicitor that are needed to engage and persuade institutional investors. "Sharing of costs is an important issue and knowing that funds will divide up the cost of proxy solicitors and other advisers and consultants when it comes to a possible proxy fight down the road may be the difference between deciding to launch a campaign or not," Goldfarb said.
At Oplink, activist expenses were split "pro rata" based on the number of shares each firm owned.
But being part of group can raise prickly issues, in terms of the message an activist sends, restrictions they face on compliance or accepting legal liability for another's actions or inaction. In addition, each activist has its own philosophy, style and communications strategy that doesn't necessarily mesh with that of the partner.
For example, what happens when management is getting ready to come to the table, but the activist investors have differing objectives? One of the biggest points of contention may be how much of a premium to their investment a fund wants or needs if the targeted company sells itself.
Steve Wolosky, who heads the activism practice at Olshan Frome Wolosky LLC, describes a situation where one investor in an activist duo accumulated a stake in a target company at $2 a share while its partner bought in at $8 a share. The targeted company announced it was selling itself at $7 a share, a price that satisfied the activist with the lower cost-basis but one that was opposed by its partner.
Wolosky said that of the 36 proxy campaigns his firm is advising on so far in 2014 about one-third of his client activists have teamed up with other insurgents. He noted that it is important for activists thinking about teaming up to have detailed conversations first about their plans, views about the company and exit strategy.
Then, there may be a clash of styles, or egos. By the very nature of what they do, activists tend to be an assertive group. As one adviser noted about the Welling-Plants duo: "Glenn Welling and Dan Plants are certainly an odd couple. [...] Eberwein and Welling make more sense."
Plants is known for being less willing to settle, while Welling takes a more low-keyed approach.
Once settlement talks start, they can become complicated if members of the group have differing objectives. "Communications can get complex if too many people are involved in communicating with the company, drafting letters to shareholders and issuing investor presentations," Park said.
Lone Star's Eberwein acknowledged that activism is a lot of work, adding that the combination makes it possible to have "two voices" working on the campaign rather than one. "There is a lot of assessment that needs to be done as well as phone calls," he said. "At one major activist campaign we were in continuing conversations with 20 to 40 shareholders in the same period. Having two activists helped."
In some cases he's partnered with another fund that has owned a stake for much longer, a key benefit. "The fund that has been there longer has more credibility with shareholders and proxy solicitors," he said.
At fertilizer company Rentech Inc. (RTK) , Eberwein joined with Engaged's Welling, who had a larger stake. The two used the same lawyer and split the cost two-thirds for Engaged and one-third for Lone Star. "Glenn was the senior partner, he owned it longer and had a greater stake and he and his guys did the presentation and the website," Eberwein said. "When it came to shareholder calls, we split it 50-50, and we had a database where we put all the call notes together every day."
Often, said David Rosewater, a partner with Schulte Roth & Zabel LLP, one activist has a substantially larger position in the company than the other, leading to different power dynamics. In some of those situations the larger fund will often require more control over key decisions such as whether to launch an effort to hold a special shareholder meeting or wage a proxy contest.
In other cases, Rosewater said, activists have found more passive traditional asset manager funds willing to partner with them and help cover the costs of a campaign but leave it to the well-known dissident fund to do the "dirty work" of the insurgency. In some of these cases the larger passive fund will pay the smaller activist a fee to cover the cost of managing the campaign.
Eberwein said he's partnered both with other activist funds and with passive institutions that look to his fund to conduct the insurgency. In three separate situations, Eberwein said Lone Star has worked with funds that own big stakes and want to see someone agitate for change but would prefer to stay out of the limelight. "They didn't want to be the spokesman for the group and they didn't want to have their name on a press release," Eberwein said. "With our large combined stake, other institutions will take us more seriously, but I'll do all the work: I hire the advisers and launch the proxy contests if they are necessary."
Eberwein noted that he worked with Equinox Partners LP at silver miner MAG Silver Corp. (MAG) - Get MAG Silver Corp. Report in 2012. Lone Star owned less than 1% and Equinox held 7.8% as part of that group. However, he took on the heavy lifting with the activist campaign. The contract between Equinox and Lone Star divided the costs of the campaign based on ownership stakes, he added, noting the two funds were ultimately reimbursed by the company in a settlement.
In some cases partnerships are set up with a specific strategy in mind and they are later dissolved if circumstances so dictate. Cannell Capital and the Clinton Group teamed up in 2013-14 for the purpose of meeting a 10% ownership threshold to call a special shareholder meeting at home shopping channel Value Vision Media Inc. (VVTV) , based on Minnesota law, where the company is incorporated. The two funds owned 11% together.)
Greg Taxin, who was president of Clinton Group until this month, said he received a phone call from investor J. Carlo Cannell about 30 minutes after the activist fund launched its campaign at Value Vision in October 2013. "Carlo called me and said, how do we push this thing along," Taxin said. "I said, together we have enough stock to call a special meeting if you are willing to work with us."
Five days later the two activists had formed a group, with Taxin leading the effort. However, as the company stalled and delayed the special meeting, Taxin decided to shift his focus by launching a proxy contest at the company's annual meeting. With the special meeting canceled the two activists no longer had a need to work together and they dissolved their group.
"Since the company wasn't going to have a special meeting the investors didn't need to be constrained by continuing in a 13D group so they terminated their arrangement," Okapi's Goldfarb said.
That didn't mean Cannell didn't back Clinton's efforts. Even after the partnership dissolved, Cannell wrote a letter chastising ValueVision's chairman over shareholder expenses employed by the company to defend itself in the campaign. Clinton ultimately succeeded at installing four insurgents on the eight-person board, a move that swiftly drove the company's CEO, Keith Stewart, to resign.
Goldfarb noted that the partnership was a good example of benefits outweighing the extra reporting obligations and other costs and risks of forming a group. "There would be no other way to call a special meeting for that company at that time," he said.
Taxin said forming a group with Cannell was important at that moment in the campaign because the ability to call a special shareholder meeting, even though it ultimately failed, gave ValueVision's institutional shareholders a greater understanding of what its board was willing to do to hold onto power and "take advantage of every technicality" to delay giving investors a vote on the future of the business. In addition, Taxin said the partnership enabled Clinton to move before the company could respond.
At Pantry, Lone Star and JCP ultimately were successful at having their full minority slates of dissident directors elected in March by a substantial margin, even though they owned a combined stake of only roughly 2% and didn't have the campaign assistance of that third activist fund who had been considering becoming a partner. And the costs of the campaign? "We didn't have a contract and split everything 50/50," he said.