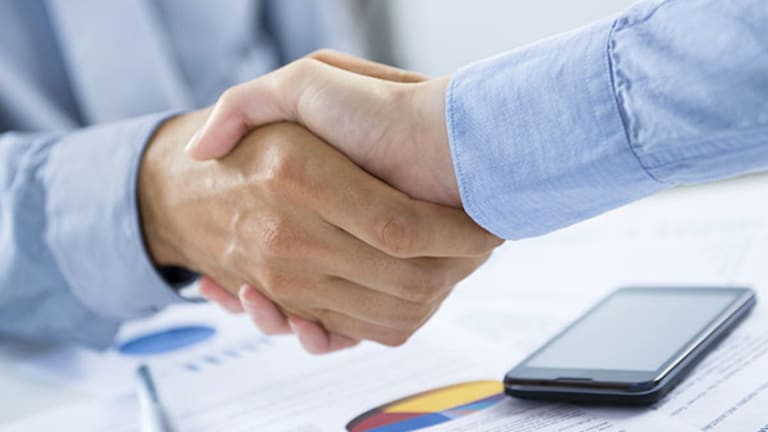 How Sun Valley is Jumpstarting a Mad Scramble for Media Content
Whether delving into production, like Netflix, or buying up delivery methods, like Comcast, we're witness to a fervent scrabble to capture attention, stay ahead of the curve or simply survive.
NEW YORK (TheStreet) -- "Content is not just what's on Comedy Central," Herbert Allen III, the publicity-shy head of the boutique media investment firm Allen & Co., said back in 2009. "Content is Facebook too. Content is how the consumer chooses to spend time."
Allen was speaking to Ken Auletta for his book Googled: The End of the World as We Know It, but he could have been speaking this week to the attendees at his annual exclusive gathering of industry heavyweights in the rarefied environs of Sun Valley, Idaho.
Content is indeed about time, and time is money, or more specifically, online advertising dollars. And everyone, not just traditional entertainment companies, want to own content. These days, that can mean content production, a business Netflix (NFLX) - Get Netflix, Inc. Report and Yahoo!  (YHOO)  are sinking more money into, or purchasing a larger slice of distribution, as Comcast (CMCSA) - Get Comcast Corporation Class A Report and AT&T  (T) - Get AT&T Inc. Report are attempting to do with the proposed acquisition of Time Warner Cable (TWC)  and DirecTV (DTV) , respectively.
Discovery Pushes into Latin America to Spur Growth, Suitors
Content is what everyone wants, which makes a smallish company such as Scripps Networks Interactive (SNI) , owner of HGTV, the Food Network and the Cooking Channel, very attractive. Yet with a market capitalization of $11.7 billion, Scripps shareholders as well as Chief Executive Kenneth Lowe, may be looking for a premium that is rich even by today's standards.
Nonetheless, the Allen & Co. gathering is not without a history of dealmaking. The event has played matchmaker a year ago to Amazon (AMZN) - Get Amazon.com, Inc. Report chief Jeff Bezos' purchase of The Washington Post, and Comcast's deal with General Electric (GE) - Get General Electric Company Report for NBC Universal in 2009 (a partnership it later bought outright).
Acquiring content remains the focus of media, entertainment and technology companies eager to secure steady subscription fees as well as digital advertising.
"The future is bright for those who can make the best content but also start to curate some of the best content," Avi Savar, founder and chief strategy officer of Big Fuel, told TheStreet. "There's no distribution value unless the content itself is good." This, then, is where the power plays in the industry are currently focused.
But content is a tricky business. Arguably, the Internet has provided no shortage of content. In fact, some see a glut of information. The limited resource to be fought over is consumers' time and attention.
Consider that 90% of existing data in the world today has been created in the last two years alone, according to IBM Analytics estimates. The onus, then, is on content providers to deliver something of value to a consumer so spoiled for choice.
"There's always been this tug-of-war between which is more valuable: content or distribution," said Drew Wilson, media analyst at Fenimore Asset Management, in a phone interview. "Content, it would seem, has got the upper hand in the last couple of year." As programming costs for content have increased, so too have advertising rates and carriage fees programmers can charge.
The presence of non-traditional media companies such as Facebook (FB) - Get Meta Platforms Inc. Class A Report and Google (GOOGL) - Get Alphabet Inc. Class A Report are in Sun Valley also reflects the splintering of distribution as companies seek to catch-up with Netflix and Amazon, argues Barclays analyst Kannan Venkateshwar in a July 8 investor report.
"We believe the programming cost increased because so many of these distribution channels are owned by multi-channel video programming distributors, and the number of rights needed for the same content has increased," Venkateshwar said. "As a result, distributors are paying more for content." 
Distributors like Comcast, Amazon and Yahoo! are either delving into content production or taking the path of consolidation to increase their ability to produce programming that consumers will want to access on their portable devices. The flurry of deal-making seen over the last few months has focused on the latter, most notably between Comcast/Time Warner Cable, and AT&T/DirecTV. 
"These are essentially a response not only to the growing relative power of content but also just to the dilutive aspects of audience fragmentation," Wilson said.
As for the next round of M&A, Savar argues that consolidation among distributors has likely peaked, explaining that it will be a while before we see more of the "big boys merging." In the meantime, speculation abounds as to consolidation among content companies. 
Twenty-First Century Fox (FOXA) - Get Fox Corporation Class A Report CEO Rupert Murdoch is said to be in discussions to sell channel Sky Italia as well as its Sky Deutschland subsidiary in a deal which could pull in as much as $13 billion. The company could then reinvest that money in a potential bid for Time Warner (TWX) , a company with a $63 billion market cap, which counts CNN and HBO among its properties. Both Murdoch and Time Warner CEO Jeff Bewkes are in attendance of the conference.
Scripps Networks, Lionsgate (LGF) , AMC Networks (AMCX) - Get AMC Networks Inc. Class A Report and Discovery Communications (DISCA) - Get Discovery, Inc. Class A Report have also been discussed as potential acquisition targets: strong companies with well-known branded content and tantalizingly independent. In the case of Discovery, the company is allegedly angling for an acquisition of Scripps even as TheWalt Disney Company  (DIS) - Get Walt Disney Company Report makes Discovery itself a potential target.
Though content consolidation rumors run rampant, Barclays notes consolidation in the field won't give programmers the kind of power or change the industry in the same way the distribution acquisitions will (once federal regulators approve, of course).
"Although we believe that some content providers over the longer term will likely have to consolidate to get the scale advantage vis a vis the distributors, we think that horizontal consolidation is unlikely to provide the same benefit to content providers as the distributors," noted Venkateshwar.
A better option would be vertical consolidation, a merger between content providers and distributors to gain greater control of every step of the content production and delivery process.
"While the distributors would benefit from the ability to control content costs better, the content producers would benefit from the ability to gain seamless distribution across platforms without the contractual friction that arises from the way programming rights are split up," Venkateshwar wrote.
The winners will be those executives who can envision where their company will be ten, twenty, thirty years in the future. Unfortunately, with rapid technological change shaping the industry, many are uncertain of how the industry will look even by mid-decade.
"This is a top five industry in terms of technological disruption and changing relationships. It is transforming so fast," noted Wilson. "Industry insiders have no idea what's going to happen."
That goes, too, for the outcome of Sun Valley, the exclusive event well-known for its discretion. Time will tell which of those handshakes made at the week-long event will make headlines in the coming weeks.
--Written by Keris Alison Lahiff in New York.