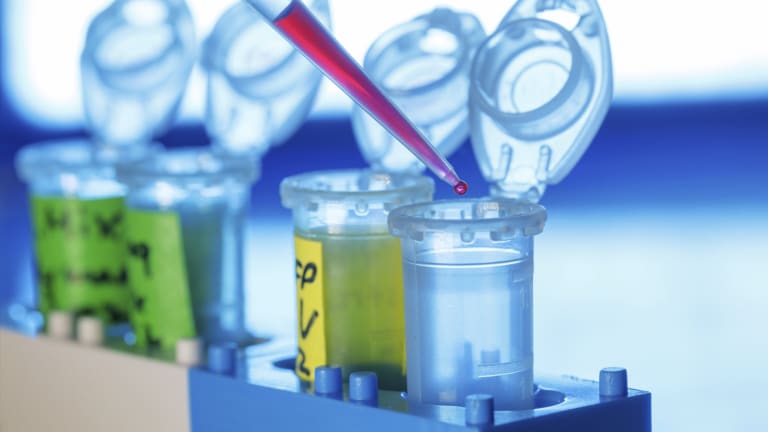 How Novartis Drug Approval Makes Biosimilar Makers Ripe for Acquisition
Pfizer, Teva and Actavis are potential consolidators, while Momenta, Coherus and Epirus lead the list of likely targets.
NEW YORK (The Deal) -- Earlier this month, Novartis' (NVS) - Get Novartis AG ReportSandoz Biopharmaceuticals made history by winning Food and Drug Administration approval for Zarxio, the first biosimilar cleared in the U.S. The decision was good news for Novartis, of course, but also for an array of smaller companies developing their own biosimilar drugs that now look like attractive acquisition targets.
Biosimilars are what they sound like: substances similar to an approved biological product. Zarxio is similar to its reference product, Amgen's (AMGN) - Get Amgen Inc. Report Neupogen, which was licensed in 1991. It is mainly used to treat patients with myeloid leukemia and those undergoing bone marrow transplantation.
Must Read:5 Health Care Stocks John Paulson Is Betting On for 2015¿
According to Hospira -- which has been distributing biosimilars in Europe for several years and which was acquired by Pfizer (PFE) - Get Pfizer Inc. Report in February for $17 billion -- the development of a biosimilar takes from eight to 10 years and costs between $100 million to $200 million. The development of a small-molecule generic drug takes three to five years and costs between $1 million and $5 million. Obviously, a drugmaker seeking to get into biosimilar production can do so more quickly and cheaply by simply acquiring a smaller producer already well along the development road.
Pfizer had its own biosimilar pipeline, like many of its peers in the space. But it purchased the injectable maker anyway to quickly bolster its biosimilar line. At the time of the deal, Pfizer noted that the market for biosimilars is estimated to become as large as $20 billion by 2020. Amgen and Sanofi (SNY) - Get Sanofi Report are also active in the space.
Sandoz received approval for Zarxio under the Biologics Price Competition and Innovation Act. The company is a market leader in biosimilars, with more than 50% of the biosimilars approved in North America, Europe, Japan and Australia, according to the company. Outside the U.S., it markets three biosimilars: somatropin, filgrastim and epoetin alfa.
Momenta Pharmaceuticals (MNTA) - Get Momenta Pharmaceuticals, Inc. Report, Coherus Biosciences (CHRS) - Get Coherus BioSciences, Inc. Report, Epirus Biopharmaceuticals (EPRS) and Russia-based Biocad are smaller companies with biosimilars in development, and all could find themselves in the crosshairs of big pharma companies.
Andrew McDonald, the CEO of LifeSci Capital and co-portfolio manager of BioShares Funds, said that a consolidation movement would be driven by the fact that there are going to be fewer generic products. Drug companies will need biologic capabilities. "Everyone knows biosimilars are the future," McDonald said in an interview. "Biologics are attractive to generic players overall. We think all of these guys will be looking for acquisitions."
McDonald noted that generic companies such as Teva Pharmaceutical  (TEVA) - Get Teva Pharmaceutical Industries Ltd. Report or Actavis are not considered serious contenders in the biosimilar space but could be if they began acquiring biosimilar producers.
Must Read:Biotech Stock Mailbag: Breaking the Feuerstein-Ratain Rule; Medical Conferences; Celgene¿
Barbara Ryan, a partner at health care consultancy Clermont Partners, said she also believes the sector could see active dealmaking. "I would argue that it might drive consolidation," Ryan said, referring to the Hospira deal. She noted that some smaller companies may have portfolios and pipelines of biosimilars but limited means to commercialize them -- a situation tailor made for larger companies to step in and consolidate.
Ryan added that while there are a number of different factors affecting biosimilars -- including FDA regulatory issues, approval and guidelines -- the pharmaceutical market nonetheless has moved from being dominated by small molecules to biologics.
Though biosimilars are similar versions of drugs, they're not to be confused with generics. Ryan cautioned that the industry is a long way from interchangeability between the two. Biosimilars still must be marketed as separate products and make a push into the marketplace.
"Certainly biosimilars would offer an attractive product to patients, that could have lower prices," Ryan explained. "The key issue is going to be interchangeability. Biosimilars have a different connotation than generic small molecules."
Big drugmakers, though, likely won't wait before beginning to roll up the biosimilar pioneers.
Must Read:How to Invest in the New Industry of 'Biosimilar' or 'Generic' Biological Drugs
Read more from: