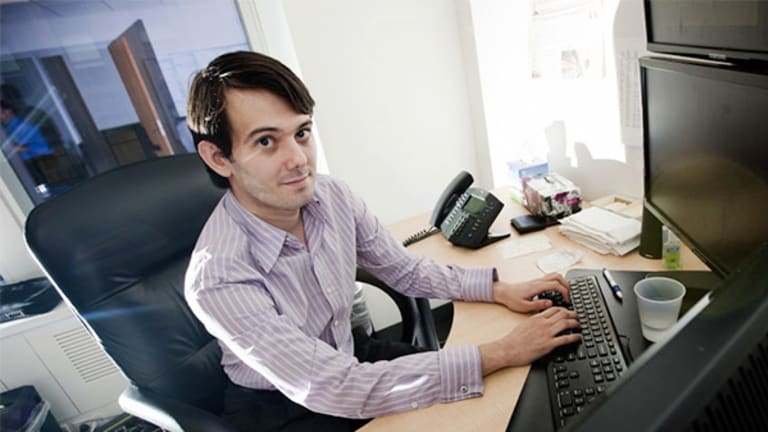 How Martin Shkreli Defended His Biotech Shorting Scheme
In this interview with The Deal's Bill Meagher, first posted on Jan. 17, 2013, Shkreli defends his drug business and his shorting strategy.
Editor's note: Martin Shkreli's controversial activities predate his arrest Thursday on securities fraud charges and the notoriety he earned for dramatically raising the price of a drug used by some AIDS patients. He was once accused of attempting to manipulate the stock prices of competitors through the FDA's review process. In this interview with The Deal's Bill Meagher, first posted on Jan. 17, 2013, Shrkeli defends his business and his shorting strategy.
In his profile on the SeekingAlpha stock-commentary Web site, where he has sometimes posted research reports on the stocks that he's shorted, Martin Shkreli describes himself as "a biotech CEO in New York who comments on health care investing as a hobby."
But Shkreli, and his firm MSMB Capital, have become well known for his hobby, his short positions in shares of companies including Cytori Therapeutics (CYTX) and MannKind (MNKD), and his unsuccessful activist campaign in 2010 against Pfizer's (PFE) board of directors over its naming of Ian Read as chief executive.
Now, after making his name as a critic of drug company managers, Shkreli is going to try his hand at being one. The 29-year-old money manager has become the chief executive of biotech company Retrophin, which went public last month through a reverse merger with shell company Desert Gateway (RTRX).
New York-based Retrophin will pursue a strategy of acquiring rights to drug products that have been abandoned by larger pharma companies and developing them for use to treat rare diseases.
"Many drug companies discontinue drug research projects because they are very expensive to advance into later stages of clinical development," Shkreli told the The DealFlow Report in an email. "Those drugs could be repurposed and developed for rare diseases, but most companies don't want to invest in this area. Companies like Merck make it clear they are looking for large, mass-market diseases and if a medicine that doesn't work for one of those diseases, but would work for a rarer, more severe disease is available, that drug will 'sit on the shelf' at Merck."
Shkreli says that 30% to 40% of drug products are abandoned by the companies developing them or their intended uses are changed.
"I think there are a lot of opportunities where we could acquire drugs and do the trials ourselves," he said.
Retrophin, in which Shkreli owns a 40.5% stake, plans to focus on developing medicines to treat rare and so-called orphan diseases. These are conditions that affect too few people to be considered commercially viable for the large pharmaceutical companies. The Food and Drug Administration defines an orphan drug as one that will be used to treat fewer than 200,000 people.
As such, the FDA created the Office of Orphan Products Development to accommodate such research and encourage more companies to consider developing orphan drugs. Since 1983, the program has assisted in aiding 350 drugs and biologic products to come to market, according to the FDA. The program includes grants that companies committed to the orphan niche can apply to receive for clinical studies. To date, the program has funded 500 clinical trials.
Improper Influence
Shkreli is reputed to know his way around the FDA. In fact, as a fund manager, his interactions with the federal agency have been controversial.
Citizens for Responsibility and Ethics in Washington, a non-profit watchdog led by former federal prosecutor Melanie Sloan, has raised objections to Shkreli's practice of shorting biotech and pharmaceutical company stocks while trying to influence FDA decisions on those companies' products.
In complaints lodged with the U.S. Attorney's Office in Manhattan and with the Securities and Exchange Commission, CREW has alleged that Shkreli's practices have amounted to stock manipulation.
Neither the Justice Department nor the SEC has taken action against Shkreli in response to CREW's complaints and Shkreli insists he has acted properly.
CREW has also raised issues with Shkreli publishing research reports on stocks that he was short, in the complaints it made to the SEC and to federal prosecutors. CREW's complaint cited five different stocks about which Shkreli had published reports.
In one case, he also submitted a citizen's petition for the FDA to reject an application by Neoprobe (NEOP) to begin clinical testing of Lymphoseek, a drug designed to aid in lymph node mapping for the treatment of cancer.
Shkreli also requested time to speak before an FDA panel to argue against approval of the weight-loss drug Lorcaserin, developed by Arena Pharmaceuticals (ARNA).
"We understand that there is nothing illegal about shorting stocks," CREW Chief Counsel Anne Weismann said in an interview. "Our issue is that Mr. Shkreli uses the agency process to manipulate the market. He is not a scientist or a medical professional, but he is trying to influence the FDA and profit from it."
CREW's attention appears to be ironic for Shkreli. He says that he may have donated in the past to the organization, whose general mission is to fight government corruption through legal and public relations campaigns.
"They seem to have a problem with me," Shkreli said of CREW, in an interview. "It's kind of funny because I think I gave them some money and I like what they do."
"They like to question whether I am qualified to share my opinions with the FDA, but the fact is that you really need a multidisciplinary approach if you are going to invest in biotech or pharmaceutical companies," Shkreli said. "You need to know about medicine, finance, math, statistics, biology, a variety of areas if you are going to be a successful investor."
Shkreli says that he has a right to voice his opinion about drugs under review before the FDA, and notes that he has been open and transparent about his financial interests.
"The FDA is a public agency that asks for public comment as a part of the process, and as a citizen, if I think a weight-loss drug is dangerous, I am going to share that opinion," Shkreli said. "I think more people should voice their opinions. The other thing is that I have always been very forthcoming with the fact that I was invested and had conflicts when it came to the FDA. In some ways I think (CREW) have made too much of it. At the end of the day, I'm just a guy writing a letter."
Weismann said that CREW hasn't received any response from the SEC or the U.S. Attorney's Office regarding the complaints.
"It has been a wall of silence," she said. "We make these kinds of requests on a regular basis, and often times the SEC will call and want more information, but this time we haven't heard anything."
The SEC has inquired about MSMB in the past, however.
In a November 2011 SEC filing, AMAG Pharmaceuticals (AMAG) disclosed an inquiry it had received about MSMB after the firm made an unsolicited offer, valued at $378 million, to acquire the Lexington, Mass.-based drugmaker.
"The SEC did contact us regarding the unsolicited offer we received from MSMB and what our response to the offer would be," said Amy Sullivan, vice president of investor relations for AMAG. "We told them that our board had voted to reject the offer. That was the extent of the discussion."
SEC officials declined to comment for this story, as did the U.S. Attorney's Office.
MSMB abandoned its proposal to acquire AMAG after the company's CEO Brian Pereira resigned and a proposed merger with Allos Therapeutics was called off.
Short Sellers and the Government
CREW became interested in Shkreli when it found that he was one of a number of prominent short sellers who have lobbied the federal government for decisions that would benefit their investments.
The non-profit stumbled upon this trend in 2010 as it was researching how the U.S. Education Department was drafting regulations for the for-profit education sector. CREW found that Steve Eisman had testified before Congress about the sector, while shorting the companies he was testifying about, Weisman said.
CREW also published a report last month, titled "Selling America Short," that accused Citron Research editor Andrew Left of lobbying the FDA while shorting Nu Skin Enterprises (NUS).
It's unusual for investors to submit citizen petitions to the FDA, according to Kurt Karst, a director at law firm Hyman Phelps & McNamara in Washington, who advises pharmaceutical companies on regulatory matters.
"I would say they are rare," he said. "Usually, drug companies or politicians or trade organizations will submit citizen petitions, not investors."
In 2011, MSMB submitted a citizen petition for the FDA to refrain from approving Neoprobe's application for its Lymphoseek drug, arguing that its clinical trials were flawed.
Neoprobe, which changed its name to Navidea Biopharmaceuticals last year, put the value of Lymphoseek at $450 million and disputed MSMB's conclusions. The FDA approved the drug for review but hasn't yet authorized Navidea to bring the drug to market.
In 2010, Shkreli requested that he be allowed to speak during the public comment period before the FDA Lorcaserin Advisory Committee. There, he advocated against approval of the weight-loss drug which gained the FDA's blessing last June. It was the first weight-loss drug approved by the administration since 1999, according to media reports.
Also in 2010, Shkreli sent a letter to FDA officials, advocating against approving a review of Afrezza, an insulin therapy delivered via an inhaler. The review was delayed for a month at the time. Recently, executives with the drug's developer MannKind have said they expect the drug to win approval sometime in the first quarter of 2014.
As an investment manager, Shkreli got his start at Cramer Berkowitz at the age of 17 while still in college. The firm was founded by investment celebrity Jim Cramer. Shkreli went on to work at Intrepid Capital Management for "tiger cub" Steve Shapiro.
Shkreli is liquidating MSMB. He says the returns possible for hedge funds aren't what they used to be.
"The hedge fund business has changed," Shkreli said. "When I started, you could make 50% or 100% returns in a year. It was someplace you could use your intellect to make a lot of money, but not anymore."
Retrophin
Retrophin is starting out as a public company with a licensing agreement, struck last February, with Ligand Pharmaceuticals (LGND) and Bristol-Myers Squibb (BMY) to license Ligand's Dual Acting Receptor Antagonist (DARA) for angiotensin and endothelin receptors. Retrophin plans to use the DARA program to formulate treatments for severe kidney diseases. The company paid $1 million up front and will pay as much as 17% of worldwide sales associated with DARA as royalties. Retrophin may also make up to $107 million in milestone payments.
Retrophin made its first milestone payment on Jan. 9, turning over $3.1 million in stock to Ligand. The milestone payment was triggered by the completion of the reverse merger. The 620,000 shares issued to Ligand represents about a 7% stake in Retrophin.
Shares of Retrophin jumped 29% on the announcement of the milestone payment, to close at $5.10 on a volume of just 500 shares. The stock has since fallen back to $4.02, as of Jan. 17.
Last May, MSMB Capital led a $4 million Series A financing for Retrophin, with Dallas-based venture capital firm Colt Ventures also investing.
Retrophin has a sponsored research agreement with St. Jude's Research Hospital in Memphis, Tenn. The company will supply funding and replacement therapy compounds for research tied to PKAN, a hereditary disease characterized by a build-up of iron in the brain which leads to a degeneration of the nervous system in children. The disease is estimated to affect up to 3 million people worldwide and currently has no cure. Retrophin will own any intellectual property generated by the program, while St. Jude retains the right to publish the results.
The company has four drugs it's currently developing.
RE-021, licensed from Ligand, is being targeted to treat focal segmental glomerulosclerosis (FSGS), a disease that causes a build-up of protein in the urine and eventually causes kidney failure. Retrophin estimates there are more than 50,000 patients in the U.S. and that a drug to treat the condition carries a sales potential of more than $1 billion as there is currently no FDA-approved medicine for FSGS. The company anticipates the drug moving into Phase II tests in the first half of this year.
Retrophin also hopes to develop a drug it calls RE-024 for treatment of PKAN. Other compounds being studied are RE-001 for treatment of Duchenne muscular dystrophy and RE-003 for treatment of spinal muscular atrophy. All of these are in preclinical development.
Shkreli has brought in Stephen Aselage as chairman. He's the former vice president of global commercial development for BioMarin Pharmaceutical (BMRN), a Novato, Calif.-based company that's had some success developing drugs for the rare and orphan drug niches.
"I was a shareholder in BioMarin and really liked the way the company did things," Shkreli said. "I basically poached their No. 2 guy. He is good at things that I am not. He can run a sales force and he really knows how to interact with the medical community."
Shkreli said he isn't concerned about the controversy that has grown around reverse mergers, with the wave of fraud allegations against Chinese reverse-merged companies, and the extra scrutiny that reverse mergers are now receiving from the SEC and stock exchanges.
"These days with the scrutiny the SEC gives reverse mergers, it's about as hard to get a reverse merger done as an IPO, and investors know this," Shkreli said. "Another plus is that a reverse merger is an inexpensive way to show investors what your valuation is."
Financials included in Retrophin's reverse merger filing state that it's lost $20.1 million since its inception in March 2011. The lion's share of that loss, $16.8 million, was realized in the nine months ending Sept. 30 of last year. Most of the 2012 loss was tied to compensation and professional fees paid, which includes issuance of shares. The company had total assets of almost $2.45 million but cash on hand was just $2,189 as of Sept. 30.
"We have structured our finances this way because we were not willing to give the company away," Shkreli said. "Financing terms we were seeing last year were not very attractive. Since the merger, we have had a lot interest from venture capital firms."
The company is still registered with the SEC as Desert Gateway, but that will change soon, he said. Shkreli hopes to have Retrophin listed on the Nasdaq by the end of this year. He also hopes to have RE-021 on the market by the end of next year.
"We are in a position with this drug and the trials that the FDA could approve it and we could be on the market in 2014," Shkreli said. "We are very excited."