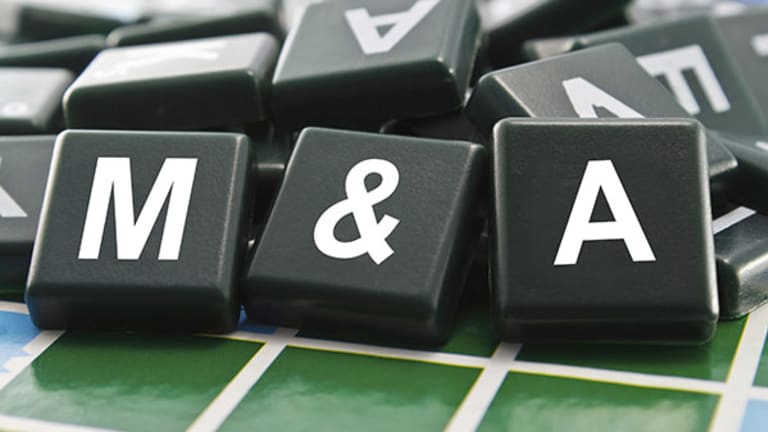 How Lower Tech Valuations Will Change the IPO, M&A Outlook
Equity and debt markets present opportunities for Apple, Alphabet, Cisco, Intel and others.
As stocks of tech groups such as Workday (WDAY) - Get Workday, Inc. Class A Report , Box (BOX) - Get Box, Inc. Class A Report and Hortonworks (HDP) - Get Hortonworks, Inc. Report continue to slide, and the worth of privately held upstarts also declines, the valuation drop presents intriguing questions for large, cash-rich tech groups. 
The declining equity valuations reduce the opportunities of IPOs for the herd of "unicorns" that have tapped, blocking one exit. Meanwhile, the debt market are less hospitable to private equity buyers.
"What it has done is it has created an opportunity certainly for buyers, strategic buyers in particular, who have a great deal of cash on their balance sheet," Robert Townsend of Morrison & Foerster's global M&A practice group.
Large tech groups such as Apple (AAPL) - Get Apple Inc. Report , Google parent Alphabet (GOOGL) - Get Alphabet Inc. Class A Report , Cisco Systems (CSCO) - Get Cisco Systems, Inc. Report , IBM (IBM) - Get International Business Machines Corporation Report , Intel (INTC) - Get Intel Corporation Report and HP Enterprise (HPE) - Get Hewlett Packard Enterprise Co. Report have the means to shop amid the bargains.
Exclusive Look Inside:
You see Jim Cramer on TV. Now, see where he invests his money and why Apple, Alphabet and Cisco Systems are core holdings of his multi-million dollar portfolio.
Want to be alerted before Jim Cramer buys or sells AAPL, GOOGL or CSCO?Learn more now.
While Cisco and Hewlett Packard Enterprise acknowledged that M&A will remain part of the game plan, IBM did not comment. Others did not immediately respond.
Cisco has been active, recently agreeing to buy private "Internet of things" tech group Jasper Technologies for $1.4 billion from Benchmark Capital, Sequoia Capital and Temasek.
Private equity may not shun technology entirely. Silver Lake Management announced on Feb. 4 that it would invest $500 million in cyber security group Symantec (SYMC) - Get Symantec Corporation Report , which just closed the $7 billion sale of its Veritas unit to Carlyle (CG) - Get Carlyle Group Inc Report .
The debt markets give strategic companies with cash an advantage.
"The capital available to PE funds to pursue acquisitions in technology and elsewhere has been reduced over the last several months and there is no reason to think that's going to get better anytime soon," Townsend said. "What we saw in January is the turbulence and, in particular, decline of valuations in the equity markets, that was the second shoe to drop."
The pain across technology has been broad, and has been acute among software companies.
After early-February earnings from Tableau Software (DATA) - Get Tableau Software, Inc. Class A Report Evercore ISI analyst Kirk Matern wrote software "officially enters the pain cave," in the headline of a report. "Ugh... after slogging through the first month of the year, if you wanted a cathartic event to wipe out any remaining optimism in the software space, [Tableau]'s earnings report was it," he wrote.
Jim Cramer also declared Monday that Tableau can't be touched by investors because its price-to-earnings ratio is still way too high.
Since the close of 2015, Workday has dropped from $78.68 to $48.27. Box has fallen from $14.36 to $9.24. Hortonworks is down from $20.86 to $7.79. Representatives of the companies could not be immediately reached Monday afternoon.
The lowered prices in public markets have implications for private companies.
"The  question is: does the sell side -- the boards of directors of target companies, the C-suite executives, the VC backers -- are they embracing the declining valuations in pub markets as reflective of valuations of private companies as well?" Townsend asked.
Brenon Daly of 451 Research suggested that 2016's M&A log will not look much like 2015's. "The way we're thinking about it is much more representative of the post-credit crisis years of '10, '11 and '12," he said. In a survey last fall, three-quarters of 200 corporate acquirers said they expect to pay less for acquisitions than in 2015. "You want to tell me three quarters of startups say we're worth less than last year?" he asked.
Morrison & Foerster's Townsend suggested that the "reset" in valuation expectations is occurring more quickly now than in previous downturns. "Certainly in the unicorn world, they are finding that sources of capital they were tapping into, to support some of the higher valuations, is evaporating because they were non-traditional investors in tech companies, ranging from institutional investors to sovereign funds," he said.
"As a consequence they are going to be facing a harsh reality and making some decisions about whether now is the time to liquidate," he added.