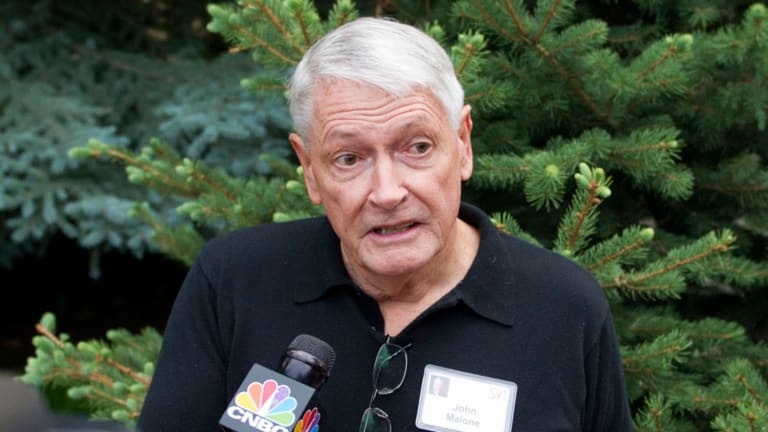 Liberty Interactive Corp.'s (QVCA) planned spinoff of Liberty Expedia Holdings fits neatly into John Malone's playbook of complicated, tax-free transactions.
The question is whether the spin of Liberty Interactive's stake in travel booking site Expedia (EXPE) - Get Expedia Group, Inc. Report and other online assets is routine spring cleaning designed to present Wall Street with a simpler bundle of assets to value or indicates larger moves to come.
Liberty Interactive suggests in the prospectus for the split the new group could merge with Barry Diller's Expedia. The divestiture of Liberty Expedia, and the planned spinoff of CommerceHub, come as Liberty Interactive prepares to invest in a Malone vehicle linked to the merger of Charter Communications (CHTR) - Get Charter Communications, Inc. Class A Report and Time Warner Cable (TWC) . Malone and Liberty Interactive's CEO Greg Maffei could be trying to clear out the company's mixed pantry of media assets to focus on the cable business.
"With Malone and Maffei, the only thing you know is you don't know," said FBN Securities analyst Robert Routh.
Liberty Expedia will hold a 15.7% equity interest and 52.2% voting stake in Expedia, which Diller's IAC/InterActiveCorp (IACI) spun out in 2005. The new entity will also own BodyBuilding.com, an e-commerce site and and online community based around pumping iron.
The prospectus, filed with the Securities and Exchange Commission on March 24, lists the value of the Liberty Expedia's newly created equity at $3.2 billion. Liberty Expedia will issue $350 million as part of the divestiture, and give parent Liberty Interactive $300 million in cash.
Through a longstanding agreement with Malone, Expedia Chairman Diller has a proxy to vote Liberty's shares in Expedia. Diller will continue to control the proxy for 18 months following the spinoff.
The prospectus suggest that Liberty Interactive trades at a discount to the underlying value of its assets, and that spinning out the Expedia shares will present shareholders with a simpler value proposition that would support a higher share price. In Malone's typical fashion, the spin out will simply distribute ownership of the web properties to existing shareholders and avoid the tax bill that a change of control would incur.
Determining the size of the discount is difficult because of Liberty Interactive's complex holdings.
Liberty Interactive has already created two tracking stocks to represent its various holdings.
QVC Group (QVCA) reflects retail and media operations such as shopping network QVC, online retailer Zulily and a stake in shopping channel HSN.

Liberty Ventures Group (LVNTA) represents the Expedia stake, Bodybuilding.com and CommerceHub. The group also owns a position in travel industry services provider Interval Leisure Group; florist FTD Companies (FTD) ; baby gear online retailer LMC Right Start; online lending group LendingTree (TREE) - Get LendingTree, Inc. Report ; Internet invitation service Evite; minority stakes in Time (TIME) , Time Warner Cable and Time Warner (TWX) ; and other holdings.
Routh puts Liberty Venture's discount to the value of its public and private holdings at 41.79%.
Following the spin, the prospectus suggests a merger of Liberty Expedia and Expedia would logically follow. After all, both equities would focus on the value proposition of Expedia. Diller's travel site could see the appeal of taking out its doppelganger and consolidating ownership. "Liberty Interactive believes that a combination of our company with Expedia could be beneficial for our stockholders, on the one hand, and Expedia, on the other hand, by eliminating the overhang associated with the current dual-public company structure," the prospectus states.
The timing of the Liberty Expedia prospectus gives rise to more questions about the strategy.
During a February earnings call, Maffei told investors that Liberty Interactive would submit a prospectus for CommerceHub in March, before Liberty Expedia. As March winds to a close, CommerceHub is yet to file.
"The question is why the change and how come we still haven't seen CommerceHub?" Routh asked.
The altered sequencing has caused speculation that Amazon (AMZN) - Get Amazon.com, Inc. Report or Alphabet's (GOOGL) - Get Alphabet Inc. Class A Report Google could have taken an interest in the business, the analyst suggested. Representatives of the companies did not immediately respond to queries on Wednesday afternoon.
"Maybe it was just a matter of timing and they got the other one done first," Routh said.
The other looming matter for Liberty Interactive is the merger of Charter and Time Warner Cable.
Liberty Interactive agreed last year to invest $2.4 billion in Liberty Broadband (LBRDA) - Get Liberty Broadband Corp. Class A Report , a Malone venture that invests in Charter and supports the cable operators' merger with Time Warner Cable, valued at $78.7 billion including assumed debt. Charter is also rolling up Bright House Networks LLC.
"They may have a grand plan for Liberty Ventures when all it owns is Liberty Broadband and everything else is out of it," Routh said. "Maybe they don't."