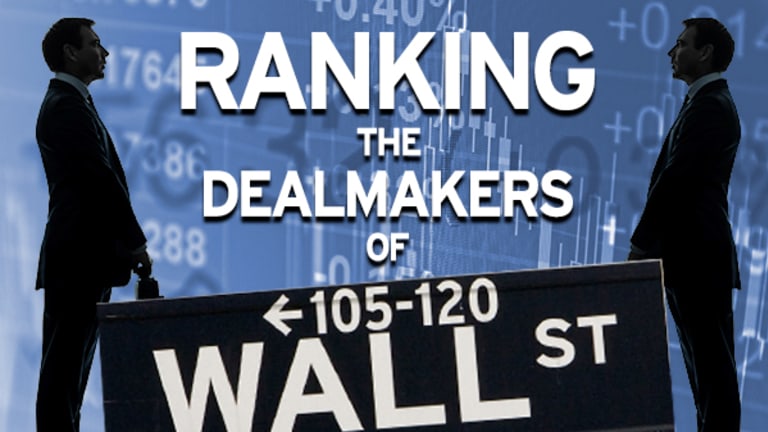 Publish date:
How JPMorgan Is Crushing Rivals in a Tough Market for Dealmakers
New York-based JPMorgan took top honors in The Deal's quarterly ranking of M&A advisers, an achievement rendered all the sweeter by volatility that kept corporate buyers out of the market.
New York-based JPMorgan took top honors in The Deal's quarterly ranking of M&A advisers, an achievement rendered all the sweeter by volatility that kept corporate buyers out of the market.
JPMorgan Chase (JPM) - Get Report reigned supreme among the biggest U.S. banks in a soft M&A market at the start of 2016.
The New York company, which traces its roots to Aaron Burr, known for serving as the third vice president, provided financial advice on 25 deals, according to M&A league tables for the first quarter compiled by The Deal, a subsidiary of TheStreet.
Barclays (BCS) - Get Report came in second with 23 deals, followed by Goldman Sachs (GS) - Get Report with 19. The Deal's ranking includes transactions valued at $100 million or more, in which at least one of the companies involved is U.S.-based, so its findings may be different than the worldwide gauges in which Goldman came out on top.
The number of deals on which JPMorgan was adviser was the same as a year earlier. Goldman Sachs, however, saw a decline of nearly 50% and Barclays was the only one of the three to report an increase in volume, a gain of 27%.
The rankings don't mean as much for revenue as they might ordinarily, since deal volume as a whole is down considerably. Rafferty Capital analyst Richard Bove said the M&A market was dealt a dramatic setback by volatility in January and February related to low oil prices, slower Chinese growth and fears that another recession was developing.
In order for dealmaking to flourish, CEOs will "have to feel confident that if they buy another company, it is going to be accretive to earnings at some point, if not in one year, in the second or third year," Bove said. "It is difficult to have confidence at the present time."
It's unclear that the U.S. economy is going to move ahead very strongly or that the financial markets are going to calm down, Bove said, and what role the next U.S. president might play in both. For all those reasons, it's difficult for a CEO to propose a transformative transaction to his board of directors.
It is unlikely that JPMorgan will see big gains in its advisory business side in the near term, Bove said: It may strive just to stay at the top of the pack.
JPMorgan CEO Jamie Dimon acknowledged the obstacles in an earnings call last week, but noted that "even in a challenging environment, clients continue to turn to us."
Ranking the Wall Street Dealmakers
Why Corporate Dealmaking Has Become a China Syndrome
For Wall Street Dealmakers, 2016 Can (Hopefully) Only Get Better
The Deal Reveals Wall Street's Q1 M&A Winners
The New York bank's traditional operations, which are significantly larger than its investment banking business, are performing well, with loan volume and deposit volume increasing, and margins widening, Bove said.
That's where JPMorgan can make up for the loss in fees from its investment banking side, Bove said. Dimon himself noted that "the consumer businesses continue to grow loans and deposits impressively, attracting deposits faster than the industry."
Multi-product banks will remain much more appealing than undiversified banks, Bove said, with Goldman Sachs facing higher hurdles because it's "betting on one business and if that business rises or falls," so does the company, Bove said.
Although JPMorgan's $24 billion in total quarterly revenue was 3% lower than a year before, it was still higher than the three months through December.
The year-over-year drop was primarily because "of the market environment impacting the results of the corporate and investment bank and asset management," the firm said. JPMorgan's investment banking fees dropped 25% to $1.3 billion, primarily because of slower underwriting of both debt and stock offerings. Advisory fees climbed 8% to $585 million.
Globally, investment banking revenue declined 23% from a year earlier and 13% from the last quarter of 2015, Barclays Capital analyst Jason M. Goldberg said in a note.
Trading and investment banking revenues at JPMorgan, Goldman, Morgan Stanley, Citigroup (C) - Get Report , and Bank of America (BAC) - Get Report  totaled $24 billion from January through March, the lowest for comparable periods since the financial crisis, Goldberg noted.
The largest deal on which JPMorgan advised in the first quarter was Sherwin-Williams Co.'s acquisition of Valspar for $11.3 billion, announced on March 20. The bank also counseled Markit on its sale to IHS for $7.4 billion in stock, announced a day later.
JPMorgan and Goldman Sachs did not return calls for comment.
EXCLUSIVE LOOK INSIDE: Bank of America is a holding in Jim Cramer's Action Alerts PLUS portfolio. Want to be alerted before he buys or sells the stocks? Learn more now.