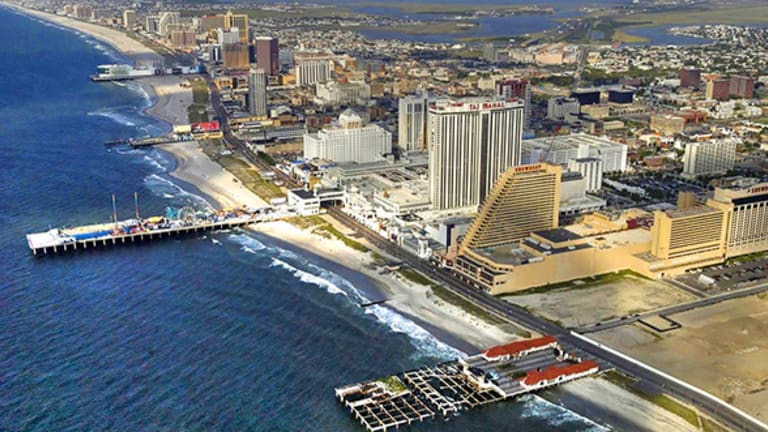 How Casinos Failed Atlantic City and Why They're Still Part of Its Future
For decades, Atlantic City's unchallenged dominance of East Coast gambling was a winning bet. Those days are over -- but gaming will still be part of the city's comeback.
NEW YORK (The Deal) -- When the Resorts International Casino opened its doors on May 27, 1978, politicians and residents alike felt that the gambling den would be just the ticket to turn Atlantic City, N.J., around. A crowd of thousands gathered just off the beach on the city's famed boardwalk with pocketfuls of bills and coins that they couldn't wait to plunk down on tables and drop into machines. It was the first time gambling had been legalized outside of Nevada, and the 1.5 million New Jersey residents who voted in favor of the measure to bring casinos to the dowdy "Queen of Resorts" no doubt believed they had placed a winning bet.
And for many years it was.
State Senate President Stephen Sweeney, a Democrat, recently told The Deal that the city "had a monopoly on gaming for 30 years."
Recently, though, the tide shifted. In the past 18 months, four casinos -- Revel AC, Trump Plaza Hotel and Casino, the Atlantic Club Casino Hotel and Showboat Atlantic City -- have closed their doors, costing 8,000 workers their jobs. The fading fortunes of Atlantic City's gaming industry have taken a toll on the municipality's fiscal situation. An emergency manager has been tapped to look into the city's dire finances.
Three of the four recently shuttered casinos have gone through bankruptcy: Revel filed for bankruptcy for the second time on June 19; Trump Plaza Hotel and Casino, owned by Trump Entertainment Resorts, filed its latest Chapter 11 petition on Sept. 9; and the Atlantic Club Casino Hotel filed on Nov. 6, 2013. Showboat Atlantic City, owned by Caesars Entertainment Operating Co., closed shop before the gaming company's voluntary Jan. 15 Chapter 11 filing.
The run of bad news prompted Sweeney to publicly lament that the city and its boosters had been "knocked down."
So, what happened?
Wayne Weitz, managing director at restructuring firm Gavin/Salomonese, pointed out that part of the problem for Atlantic City is the proliferation of other casinos in the Northeast.
Pennsylvania, for example, granted five casino licenses in December 2006. Those locations have since opened and "Pennsylvania has passed New Jersey as the second [highest earning] casino state in the country," Weitz said. (First, of course, is Nevada, due to Sin City.)
Weitz also said that Atlantic City was once a "huge draw for New York [residents]," but now those fun-seekers are more likely to go to Foxwoods Resort Casino or Mohegan Sun in Connecticut.
For many in the Northeast, "you're not going to A.C. for the casino; you can get the casino elsewhere."
Timothy W. Walsh, partner at McDermott Will & Emery, echoed Weitz's comments.
Walsh noted that a "big issue you have is the easing of casino restrictions in neighboring states," including Pennsylvania, Connecticut and New York. "That takes away a lot of the draw to Atlantic City," he said.
But the proliferation of gambling is only part of the problem. Atlantic City itself contributed to the downturn. The town is too remote and automobile-centric. A contentious labor dispute is simmering. Some of the properties are poorly designed. And while a seaside location is nice enough in the summer, New Jersey's weather isn't exactly a year-round draw.
Nonetheless, developers haven't given up on the city.
New projects promise to make the town an attractive destination for a wider population. The state and local governments are considering regulatory and financial reforms that should make the city more business-friendly.
For now, while policymakers and investors try to revive the business, the workers whose jobs depend on the casinos and those 1.5 million New Jersey residents who bet on the industry can only watch and hope they don't roll snake eyes.
To understand Atlantic City's predicament, start with its layout. Casinos are located in two sections: the marina district north of downtown and on the boardwalk along the beach. The boardwalk properties separate most of the city from the oceanfront.
Marina casinos include the Borgata Hotel Casino and Spa, Golden Nugget and Harrah's Resort Atlantic City, which are all doing quite well. (Representatives for those casinos could not be reached for comment.) "The boardwalk casinos aren't, and in fact, all the four that [recently] closed are boardwalk casinos," Weitz said.
This schism resulted in part from geography: the marina locations have direct highway access. That, coupled with how "the boardwalk is not perceived as a family-friendly resort destination," creates problems for casinos adjacent to the walkway.
"The attraction of 'Let's go down to the casinos on the boardwalk' is not there anymore," Weitz said, adding, "You can get your beaches, and your Ferris wheel and your taffy elsewhere" at the Jersey Shore, and gambling is not exclusive to the boardwalk area.
Atlantic City also labors under disadvantages that do not afflict the country's first gaming destination. "The difference between A.C. and Las Vegas is that Las Vegas was built on a clean slate," Weitz explained. "A.C. [tried to] become the mecca for casinos on the East Coast. A.C. started with a challenging environment, and it was sustainable when it was the only game in town."
Another difference between the two locales is outside of anyone's control: Mother Nature. Las Vegas is a "12-month destination." Weitz said. "Its weather is conducive for it. The other thing in Las Vegas is that you can walk up and down the Strip for four days. In Atlantic City, where are you walking? You're not going to go to the boardwalk in January."
Paul Steelman, founder of entertainment architecture firm Steelman Partners, noted that a major problem for the area is its inaccessibility for those without cars. "The city never fixed its transportation issues. That means making it feel more connected to New York City. That means they have to do something either by ferry, by rail, by something, and it has to be an automatic, coming here every 20 minutes, every day," he said. (Wait times between buses from New York to Atlantic City can stretch up to two hours.)
Steelman also said "many of these buildings have become parking-centric buildings," taking away from the walkability of the city.
"They disconnected the city," he said, suggesting that some of structures should be flattened. "They never celebrated Atlantic City, the weather, the beach, the sunshine, the ocean," he said. 
Steelman said the city also allowed the adjacent communities to deteriorate, making it difficult to have successful, beautiful oases in the city. "You can't have a palace in a bad neighborhood," he said, adding that now is the time to "fill in the gaps" with ethnic communities that celebrate the residents of the area.
That said, Weitz pointed out that casino revenue in the resort city has not fallen off dramatically in the past two years, pointing to a major problem that those in the are faced: "there were simply too many casinos."
"You've gotten rid of a lot of casinos, so this may have been a case of supply well exceeding demand and now its right sizing," he said.
According to information from New Jersey's Division of Gaming Enforcement, comparing March 2014 to February 2015 with the 12 months prior, gaming revenue in the state is down to $2.71 billion from $2.85 billion, representing a 5.1% decrease.
Except for April 2014, August 2014, and January 2015, total gaming revenue was negative month-over-month for each of those months. These figures include online gaming, which was legalized in the state in 2013.
Given the area's inherent problems, can any of the troubled casinos be turned around? There are some positive signs.
Revel won approval of an $82 million sale of its property to Polo North Country Club Inc. on April 2. Trump Taj Mahal is still open after its parent on March 12 won confirmation of a plan that hands over its equity to Carl Icahn.
Still, Revel has some unique hurdles to overcome. The casino's location -- without direct highway access -- presents a challenge, Weitz said. In addition, the layout of the building is not conducive to getting gamblers to plant themselves at tables.
"I've never been in a casino hotel where you can go into the hotel and not see the casino," he said. "The logical flow of forcing the people through the casino doesn't exist."
To make the casino, which cost $2.4 billion to build, successful is "going to take some serious internal reworking."
Walsh noted, however, the main problem for the behemoth was that "there was over-expansion and they were over-levered at a time when Atlantic City gambler attendance was falling. In addition, they faced challenges with energy costs."
Walsh said the Revel and Trump Taj Mahal "have the possibility of rebounding, but only if they are able to come up with a strategy to attract players from the neighboring states."
He floated the idea of casinos lowering the threshold for "high rollers" and providing more perks to gamblers.
"You need to be able to get people in those rooms and on the floor," he said.
Though Walsh pointed out that "diversification is always good," and increasing revenue streams by providing events or hosting conferences is a positive, "the big draw and the big moneymaker is people on the floor. So they need to fix that."
The Trump casinos are also operating under an allegedly burdensome collective-bargaining agreement. Walsh warned that oppressive contracts could sink future casinos trying to open up shop in the resort city -- or those that are trying to bounce back.
"I can see a scenario where [collective-bargaining agreements] are steep and make a significant cut into the bottom line," he said. "And that's obviously problematic because that cuts into revenue."
Icahn, the majority owner of Trump Entertainment Resorts, has been extremely vocal about his feelings on Unite Here Local 54 -- the union that represents thousands of casino workers in the city, including at the Trump Taj Mahal.
In a March 19 open letter, Icahn compared the union to mobsters of days past.
"Over the last five years, while the Taj Mahal has gone bankrupt not just once, but twice, your Unite Here health plan has made $140 million in net income," he wrote. "It all reminds me of that bygone era when organized crime would demand grocers pay for protection or suffer bricks being thrown through their store windows. The only real difference here is that instead of throwing bricks through the Taj Mahal's windows, your union instead organizes strikes, picketing, boycotts and other attacks to deter customers from patronizing the Taj Mahal."
Icahn maintained that the union is "attempting to hold a bankrupt business hostage by threatening labor unrest if they do not receive exorbitant payments into their own highly profitable healthcare scheme."
Calls to Icahn went unreturned. Calls to Trump Entertainment counsel, Erez E. Gilad of Stroock & Stroock & Lavan; Revel counsel, John Cunningham at White & Case; and Caesars Entertainment counsel, Paul Basta and James H.M. Sprayregen at Kirkland & Ellis were also unreturned.
Bob McDevitt, president of Local 54, told The Deal that "it's very hard to rank things like wages and health care. The most important part of [the workers'] contract is the economic component of wages, healthcare and retirement, but it's hard to parse between the three of them."
McDevitt said that despite the job losses last year due to the closures, the city has largely held on to the bulk of its casino-related revenue.
"Even though we've had a minor contraction, the vast majority of the customers have been retained by the casinos that are still open," he said.
He said that the workers want to hold on to their wages, healthcare and retirement benefits and "keep those as a strong and stable part of their life."
McDevitt said Atlantic City "allowed a vice to come to the market here. The trade-off was that these would be good jobs." These good jobs, he said, mean decent wages and healthcare, positions that aren't "disposable."
"The reason we allowed [the city] to have this vice is to provide these good, stable jobs," he said. "[Getting rid of that] is the destruction of the pact between the industry and the state that has existed for 35 years."
A bankruptcy court's decision to strip Taj Mahal workers of many benefits is before the 3rd Circuit Court of Appeals, with a decision expected to be handed down this month, McDevvitt said.
Of the eight operating casinos in Atlantic City, three are owned by Caesars Entertainment, which itself is in bankruptcy court in Chicago. The three are Caesars Atlantic City, Bally's Atlantic City Hotel and Casino, and Harrah's Resort Atlantic City. Calls to Caesars representatives were not returned.
Weitz said Caesars' case "doesn't really reflect the problems" of the other gambling destinations in the city.
Because those locations have a "deep capital partner" to operate the hotels, they are likely in a better position than some of the other struggling casinos in the area.
"I don't think that what's going on in Caesars' bankruptcy is related to what's going on with these other ones," he said.
In court papers, Caesars Entertainment said it filed for bankruptcy earlier this year to implement a restructuring that would cut its debt by $10 billion. In bankruptcy documents, CEOC said economic conditions have "squeezed the gaming industry," and it was unable to extend its debt maturities and deleverage its balance sheet without a wholesale restructuring. Former Weil, Gotshal & Manges partner Richard J. Davis was tapped on March 25 to serve as examiner in CEOC's case, and look into certain of the gaming giant's pre-petition transactions. If the company can implement its restructuring, then the three properties can survive.
For those brave enough to consider Atlantic City, some business lines could still work. Weitz said he thinks the "conference destination business could continue to be viable," which could create an opportunity for the surviving casinos. He said that "those conferences continue to need a place" for travelers from the mid-Atlantic and Northeast.
Weitz also said casinos have an opportunity to open up their real estate for "alternative use."
One example is the repeated attempts by nearby Stockton University to open a campus in what was once the Showboat casino. The school snapped up the location from Caesars Entertainment in December for $18 million. On April 3, the university announced that Florida developer Glenn Straub, whose Polo North Country club purchased Revel, had pledged $26 million for the real estate, as part of his larger Phoenix Project (catch the symbolism there?) to bring family-oriented education and entertainment venues to the city.
At least one casino in the area is not happy about the proposal and is blocking the attempted change.
In a March statement, nearby Trump Taj Mahal said, "The facts are that our company does not think having a college next door to the Taj is good for our company. Having kids under 21 who will attempt to gain entry to the casino and engage in activities reserved for those only 21 and older would create numerous problems we do not want and could damage the Taj's ability to attract customers and regain its financial health."
The Taj Mahal has maintained that a 1988 covenant blocks any nongaming entities from opening up shop in that location.
Kendal Lambert, a sophomore at Stockton, who is involved with the "Save our Sto-boat" movement pushing to get the green light for the campus, said it would "open up so many economic and community development opportunities for Stockton and Atlantic City in general."
She said that the plan has always been to have upperclassmen -- juniors and seniors who would be 21 or older -- housed at the campus. Lambert said the school is overflowing with students, and the new location would provide access to students who are studying hospitality to have hands-on experience at local casinos and hotels.
Icahn's actions blocking the campus are "unacceptable," she said. "He's preventing a community and economic development in an already handicapped city. It would be a true loss if we did not win this case."
McDevitt agreed. "When Carl Icahn says 'We don't want a college campus [here],' I say, who the hell put you in charge? Since when does Icahn get to decide how the city gets to evolve?"
Icahn, McDevitt said, views the city as a "fatted calf that he wants to slaughter," not as a "city that wants to thrive and survive."
He said the campus would bring a 7% increase in population to the city.
"I think that you can't measure the impact of that campus on the city," he said. "The impact will be much more systemic than people actually know."
One other change that could positively affect the eight casinos that still have their lights on, is an adjustment to the way they pay their taxes, making it cheaper for them to do business.
Curtis Bashaw, owner of the high-rise Chelsea Hotel in Atlantic City and former director of New Jersey's Casino Reinvestment Development Authority, said "There is no industry other than gaming in the Atlantic City market, and there is a very small residential tax base," creating an "untenable fiscal structure for the city."
Bashaw is a proponent of changes that would make it "affordable even for the successful casinos" to do business.
Emergency Manager Kevin Lavin's plan included information about the city's proposed changes to its tax structure. The amendment would have the casinos make a payment in lieu of taxes rather than pay property taxes.
Some casinos have opposed the current structure, saying that their stated property values do not reflect the plummeting real estate value in the area. The Borgata initiated litigation against the city for trying to pay other creditors before making good on the casino's $88.25 million tax appeal. Others could follow suit.]
"You have to have a structure that will induce people to come and invest in the market," Bashaw said. "I am not sure what the right tool in the tool box is, but it's not going to be the normal assessment procedures that has been happening in the market."
Bashaw said the goal of local officials has been to "craft a package of bills that will try to tackle these issues holistically."
He is a proponent of the "boutique casino bill," which would allow smaller hotels to have tables and slots that have up until now been exclusively housed in the big players in town. Las Vegas, for its part, has slot machines in its airport and drugstores.
He said he hopes that "something is passed before June 30 that will take a comprehensive view of the fiscal situation and create a framework for moving forward."
Bashaw added that Atlantic City had been a resort town before it was just a gaming market.
"Those two initiatives need to be married together," he said. "The city needs to become a broader destination."
He said the boutique bill will allow small hotels to add a few gaming tables "like you would add a spa or a restaurant ... not in the center of the hotel, like a billiard room in a big house."
Bashaw said this change would be meant to cater to a "new generation of people that aren't really tried-and-true gamblers."
The move would represent a "shift from just focusing on the gambler, and focus on the visitor who wants a broad range of fun activities, and we think the boutique casinos can provide that answer." Bashaw said he expects that bill to be implemented in the bundle of legislation awaiting action by Gov. Chris Christie.
State President Stephen Sweeney, for his part, told The Deal that the boutique casino bill "can't hurt; it can only help."
At this point, Atlantic City may have nowhere to go but up. Bashaw insisted that "smart money is already looking at the town because real estate values have plummeted," adding, "we're seeing the first seeds of that."
And some of that "smart money" is once again betting on the city.
Developer Bart Blatstein, CEO of Tower Investments, and Steelman, on April 1 announced plans to open the "Playground" on the site of the Pier Shops at Caesars. The complex, which will include a swath of live music venues -- inspired by Nashville's Music Row and Memphis' Beale Street -- a bowling alley and an outdoor music venue, will save 400 jobs and create 500 additional ones. Blatstein bought the venue from CBRE Group in November.
At a recent news conference at which renderings of the development were released, Blatstein said, "we are going to be the music capital of the East Coast."
He said there will be parties at the complex, parts of which will be open by the July 4 holiday, every weekend.
"If there's not a holiday, we will create a holiday," he said.
Earlier in the day, he said, "this place can't fail. It won't fail."
For Bashaw, many of the pieces are in place for the city to rebound.
"Things don't happen in a vacuum, especially in a regulated industry like gambling," he said. "The city needs to keep diversifying the gaming product, revitalizing the boardwalk, which is one of the world's most iconic spaces, bringing academic institutions to help populate the town with academics and young people ... and celebrating the brand that A.C. has. [The city] has brand equity that goes back 120 years. As down-and-out as A.C. is ... we are still one gas tank away from 25% of the U.S. population. I don't think this story is over. I don't think we're writing an obituary."