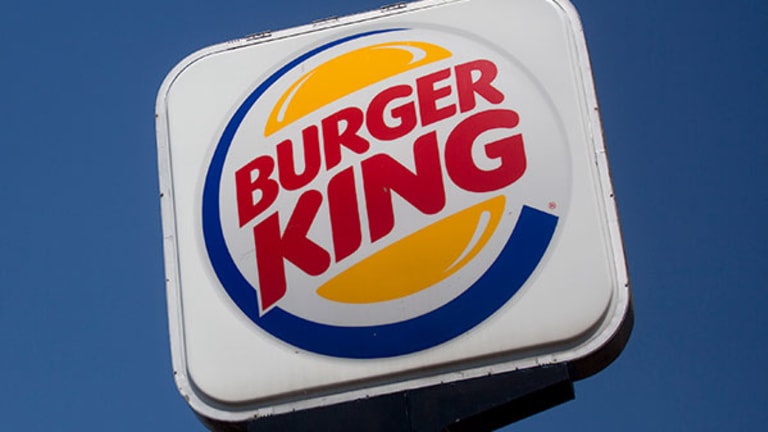 How Burger King's Brilliant Brazilian Billionaire Turned $1.2B Into $22B
3G Capital may make more money on Burger King Worldwide's acquisition of Tim Hortons than it cost the Brazilian private equity firm to buy the burger chain.
3G Capital may make more money on Burger King Worldwide's acquisition of Tim Hortons than it cost the Brazilian private equity firm to buy the burger chain.
NEW YORK (TheStreet) -- 3G Capital may make more money in a single day on Burger King Worldwide's (BKW)  possible acquisition of Tim Hortons (THI) than it cost the Brazilian private equity firm to buy the burger chain from Goldman Sachs, Bain Capital and TPG Capital in 2010. That deal-making coup underscores the prowess of 3G Capital and its principal owner, Jorge Paulo Lemann, who became Brazil's richest person in 2013.
Lemann and 3G only had to put up $1.2 billion in cash to buy Burger King in a 2010 leveraged buyout that relied on debt financing for roughly 70% of the acquisition price. In 2012, 3G sold 30% of its stake in Burger King to a special purpose acquisition corporation (SPAC) run by Pershing Square's Bill Ackman and billionaire Nicolas Berggruen for $1.4 billion, in a deal that was aimed at bringing the burger chain back to public stock markets.
Since listing on the New York Stock Exchange in mid-2012, Burger King has been a top performer as its young management team executed on a franchise-oriented strategy, a simplification of the burger chain's menu and efforts to increase traffic in stores through new breakfast offering and coffee and non-coffee drinks.
On Friday, Burger King closed trading at $27.10, or a market capitalization of roughly $9.5 billion. News of the company's planned acquisition of Tim Horton's sent shares up over 20% on Monday morning, adding nearly $2 billion in market cap. 3G's ownership stake (about 70%) has gained just under $1.4 billion in Monday trading, or a few hundred million more than it cost to buy the company a few years ago.
The Deal's Jonathan Marino and Sarah Pringle take a closer look at the possible merger of Burger King and Tim Hortons:

WATCH: More market update videos on TheStreet TV
If 3G structures an acquisition of Tim Horton's in a way that gives the firm majority control of the combined company, Lemann and his partners Marcel Herrmann Telles and Carlos Alberto Sicupira will have only needed $1.2 billion to assemble an ownership of one of the largest restaurant chains with about $22 billion in annual sales and over 18,000 restaurants globally.
Cashflow Is King
One common theme running through Lemann and 3G's best deals such as the takeover of Burger King, the creation of AB InBev (BUD) - Get Report and the takeover of Heinz is Lemann's use of leverage. Lemann's payout on Burger King, perhaps, is also indicative of his skill relative to other peers in the financial sector.
A private equity consortium bought Burger King in 2002 for over $2 billion, but those investors struggled to manage the company's bloated operations and its declining profit margins through the financial crisis. When 3G took over, however, a new strategy allowed Burger King to dramatically cut operational costs and increase profit margins.
That changing strategy has helped to juice Burger King's financial metrics, putting the company in a position to take on large acquisitions. Burger King ended 2010 with debt of over six-times earnings before interest, taxes, depreciation and amortization (EBITDA). As of the last 12-months, Burger King had a debt ratio of just 4.75 times EBITDA.
Tim Hortons, meanwhile, currently has debt of just 1.75x trailing 12-month EBITDA, indicating that a merger may actually deleverage Burger King's balance sheet.
The same themes hold true for Lemann's largest investment, his $18.6 billion stake in AB InBev, according to calculations from Bloomberg's Billionaires Index. With a holding of Brahma, Lemann and his partner Marcel Telles backed Carlos Brito as he consolidated the Latin American beer market and then expanded internationally by merging with European giant Interbrew in 2004 and Budweiser 2008. 
Prior to InBev's acquisition of Budweiser, the company had debt of just 1.44x EBITDA. That leveraged ballooned to 7.7x EBITDA by the end of 2008 as AB InBev took on $50 billion in borrowing to acquire Budweiser. As of 2013, ABInBev's debt was back down to a manageable 2.9x EBITDA, and annual interest expense fell to just $2 billion, a decline of over 40% from 2008 levels.
Strong Partnerships
Lemann and 3G appear to have partnered with the right Wall Street power brokers when cutting large deals in the U.S.
In the case of Burger King, 3G's partnership with Pershing's Bill Ackman pre-empted the company's IPO and it appears to be the early genesis of a possible Tim Hortons merger.
Ackman led a charge in the mid-2000s to have Wendy's (WEN) - Get Report spin off Tim Hortons as an independent company. Since Tim Hortons' 2006 spin off, the company's stock has risen over 170%, more than tripling the return of the S&P 500. 
Pershing holds a 10% stake in Burger King and Ackman personally owns a stake amounting to just over 1% of the company's outstanding shares. Martin Franklin, a longtime partner of Ackman's on Pershing's SPAC deals, sits on Burger King's board of directors. It is hard to see a scenario where the hedge funder doesn't have a role in the company's possible acquisition of Tim Hortons.
Lemann also counted on Berkshire Hathaway's (BRK.A) - Get Report Warren Buffett to be a cornerstone investor in 3G's $23 billion buyout of Heinz in early 2013. It is yet to be seen how well Lemann's Heinz investment pays off. Berkshire expects to make about 12% annually on its $8 billion preferred stock investment in Heinz.
Perhaps, Lemann's best skill is identifying companies with strong cash flow and investment partners to maximize those financial advantages when opportunity beckons.
-- Written by Antoine Gara in New York