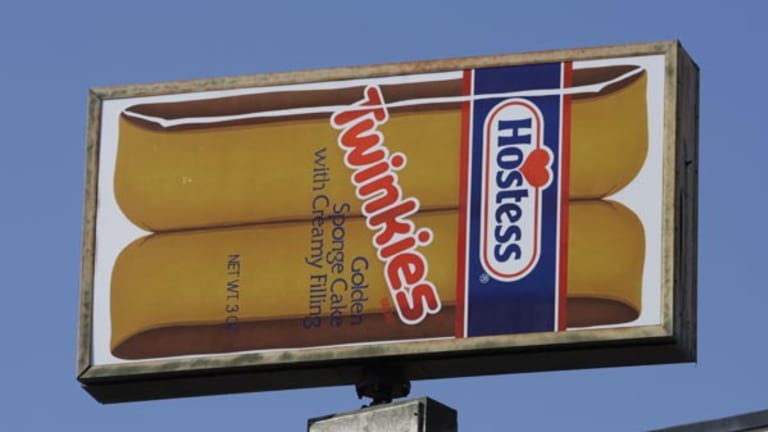 Hostess Prepares to Liquidate, Taxpayers Await Bill
Hostess prepares its liquidation as taxpayers await a pension bill and private equity funds circle the company.
Updated to reflect approval of Hostess Brands liquidation
NEW YORK (
) - Late on Wednesday afternoon a New York court approved
Hostess Brands
plan to wind down operations after 82-year old snacks maker was unable to reach a new labor agreement with its unionized workers that could have staved off the company's
, initially filed on Friday.
After a court mandated mediation between Hostess and the Bakery, Confectionery, Tobacco Workers and Grain Millers Union fell through late on Tuesday, a Wednesday ruling by Judge Robert D. Drain of the Southern District of New York returns the company to a 'liquidation scenario,' which will put the company's assets up for sale and cost 15,000 workers their job on the eve of Thanksgiving.
The wind down may also put millions of dollars in pension obligations on the government's books.
While job losses and plant closings are the worst part of Hostess Brands demise - company CEO Gregory Rayburn said in court 15,000 workers will be fired today and a further 3,200 workers will be retained to maintain plant as asset sales loom -- the company's failure may raise new questions as to whether private equity investors are using bankruptcy courts to extract investments at the expense of taxpayers.
When Hostess filed its
the company also said it would terminate its single and multi-employer pension plans.
Judge Drain's approval of Hostess's liquidation on Wednesday means thousands of employee pension plans are going to fall into the hands of the
Pension Benefit Guaranty Corporation
, a struggling federal agency that said on Friday its financial woes may force it to draw taxpayer support.
As part of Hostess Brands liquidation filing, the company said it would terminate its pension, with roughly 2,300 employees in the company's single-employer plan falling under PBGC's guaranty, according to an agency statement. The company's larger multi-employer plan may also get some PBGC support, while potentially not needing a full guarantee because losses could be mutualized.
On Monday,
TheStreet
how private equity investors may be using the PBGC's pension guarantees to
recover on losing investments or create for bargain basement buys
.
Hostess' liquidation -- just like the recent bankruptcies of well known companies like
Friendly's Ice Cream
and
Eddie Bauer
-- raises the prospect that sophisticated private equity and distressed debt hedge fund investors are using courts to cast off unwanted pensions on U.S. taxpayers and put a losing investment back on the track.
Consider that subsequent with Hostess's liquidation plans, the
Pension Benefit Guaranty Corporation
disclosed on Friday that its pension plan insurance deficit grew to a record $34 billion this year, the biggest shortfall in the federal agency's history. PBGC guarantees employee pension plans after a company goes belly up, securing the retirement of roughly 43 million U.S. workers.
While PBGC doesn't take government money directly - it's funded by way of insurance premiums and portfolio returns - the agency's head said on Friday that a growing deficit raises the prospect of taxpayer support.
In a statement released with the agency's bleak outlook, PBGC Director Joshua Gotbaum attributed the plan's shortfall on an inability to set premiums for member companies and noted that the agency's deficit may put taxpayers at risk for the first time in its 38-year history.
"PBGC may face for the first time the need for taxpayer funds," Gotbaum said on Friday.
As taxpayers brace for a prospective bailout of PBGC -- which may soon include Hostess Brands a $50 million single employer plan shortfall - scores of private equity investors and corporations are reportedly lining up to pick over the assets of Hostess, the maker of consumer fattening favorites such as Ho Hos and Twinkies.
A Monday
from
Fortune Magazine
indicates private equity firm
Sun Capital
might bid on Hostess Brands as a going concern. However, the report doesn't specify how pension obligations would be dealt with following the Friday termination of employee plans.
Also on Monday,
Flowers Foods
(FLO) - Get Flowers Foods, Inc. Report
increased its line of credit, in a move analysts speculated might pave the way for a bid on some Hostess assets. Pabst Blue Ribbon owner C. Dean Metropoulos & Co. is also rumored as an interested party, among prospective reported bidders for Hostess or its individual brands that includes
ConAgra Foods
(CAG) - Get Conagra Brands, Inc. Report
and Mexico's
Grupo Bimbo
.
Investment bank
Perella Weinberg
will be running the sale of Hostess's individual brands, according to a
press release
from the company, while
FTI consulting
will coordinate sales of Hostess Brands assets, such as its 33 bakeries and 565 distribution centers.
Joshua Scherer of Perella Weinberg said at a bankruptcy hearing Hostess Brands may generate roughly $1 billion from asset sales, highlighting "intense competition" for the company's individual brands.
Sun Capital's interest in Hostess may very well underscore how private equity firms use PBGC guarantees to pave the way for profitable investments. In January, the Center for Economic Policy Research
detailed
how Sun Capital used
Friendly's Ice Cream's
2011 bankruptcy to wipe 6,000 employee pensions from the company's books. In that deal, the PBGC accused the buyout firm of fraud.
After filing for bankruptcy in January, Hostess tried to renegotiate pay and benefit packages with the company's unionized workers, which included near double digit salary cuts, a multi-year suspension of pension plan payments and a big cut in funding for employee health plans. In response to the deal, Hostess's bakery worker union went on strike to protest the cuts earlier in November, the company said it would close operations for good were a deal not reached expediently.
While Hostess broke ground with the Teamsters, it was unable to reach a deal with the bakery union, even after Tuesday's mediation. In trying to negotiate a deal, the private equity-owned company took widespread criticism for mismanagement, executive bonuses, high debt levels, and unfair practices tied to pension plan funding from the Teamsters and bakery workers.
In Hostess Brands Jan. 2012
, the company's biggest unsecured creditor was The Confectionery Union & Industry International Pension Fund, a unionized employee plan with a near $944 million pension claim.
Further down the list of financial losers in Hostess Brands bankruptcy and potential dissolution are the company's hedge fund investors, which include
Monarch Alternative Capital
,
Ripplewood Holdings
and
Silver Point Capital
.
The size of the near $1 billion union pension claim is likely, in part, because Hostess's hedge fund owners stopped contributing to the company's pension plan in August 2011, as a result of bitter labor negotiations and deteriorating finances.
Its too be seen how Hostess Brands liquidation plans play out, but taxpayers should be weary that the company's pension liabilities fall on their books as private equity investors circle the company for an investment.
Follow @agara2004
-- Written by Antoine Gara in New York