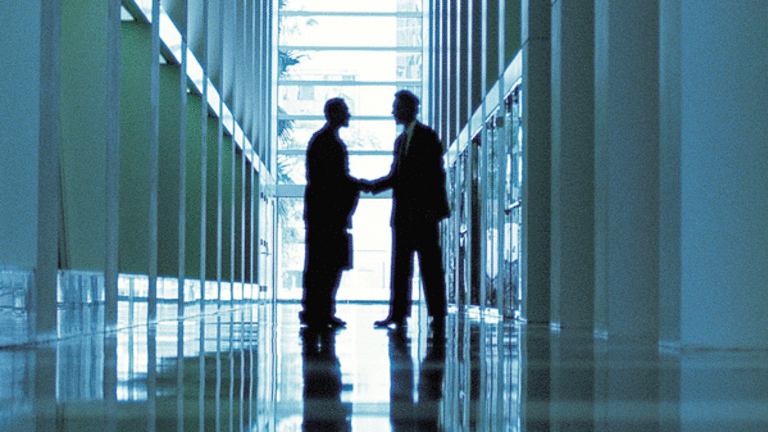 Hospira Eyeing Bid For Danone Unit in Latest Tax Deal
America's unloved tax regime may be about to deliver another European takeover as Illinois-based Hospira reportedly is working on an offer worth about $5 billion for Danone's medical nutrition business.
PARIS (The Deal) -- America's unloved tax regime may be about to deliver another European takeover with reports suggesting that Lake Forest, Ill.-based Hospira (HSP) is working on an offer worth about $5 billion for Danone's medical nutrition business.
A successful bid by Hospira would net one of Danone's fastest growing and most profitable, albeit small, operations and provide a route for the U.S. group to slash its tax burden by reincorporating its operations in Europe, a process known as inversion.
Hospira could join AbbVie (ABBV) - Get Free Report and Medtronic (MDT) - Get Free Report, which, respectively, agreed to pay $54.7 billion for Ireland's Shire (SHPG) - Get Free Report and $43 billion for Covidien (COV) , also of Ireland, in deals that are at least partly motivated by inversion, which liberates cash earned, and already taxed, overseas from a second round of taxation when it is repatriated to the U.S. The U.S. corporate tax rate is 35% and the highest in the OECD. That compares with 12.5% in Ireland, 21% in the U.K. and 33.33% in France, according to KPMG LLP figures, suggesting that a Gallic domicile wouldn't be an obvious option for Hospira.
The spate of inversion deals has drawn the ire of the Obama administration, which has called on Congress to close the loophole, potentially be enacting retroactive legislation. "We need to stop companies from renouncing their citizenship just to get out of paying their fair share of taxes," President Obama said on Thursday. "You know some people are calling these companies 'corporate deserters'."
Hospira, which makes injectable drugs, has not confirmed its intention to move its tax base, or its interest in the Danone's Medical Nutrition business. It has been in talks with Danone for "several weeks" about a cash and share deal that would value the unit at about $5 billion, the Financial Times reported on Friday, without citing its source.
To qualify for an inversion Hospira would need to have at least 20% of its capital held outside of the U.S. Engineering that through a takeover of the Danone unit, would likely require the business to be spun out of its French parent before Hospira acquires it using a significant amount of its own shares. Hospira, which is listed on the New York Stock Exchange, has a market capitalization of $8.64 billion.
Danone has been rumored to be seeking to sell the medical nutrition unit, which makes food for people on restricted diets due to illness, since the start of the year. It tapped JPMorgan & Co. to sound out potential buyers, according to unconfirmed reports, and had held preliminary discussions with Nestle.
Danone's medical nutrition unit posted 354 million euros of sales in the second quarter, accounting for about 6.5% of Danone's total of 5.4 billion euros. Sales at the unit rose 6.2% from a year earlier, making it Danone's second fastest growing segment, behind water, while its trading operating margin of 17.6% made it the most profitable unit that quarter.
Danone could use cash from the sale to invest in its sluggish fresh dairy products business, which it has been expanding in Africa, or its faster growing baby foods operations. Danone declined to comment. Hospira did not answer an out-of-hours email asking for comment.