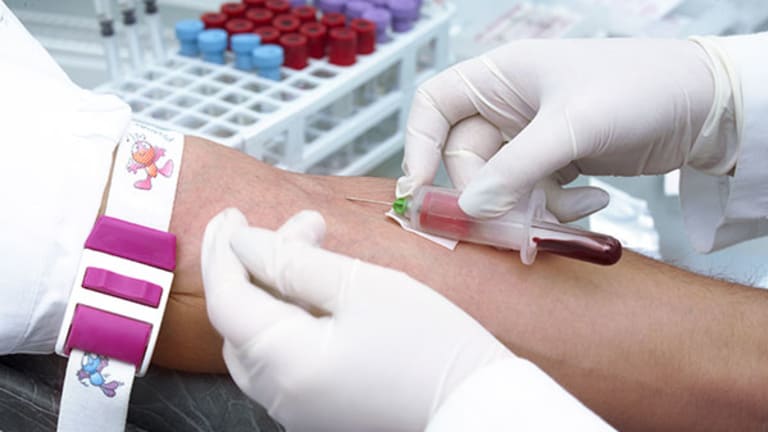 Hologic Agrees to Sell Blood Screening Business to Grifols for $1.85B
Hologic and Grifols have worked together since 1998 building a blood screening business, and now Hologic will sell its share to Grifols.
Medical diagnostic company Hologic (HOLX) - Get Report has agreed to sell off its portion of its blood screening business to long-time partner Grifols (GRFS) - Get Report in a deal valued at $1.85 billion.
Hologic and Grifols have collaborated in developing the blood screening business, with Hologic responsible for research and development as well as manufacturing of the Procleix blood screening products and Grifols handling the commercialization of the products.
The all-cash transaction has received the blessing of both of the companies' boards and is expected to close in the first quarter of 2017. Barcelona-based Grifols is utilizing a $1.7 billion term loan to complete the deal with the balance of the cash coming from the company's coffers.
The partnership goes back to 1998, and the deal calls for Grifols to receive a fully paid-up license for certain intellectual property owned by Hologic pertaining to its blood screening business. At least 175 Hologic employees who are working on Procleix will transfer to Grifols. Most of those employees are involved in research and development. Grifols will also receive Hologic's manufacturing facility in Rancho Bernardo, Calif.
Hologic, based in Marlborough, Mass., does retain the engineering expertise associated with the blood screening systems including Tigris and Panther, but will continue to work with Grifols to assure its blood screening customers receive state-of-the-art instrumentation in the long term. The companies have shared revenues from instruments used by blood banks to screen for viruses such as HIV and Zika as well as molecular assays.
In a prepared statement, Hologic CEO and chairman Steve MacMillan said, "We are immensely proud of the contributions we have made to global blood safety over nearly 20 years. But at the same time, we believe that the business and our blood screening employees are best positioned to succeed under a single owner, and that this sale to Grifols provides excellent value for Hologic and our shareholders."
MacMillan said the transaction gave Hologic more financial flexibility as well as adding to the company's growth. Hologic forecasts that the blood screening business will contribute $240 million in revenues in 2017. GAAP diluted earnings per share are projected at 19 cents while non-GAAP diluted earnings line up at 34 cents.
For Grifols, the transaction consolidates its diagnostic division and helps it in building a vertically integrated business focusing on blood and plasma donation centers.
Vijay Kumar, a managing director at Evercore, said the deal continues MacMillan's focus to move Hologic towards more growth and better shape the company's portfolio. "Blood is a fantastic business but inherently it is more of a cash cow than growth driver." He also said that he expects the market will react favorably to the deal.