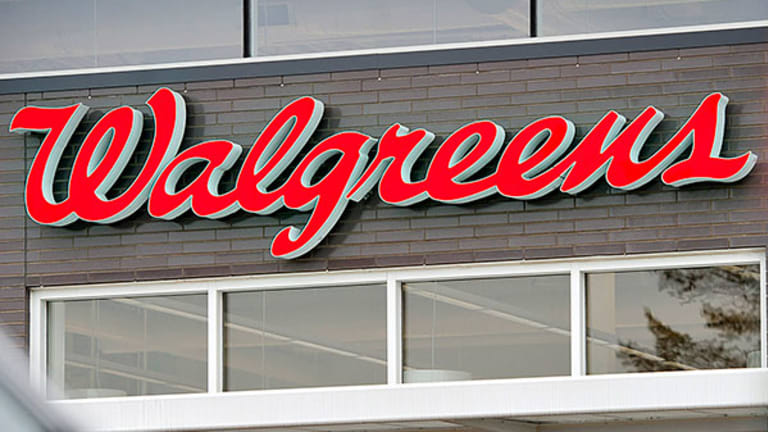 Publish date:
History Repeats in Walgreens Deal for Alliance Boots
Investors hated Walgreens decision to buy Alliance Boots in 2012.
Investors hated Walgreens decision to buy Alliance Boots in 2012.
NEW YORK (TheStreet) -- Investors hated Walgreens (WAG) decision to buy Alliance Boots in 2012. Now, after shares in the drugstore chain more than doubled since the deal's initial announcement, Wall Street is again disappointed.
Walgreens shares fell as much as 15% on Wednesday morning after the company said that it wouldn't shift its headquarters abroad as it completes the two-step acquisition of Alliance Boots. The company also lowered revenue targets for the combined company to between $126 billion and $130 billion from a previous guidance of more than $130 billion in annual sales.
Wednesday's share rout is familiar territory for Walgreens and a possible opportunity for long-term investors. After all, the company's stock tumbled to multi-year lows below $30 a share in July 2012 after initially announcing its Alliance Boots deal. Shares, which then steadily rose to a record-high above $75 in June, are now in the low $60s.
Once investors absorb Walgreens disappointing guidance, its decision not to chase tax savings by incorporating abroad and a different financial outlook after shifting guidance from earnings before interest and taxes (EBIT) to earnings per share (EPS), they may remember that Alliance Boots looks like a compelling acquisition.
Expectations on synergies and cost savings from Alliance Boots catapulted Walgreens shares in recent years, and those targets remain in place. Perhaps, after Walgreens cut its guidance for operating earnings by around $2 billion, the company has set a low bar from which it can now beat Wall Street's expectations in fiscal 2016 and beyond.
Meanwhile, not all news was bad on Wednesday.
Alliance Boots is considered one of the best-run pharmacies in the world. Its chairman, Stefano Pessina, built up an international powerhouse within the span of about a decade, and he and top executives at Alliance Boots will take key roles within Walgreens. If the management of Walgreens has underperformed competitors like CVS Caremark (CVS) - Get Report in recent years, its bench has deepened significantly with the acquisition of Alliance Boots.
Walgreens CEO Gregory Wasson will remain CEO of the combined company, and Walgreens independent Chairman James Skinner will be non-executive chairman of the new company, which will be called Walgreens Boots Alliance.
Pessina will hold a role as executive chairman of Alliance Boots and executive vice chairman of the combined company. Pessina will report to Wasson and be tasked with strategy and M&A, in addition to chairing a strategy committee for the combined company.
Four of the nine-member management team will be made up of legacy Alliance Boots executives and Jefferies analysts noted that Alliance Boots will have a prominent role in the combined company.
Alex Gourlay, a former Boots executive, will become president of Walgreens, while Ornella Barra, another Alliance Boots executive, will become CEO of global wholesale.
"This combination is a true partnership, further evidenced by the composition of the future management team of Walgreens Boots Alliance," Pessina said in a Wednesday statement.
Hedge fund investors in Walgreens have asked that Pessina and Alliance Boots take prominent roles within the combined company. It is unclear whether those shareholders, whom also advocated for an inversion in addition to sweeping operational and financial changes to Walgreens, were supportive of Wednesday's measures.
Jana Partners declined to comment. Corvex didn't return a call for comment. Perhaps any further stumbles by Walgreens after disappointing Wall Street on Wednesday will give fodder to activist shareholders that want further change at the company.
Walgreens authorized a $3 billion share repurchase program through the end of fiscal 2016 on Wednesday, in addition to a 7.1% increase to the company's quarterly dividend to 33.75 cents a share.
The company also said it anticipates up to $1 billion in cost cuts to go with its synergy targets, exceeding analyst estimates. Some analysts appeared confused by Walgreens sharp cut to guidance and its higher synergy forecast.
Barclays said those two developments could indicate a much worse outlook for Walgreens core business, while Bank of America questioned whether synergy and cost savings targets were achievable. Deutsche Bank said Wednesday's announcement "at best could be considered extremely disappointing."
Nonetheless, some analysts were already treating the sharp selloff in Walgreens shares as a buying opportunity. "We rate Walgreen 'Outperform' and consider a pull-in to the low $60 range as a buying opportunity. We believe there could be upside to [fiscal year 2016] goals as cost reduction efforts begin to take hold," Leerink Swann analysts said on Wednesday.
WAG
data by
-- Written by Antoine Gara in New York