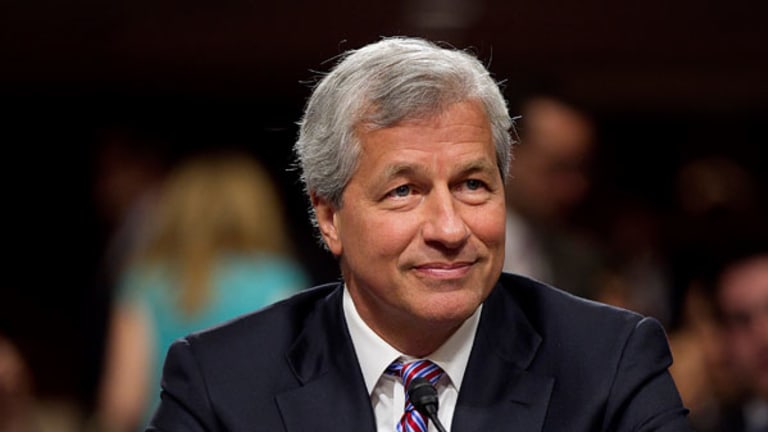 'Historic' Admission to SEC Won't Help JPMorgan Plaintiffs (Update 1)
Bank steers clear of fraud claims as regulator only wins an admission of poor supervision.
JPMorgan whale story updated to include additional comments from Pritchard in last two paragraphs.
NEW YORK (
) --
JPMorgan Chase
's
(JPM) - Get JPMorgan Chase & Co. Report
over the "London Whale" trading debacle is being hailed by some as a historic moment for the Securities and Exchange Commission under new chairman Mary Jo White, but it won't cost the bank anything in litigation tied to the matter, according to a pair of securities law experts.
In the wake of the financial crisis, the SEC has been criticized for allowing big banks to settle enforcement cases without admitting or denying guilt. In one high-profile instance in late 2011, U.S. District Judge Jed Rakoff
rejected
a proposed settlement between
Citigroup
(C) - Get Citigroup Inc. Report
and the SEC. In his opinion, he poked fun at "the S.E.C.'s long-standing policy -- hallowed by history, but not by reason -- of allowing defendants to enter into Consent Judgments without admitting or denying the underlying allegations."
The SEC has argued banks won't admit guilt for fear of exposing themselves to massive class action liability. The result would be costly trials that would deplete the commission's budget.
But new Chairman White, a former Federal prosecutor, had said publicly the SEC was rethinking its habit of allowing companies it regulates to skate away with "neither admit nor deny" settlements. She proved true to her word on Thursday when JPMorgan admitted to poor supervision of its employees leading to $6.2 billion in trading losses.
JPMorgan is expected to
add significantly to its litigation reserves
in the third quarter, but that doesn't mean it will actually pay out that money, or that the larger reserve will be tied to the fact that the bank admitted supervisory lapses.
Amanda Rose, professor at Vanderbilt Law School, doesn't believe the admission of poor supervision will ultimately lead to increased liability for the bank. That's because such an admission still falls short of fraud.
"They've admitted to not having ideal internal controls and to the various sorts of supervisory/managerial failures but they haven't admitted to committing securities fraud in such a way that its obviously going to lead to devastating class action liability," Rose says. "Not to say this isn't going to lead to more litigation over these particular issues but my guess is that JPMorgan will ultimately win in that class action litigation in saying that what we've admitted to does not establish any element of your claim here."
Nonetheless, Rose believes the SEC has gone some distance toward addressing its critics.
"I think that this is a meatier settlement than we've seen in a lot of cases," she says.
University of Michigan law professor Adam Pritchard, however, has a far dimmer view of JPMorgan's admission.
"It's not significant. It satisfies what Mary Jo White needs to say that she's living up to the assurances she's making. It has some beneficial effects for the Obama administration, I suppose, because there's dissatisfaction about the outcome of the financial crisis investigations," Pritchard says.
In short, Pritchard sees JPMorgan's admission as a political victory for the SEC even though it has no real teeth because it was brought under section 13 of the securities laws, relating to the need for accurate books and records rather than section 10, which relates to fraud.
"The next time the House Financial Services Committee calls an SEC Commissioner up to testify about what they're doing they'll be able to say 'well, we got an admission of wrongdoing from JPMorgan,' and the chances that some congressman is going to be dissecting them on the differences between section 13 and section 10 strikes me as remote," he says.
Pritchard concedes the regulatory settlement may save private plaintiffs a bit of time as they try to prove JPMorgan's leaders had fraudulent intent--something they will need to prove to win their lawsuits.
However, he says, the plaintiffs "would have gotten around to this point eventually in the discovery process, and it doesn't establish any elements of their claim that they hadn't already established."
--
Written by Dan Freed in New York
.
Disclosure: TheStreet's editorial policy prohibits staff editors, reporters and analysts from holding positions in any individual stocks.