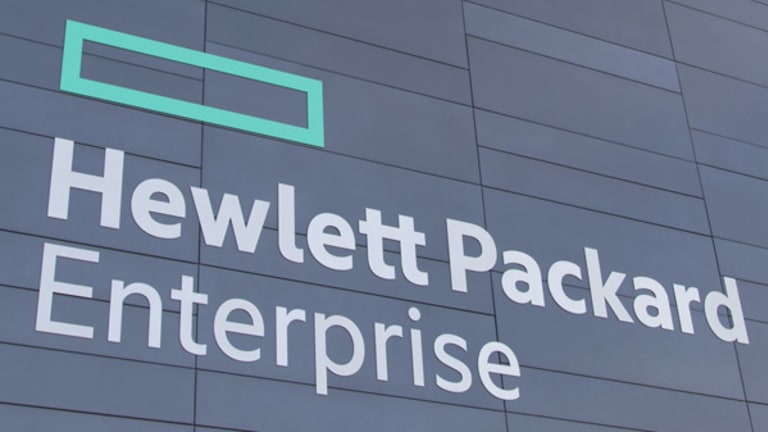 Hewlett Packard Enterprises' Second Spinoff Is a 'Win-Win' for Everyone, Cramer Says
The spinoff from HP plans to split again, this time through a merger of its enterprise services business with Computer Sciences.
Even while Hewlett Packard Enterprise (HPE) - Get Hewlett Packard Enterprise Co. Report still reports costs from its landmark breakup with HP (HPQ) - Get HP Inc. Report last year, Meg Whitman announced yet another spinoff after the market close on Tuesday.
HP Enterprise will merge its enterprise services business with Computer Sciences (CSC) to create a major competitor in information technology services. HP Enterprise of Palo Alto, Calif., anticipated the deal would close by March 31.
"We believe this industry will consolidate," Whitman told investors during HP Enterprise's second-quarter earnings call on Tuesday. "It's better to be on the front end of a consolidation play than on the back end of a consolidation play."
HP Enterprise's shareholders will own 50% of the new company through a tax-free spinoff and merger. The deal puts an $8.5 billion enterprise value on the enterprise services arm.
Shares of HP Enterprise rose 11.6% in premarket trading to $18.13. Computer Sciences gained 30.8% to $46.65.
The companies set the unit's equity value at $4.6 billion, to match CSC's market cap when they undertook negotiations. To make up for the roughly $4 billion difference between the equity and total value, the new company will pay HP Enterprise $1.5 billion cash and assume about $2.5 billion in pensions and other liabilities.
Computer Sciences Chairman and CEO Mike Lawrie will keep his positions at the new company. Whitman will join the board, which will have equal representation from Computer Sciences and HP Enterprise.
Lawrie told investors that he and Whitman have followed similar paths to the merger. They joined their respective companies within six months of each other. Computer Sciences spun off its CSRA (CSRA) government business within a month of the Hewlett Packard breakup.
The Computer Sciences boss said the merger partners have complementary clientele. "When we went through the top 200 accounts, we had less than 15% overlap," Lawrie said. "Many of our losses were HPE's gains and vice versa, although it was mostly losses on our side."
TheStreet's founder Jim Cramer said Whitman is "taking a business that's a good business, a service business, merging it with CSC to create a kind of an Accenture."
HP Enterprise's service business is connected with Microsoft's (MSFT) - Get Microsoft Corporation Report Azure cloud computing platform and Computer Sciences is connected with Amazon's (AMZN) - Get Amazon.com, Inc. Report web services unit, Cramer noted.
The transaction would give HP Enterprise the money to buy back a lot of stock, Cramer said.
At Computer Sciences, Lawrie "decided...let's build that critical mass for consulting. Remember, he already sold off the government consulting business."
"This is a win-win for everybody," Cramer said.
Alongside the spinoff, Hewlett Packard reported second-quarter earnings that showed life in enterprise hardware, a segment that has been beaten up this earnings season.
The company matched Wall Street expectations for earnings of 42 cents per share, while $12.7 billion in net revenue exceeded consensus forecasts of $12.4 billion.
The enterprise group, which includes servers, storage and related operations, increased revenue by 7% to $7 billion in the quarter. The company may have benefited from EMC's (EMC) preoccupation with its pending megamerger with Dell.
Sales for the enterprise services division that HP Enterprise is spinning off dropped 2% to $4.7 billion.
The software business that is staying with HP Enterprise reported a 13% drop in sales to $774 million, while financing revenue declined 2% to $788 million.