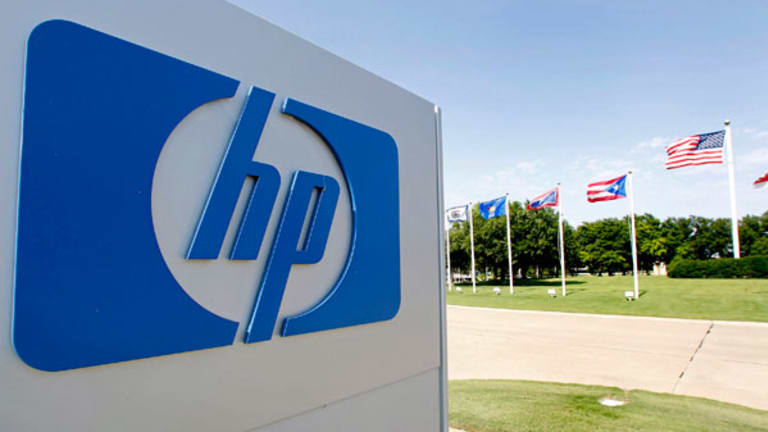 Hewlett-Packard Confirms Acquisition Efforts Amid Spinoff
Hewlett-Packard may be working on an acquisition, even as it begins working on a split of the company's technology services business from its personal computer and printing division.
NEW YORK (TheStreet) - Hewlett-Packard (HPQ) - Get HP Inc. Report may be working on an acquisition, even as it begins working on a split of the company's technology services business from its personal computer and printing division.
Chief Financial Officer Catherine Lesjak said HP has temporarily suspended its stock buyback program ahead of its Nov. 25 earnings because the company is in possession of material non-public information. When pressed by stock analysts, Lesjak noted on a conference call that the non-public information pertains to a possible acquisition.
HP will split into Hewlett-Packard Enterprises, a tech infrastructure, software and services business and HP Inc., a leading player in the slow-growing PC and printers markets.
Given commentary from CEO Meg Whitman and CFO Lesjak, it appears that it is the Hewlett-Packard Enterprise business where the company's M&A efforts will be focused. Like other firms in the IT services space, HP Enterprise is focusing its investment on winning business in cloud, big data, security and mobility markets and Whitman noted that any prospective acquisition would be aimed at increasing the company's abilities across those areas.
Whitman also emphasized that HP Enterprise will have a M&A strategy dedicated to shareholder value. "I just can't emphasize enough this returns-based M&A strategy," Whitman said. HP Enterprises's last large acquisition, a $10 billion deal for Autonomy in 2011, was written down amid allegations of accounting irregularities and led to the firing of former CEO Leo Apotheker.
Part of the reason HP may be working on an enterprise-based deal is the company's low ability to drive revenue growth through organic investment. On Monday, HP said its Enterprise business is forecast to see its revenue drop between 3% and 5% in 2015, as it loses customers to competitors. However, acquisitions may also be plausible for HP after years of restructuring under CEO Whitman, which has yielded rising cash flows and a repaired balance sheet that may prove helpful for M&A efforts.
Whitman is expected to be CEO of HP Enterprise, with Lesjak joining her as CFO. Pat Russo, currently the lead independent director of HP's board will become chairman of HP Enterprise.
HP Inc., by contrast, is not expected to be in the market for acquisitions. That division may focus more heavily on organic investment and returns of capital to shareholders once it becomes publicly traded via the tax-free stock spin. That business will be headed by Dion Weisler. Whitman will be HP Inc,'s non-executive chairman.
"The speed of the market is moving incredibly rapidly." Whitman said of the split. After years of restructuring since taking over as CEO, Whitman added "we have a position of strength that we can take advantage of" when speaking about M&A.
The Sum of HP's Parts
HP Enterprise and HP Inc are expected to be similarly-sized businesses by revenue, the company said. Once split, both businesses are expected to be rated investment grade and large enough to qualify for the Fortune 50.
Morgan Stanley analysts said in a Monday note HP could be worth between $48 and $50 a share as a result of its decision to split.
"We believe a separation may suggest HP could become more active in both divestitures and acquisitions, which we believed would be increasingly necessary in [fiscal year] 2015," Wells Fargo analysts noted. They believe HP's spin is a refletion of competition in the services business and a stabilization of the PC market.
-- Written by Antoine Gara in New York