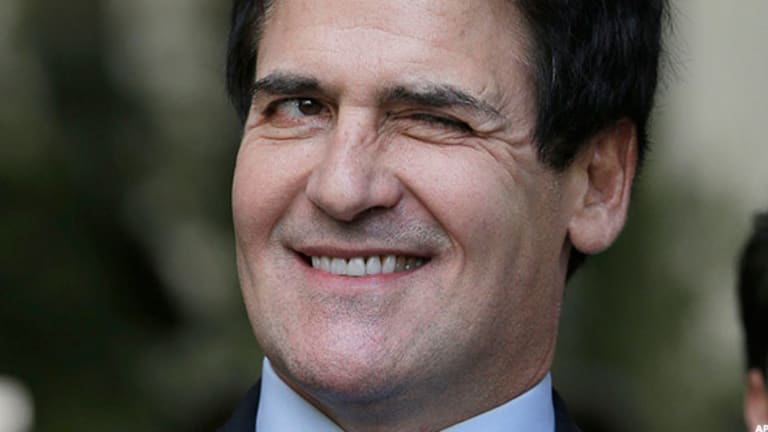 Heth Continues Run at Reading International
Billionaire Mark Cuban says the cinema operator is 'run like a family piggy bank' and wants it to talk with Paul Heth's interested consortium.
A consortium led by media mogul Paul Heth remains resolute about exploring a potential acquisition of Reading International (RDI) - Get Free Report but is growing increasingly frustrated with the cinema and real estate operator's continued refusal to engage in discussions, according to a confidential offer letter obtained by The Deal. 
"I continue to insist that we meet as soon as possible," Paul Heth, principal of Patton Vision, wrote in a Jan. 17 letter addressed to Ellen M. Cotter, Reading's president and CEO, and its board of directors. Alongside Heth's Camden, Del., holding company, the group also includes private equity house TPG Capital and Santo Domingo Group, the holding company of Colombia's Santo Domingo family. 
"We are willing to spend as much time with you as necessary to be certain that you understand the significant opportunity that our proposal offers to you and to all of your shareholders and for us to understand any valuation or other issues that you might wish to address," Heth continued.
The letter said Cotter had not directly answered or responded to several questions that were presented in the investor group's Dec. 19 public letter, in which it upped its bid to $18.50 per share from $17 per share, valuing the Los Angeles cinema operator at $436 million.
Reading's Class A shares added about 2.25% to $16.35 on Tuesday, assigning the company a market capitalization of about $366 million. As of Tuesday's close, Class A shares had appreciated about 30% since the third-party interest was first made public on July 15 and nearly 52% over the past 12 months.
The consortium first made an offer in June, with the initial $400 million bid spurned by Reading a month later. The identity of what had been a "mystery suitor" was first revealed by The Deal in October.
"We do not believe that it is in the interests of the shareholders of Reading for you to refuse to meet in person to discuss our strategy and vision for the future of the company," the January letter said.
Further indicative that the entrepreneur won't be brushed aside easily is that Heth is now approaching the company as a stockholder, having purchased shares in the company himself, Heth told The Deal.
It is unclear whether Heth, chairman and CEO of Russian exhibition chain Karo Film Holding, purchased shares of Reading's Class A or B stock.  
A Reading representative declined to comment on Tuesday, other than to reference what was publicly disclosed in a Dec. 20 press release. Reading in its December statement confirmed the receipt of a proposal from what it deemed "a holding company claiming to represent a consortium of investors" and said it would review the latest offer "in due course."
Billionaire entrepreneur Mark Cuban, who owns approximately 12.37% of Reading's Class B voting stock, indicated in a Tuesday email to The Deal, in line with previous public sentiment, that he supports Reading engaging with the consortium. 
"Yes. I want them to talk to acquirers," the "Shark Tank" star and co-owner of Landmark Theatres and the National Basketball Association's Dallas Mavericks wrote in the email. "The stock is far lower than it should be because it appears to be run like a family piggy bank." 
Ever since the passing of James Cotter Sr., the CEO and chairman of Reading since its inception, in September 2014 due to illness, investors have watched a legal dispute unfold among his children -- James Jr. and his sisters, Ellen and Margaret. The fight is largely over control of the Class B shares held by James Sr.'s living trust, which ultimately will account for 70% of all outstanding Reading shares. The next hearing is set for Feb. 3 in a Los Angeles state court.
According to a statement from
Lawndale Capital Management
's Andrew Shapiro, while his firm believes the $18.50 per share offer greatly undervalues the company as a whole, "to reject this credible bid out of hand without appropriate analysis and disclosure of its plan to do better for shareholders could be a breach of the board's fiduciary duty of due care and, in light of the Cotter family's sizable ownership of voting shares, also the board's duty of loyalty." 
The Mill Valley, Calif., hedge fund is the largest non-Cotter family shareholder of Reading's Class A stock, with a roughly 7% stake disclosed in September.
As investors wait for the various litigation matters to unfold at Reading, Heth continues to weigh alternative cinema opportunities in the U.S.
Consistent with comments made in December after his group publicly raised its offer price, Heth told The Deal, "I'm very patient, but other opportunities are presenting themselves, and we're going to proceed where we can execute." 
Heth added that he's examining two specific opportunities, one of which he described as being of a comparable size to Reading and one which he deemed "very large scale."
When asked about his willingness to boost the Reading offer, Heth reiterated that it would not make sense for the group to bid against itself.
"Having said that, if in a proper engagement they can show us a valuation path that is greater than our offer that makes sense, of course I'd look at that," Heth said.  
A TPG representative declined comment, while Santo Domingo Group could not be reached. Jim Cotter and Reading's lead independent director, William Gould, did not immediately return requests for comment.
This article was originally published by The Deal, a sister publication of TheStreet that offers sophisticated insight and analysis on all types of deals, from inception to integration. Click here for a free trial.